Found February 06, 2013 on Fox Sports Southwest:
PLAYERS:
Jeremy Lin
,
Chandler Parsons
,
James Harden
,
Carlos Delfino
,
Jarrett Jack
,
David Lee
,
Stephen Curry
,
Marcus Morris
,
Kevin Mchale
,
Draymond Green
,
Harrison Barnes
TEAMS:
Golden State Warriors
,
Houston Rockets
HOUSTON (AP) -- The Houston fans knew the Rockets were on the verge of history against Golden State on Tuesday night, needing one more 3-pointer to set an NBA record. Warriors coach Mark Jackson wasn't going to let that happen. The Rockets settled for tying an NBA record and set a franchise mark with 23 3-pointers in a 140-109 win over the Warriors. Houston matched the single-game record for 3s set by Orlando in a win over Sacramento on Jan. 13, 2009. The Toyota Center crowd realized the outright record was within reach in the final three minutes, chanting "One more 3!" But the Warriors took away Houston's chances of getting it by fouling at the end. "We're not going to lay down," Jackson said. "If you're going to try to get the record, we're going to stop it." The Warriors should've employed that plan sooner. Jeremy Lin sank five 3-pointers, a career high, and Chandler Parsons and James Harden hit four apiece as the Rockets reached a season-high point total. They also tied an NBA record with 14 3-pointers in the first half and dished out a season-high 35 assists on 46 field goals overall. "Thankfully, we were just able to get a bunch of open looks and knock them down," Lin said. "That's just the way it is sometimes." Lin scored 28 points, Harden added 18 and Parsons had 16 for Houston. The Rockets put on the shooting display without their best 3-point shooter -- Carlos Delfino, who sat out with a right elbow injury. "We just got hot tonight," Harden said. Jarrett Jack scored 20 points and David Lee had 18 for the Warriors. Stephen Curry, averaging 21 points per game, scored only seven points on 3-for-12 shooting. Houston set a Toyota Center scoring record and reached 140 points for the first time since April 1995. "Throughout the whole game, you figured they'd cool off," Curry said. "But we have to force them to take tougher shots. You just can't give them open looks." The Rockets were 18 of 27 from 3-point range through three quarters. They finally hit a dry spell early in the fourth, missing their first three 3-point attempts. It didn't last long -- Marcus Morris connected on a 3 from the wing and Parsons flashed him a smile as the two trotted back down the court. With the outcome decided, Rockets coach Kevin McHale pulled his starters with 5:49 left, leaving the pursuit of the NBA record to the reserves. By then, everyone on Houston bench knew the record was within reach. "Obviously, the amount of 3s we hit is pretty ridiculous," Parsons said. "We were open, and nobody is going to turn down open shots." The fans were ready to explode anticipating the record-setting 3. Reserve point guard Patrick Beverley drove for a one-handed dunk with 1:04 remaining, prompting a mix of cheers and groans. Beverley took a hard foul from Draymond Green on a 3-point try with 34 seconds left. Beverley and Green snapped at one another, prompting a heated argument between several players. Green and Morris were ejected. "Some nights, it's not your night and it wasn't ours and we didn't play particularly well," Jackson said. "That doesn't mean, lay down and surrender. That's not in our DNA." But the Warriors had to be a bit demoralized, because the Rockets seemed to make every outside shot they took. They went 7 for 10 from 3-point range in the first quarter and 14 for 18 in the first half. Milwaukee had 14 3s in a half against Phoenix in March 2006 and New York matched that total twice last season -- against Portland on March 14 and against Boston on April 17. Curry, though, had the most spectacular shot before the break, just beating the buzzer with a half-court shot to cut Houston's lead to 77-62. But Golden State's perimeter defense was no better in the third quarter, and 3-pointers by Parsons and Lin stretched the gap past 20. Harrison Barnes ran out to guard Lin on his next 3-point attempt, and Lin blew by him for a layup and an 87-64 Houston lead. "They were hitting the open looks, they were hitting the contested shots," Lee said. "And then when they hit outside jumpers, their shot fake works because you have to close out tighter. They shot the ball great, really from top to bottom." NOTES: The Warriors have lost 15 of their last 17 games against the Rockets, and nine in a row in Houston. ... Golden State dropped to 8-1 this season when scoring at least 30 points in the first quarter. ... The Rockets set season highs for first-quarter and first-half points. ... Houston had never had more than 17 3-pointers in a game.
Original Story:
http://www.foxsportssouthwest.com/02/...
THE BACKYARD
BEST OF MAXIM
RELATED ARTICLES
LET'S DO IT AGAIN
Golden State Warriors center Andrew Bogut called out the Houston Rockets following the contested game between them.
Eight-year Rocket, Yao Ming, returned to the Toyota Center Tuesday for the first time this season. The 7-footer watched the Rockets shootaround this morning as the team prepared to host the Golden State Warriors. Ming, in his second second full year of retirement, runs a wine business and is going to school for economics and media. According to Howard Chen, CSN Houston: Yao was selected...
The Houston Rockets tied an NBA record and set a franchise mark with 23 3-pointers in a 140-109 win over Golden State on Tuesday night. Jeremy Lin sank five 3-pointers, a career high, and Chandler Parsons and James Harden hit four apiece as the Rockets reached a season-high point total. They also tied an NBA record with 14 3-pointers in the first half and dished out a season-high...
Houston Rockets big man Omer Asik is dating Miss Ohio…that's the rumor. Miss Ohio Lindsay Davis who is an American model who has been internationally published in magazines such as Ralph and FHM. The 5'4″ Lakewood native was crowned Miss Ohio U.S. International in 2010, and was also a finalist in the Miss Ohio USA pageant for both 2010 and 2011. She will throw out a first...
One of the big stories last night in the NBA was the Houston Rockets tying the NBA single-game record for three pointers made against the Golden State Warriors.For those of you who didn't get to watch the amazing shooting display, below is a compilation video of the 23 three-pointers that the Rockets made in the game:For anyone wondering whose record the Rockets tied, it was...
The Houston Rockets put on a three point shooting clinic in Houston last night in their 140-109 beatdown of the Golden State Warriors. And when we say "put on a three point shooting clinic", we mean that Rockets tied the NBA record by hitting 23 three pointers in the game. Of course, once number 23 went in, the Rockets (and their crowd) were all about hitting number 24 and setting...
Andrew Bogut didn't shy away from voicing his opinion on the Grizzlies money saving trade with Rudy Gay last week.  In an interview with David Aldridge, Bogut called the move 'scary' and says he knows Lionel Hollins, who he used to play for, must be very 'pissed'. According to NBA.com: Wow. There's a can of worms opened on that one. I hate to judge another franchise...
After averaging 18.0 points, 14.3 rebounds, 7.8 assists and helping lead the Warriors to a 4-0 record last week, David Lee was named by the NBA as the Western Conference player of the week. The accolades are starting to pile up this season for Lee. This is his second time this season earning conference player of the week recognition (third overall) and was named as a reserve to...
The Rockets went off Tuesday night against the Warriors, scoring a staggering 140 points, thanks largely to an NBA-recording-tying 23 3-pointers made. They were gunning for the outright record in the waning minutes of the game, but the Warriors would be damned if they were going to let a record be broken on them. They fouled hard when a Rocket would attempt a 3, milked the clock...
Warriors point guard Jarrett Jack is questionable for Friday's contest against the Grizzlies, according to Rusty Simmons of the Chronicle. Jack didn't practice Thursday and missed Wednesday's 119-98 loss to the Thunder with a right shoulder contusion. Jack has been an anchor off bench this season for the Warriors. But the second unit struggled with production and establishing...
Lee once again proves why he's an All Star
NBA News

Delivered to your inbox

You'll also receive Yardbarker's daily Top 10, featuring the best sports stories from around the web. Customize your newsletter to get articles on your favorite sports and teams. And the best part? It's free!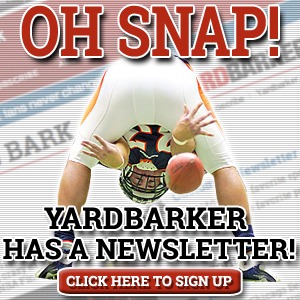 Latest Rumors
The Backyard

Today's Best Stuff

For Bloggers

Join the Yardbarker Network for more promotion, traffic, and money.

Company Info

Help

What is Yardbarker?

Yardbarker is the largest network of sports blogs and pro athlete blogs on the web. This site is the hub of the Yardbarker Network, where our editors and algorithms curate the best sports content from our network and beyond.