Found November 15, 2011 on Boston.com:
On the heels of the NBA players' union decision to disband and send the labor impasse to court, Celtics guard Rajon Rondo announced yesterday he is hosting a charity game Saturday featuring NBA players, including teammate Paul Pierce and two-time league scoring champion Kevin Durant.
Original Story:
http://feeds.boston.com/click.phdo?i=...
THE BACKYARD
BEST OF MAXIM
RELATED ARTICLES
Professional basketball players, including Rajon Rondo and Paul Pierce, will compete in Boston Saturday night. Of course, they'll play at Harvard, neither team will play any defense, who wins or loses won't matter,  the NBA lockout continues indefinitely, and seeing Jeff Green and Kendrick Perkins on the same court will only conjure vicious memories.Do I sound bitter? That's...
This is the only ball featuring NBA players we're going to see for a while Just hours after the NBA Players Association decided to disband, Celtics guard Rajon Rondo announced the "Boston Charity Classic" all-star game at 6 p.m. Saturday at Lavietes Pavilion on Harvard's campus. [...]it is expected to feature its share of heavy hitters, including Celtics...
Once the NBA lockout ends -- if it ever ends -- a well-known veteran reportedly is interested in coming to Boston. Allen Iverson would be willing to provide a scoring punch off the bench for the Celtics, his agent tells The Boston Globe. "Of course, he would be interested in anywhere in the NBA, but Boston is particularly attractive to him because of Danny Ainge, the organization...
It normally takes the entire UN translating staff to understand Delonte West's tweets. Most of them are a combination of gibberish, ebonics and misspelled words. For example: "U in d city tonight….if u see matt grey street glider…with black ape hangers 21 inch blackspokess…..tail pipes dragginn." If you know what that means, I'm not sure whether that means you're...
Rajon Rondo and some of his NBA buddies will be hooping at Harvard Universsity this weekend. Reports the Boston Globe: "Celtics guard Rajon Rondo announced yesterday he is hosting a charity game Saturday featuring NBA players, including teammate Paul Pierce and two-time league scoring champion Kevin Durant. 'The Boston Charity Classic' will take place at 6 p.m. at Lavietes...
Elite 8 2004. Tony Allen and Oklahoma State face off against Delonte West and St. Joe's. Both players would go on to be drafted by The Celtics in the 1st Round.
Delonte West is one crazy ass dude, but this idea is pure Genius.  I mean think about it for a second.  They're already one of the most known companies in the world and their slogan fits perfectly.  "Just do it."  I mean why would they not do this?  Every young guy in the freaking world would drop a couple extra pennies to have a Nike check on their condom...
Jokes about Nike's slogan are nothing new. Anyone who is above the age of 12 that hasn't heard an off-color comment that's related to "Just Do It" must be living in an extremely remote area of the country.  Sex jokes are associated with Nike's tag line all the time, and I'm sure the people at [...]
We may all be down as a result of the news that the NBA Players Association rejected the owners proposal to begin an NBA season, but we're not going to let these money-hungry animals hold us back. Despite the fact the chance of an NBA season is slimmer than The Olson Twins once were, we're [...]
Here is the complete list of NBA blog previews, put together by Jeff Clark of CelticsBlog. Read them, dissect them and pray and hope that the two sides can get their you-know-what together and get this deal done. Southwest Mavericks - MavsMoneyball Spurs - Project Spurs Rockets - The Dream Shake Hornets - At The Hive Grizzlies - Straight Outta Vancouver Southeast ...
First of all, let me discuss Rajon Rondo; his lack of swag, to be more specific.  You can spot him to Derek Fisher's left standing next to fellow overrated point guard Russell Westbrook.  Let's take a closer look… Firstly, those glasses… c'mon son.  Kobe's wearing sunglasses inside and doesn't look half as lame.  Those damn things look like they belong to one of...
Celtics News

Delivered to your inbox

You'll also receive Yardbarker's daily Top 10, featuring the best sports stories from around the web. Customize your newsletter to get articles on your favorite sports and teams. And the best part? It's free!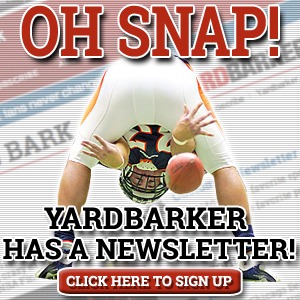 Latest Rumors
Best of Yardbarker

Today's Best Stuff

For Bloggers

Join the Yardbarker Network for more promotion, traffic, and money.

Company Info

Help

What is Yardbarker?

Yardbarker is the largest network of sports blogs and pro athlete blogs on the web. This site is the hub of the Yardbarker Network, where our editors and algorithms curate the best sports content from our network and beyond.