Ricky Rubio showed a great deal of promise in both the style and substance departments in Minnesota's season opener.  He scored 6 points, dished 6 assists, and grabbed 5 boards in 26 minutes as the T-Wolves lost to the Thunder by four, but none of that is of any importance.  His passes were precise, the timing was flawless, and his demeanor was confident as he ran an effective NBA offense for 26 minutes and 18 seconds.  Don't just take my word for it, though.  The precision, timing, and confidence I speak of are all summed up by the turnover column, which reads as follows: "R. Rubio: 0." That's right, a tasty donut in the f@ck up column cheffed up by a young man who's been said to be fool's gold by many.  Let me assure you that this donut wasn't the result of some conservative Jose Calderon point guarding, either.  The plays Rubio made presented plenty of potential for errors… but he just didn't make any.  He pushed the ball up the floor confidently and delivered it on the fly.  He squeezed passes into the paint that made me wonder who the hell he was throwing to… and the the guy would lay it in, and I'd say to myself, "oh, I didn't even notice that opportunity." That was the craziest thing about watching Rubio to me.  He made a few of these passes that I just didn't see coming.  I remember one pass–I think it came during the stretch where he assisted on three layups in a row–that whizzed over a defender's head before hitting a Timberwolf directly in the hands.  I thought for sure it was going to be a turnover, but it resulted in a layup.  Clearly, Ricky sees more from the floor than I do from a bird's eye view.  That's a little mind-boggling, because it's normally pretty easy to follow a play as it develops.  A guy sets a pick, cuts to the hoop, whatever; then he's hit with a pass when the opportunity presents itself.  In the case of Ricky Rubio some opportunities must present themselves exclusively to him, because I didn't see 'em. Another play that stood out to me came in transition.  Rubio took the ball down the middle of the floor, but there were three Thunder defenders back.  As he approached the three-point line he dribbled towards the right wing, causing two of the defenders to follow him to that side of the floor.  The third remained around the painted area, but he kept his eyes directly on Rubio.  Next thing I knew a trailing T-Wolf was strolling right down the center of the paint for a layup.  Upon watching the replay it became clear that Rubio knew he had a man trailing, and he had envisioned the exact play that came to fruition before it ever happened.  He has the ability to see the play unfold beforehand, like a Jason Kidd or a Steve Nash.  Ricky Rubio clearly understands how to create scoring opportunities like few others.  He also has his limitations–can't shoot, about as athletic as he looks–but they're nothing that will keep him from becoming an above-average point guard.  I like his situation in Minnesota, and I think both he and this team will take steps toward significant success this season.  With all of the cuts to the basket that take place in Rick Adelman's system, teams are going to get burned by Rubio a couple times a game.  You can't lose track of your man for a second with this kid or he'll thread the needle to a cutter for an easy score.  As far as the transition game… there isn't going to be much that can be done about that.  The T-Wolves have athletes that will run with him, and he's going to deliver the ball exactly where it needs to be.  His one-handed passes off the dribble looked awesome last night.  I think it's safe to expect plenty more of that as the year rolls on, which reminds me: Rubio's biggest impact this season will probably be on attendance numbers.  According to ESPN, the T-Wolves finished 20th in attendance for 2011.  That's going to improve for sure.  Ricky's going to have last night's sellout crowd coming back for more.
Original Story:
http://nba247365.com/?p=4070
MORE FROM YARDBARKER
NBA News

Delivered to your inbox

You'll also receive Yardbarker's daily Top 10, featuring the best sports stories from around the web. Customize your newsletter to get articles on your favorite sports and teams. And the best part? It's free!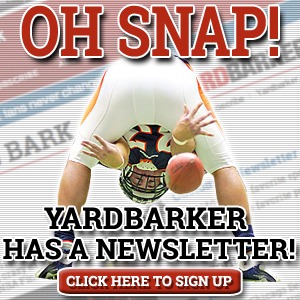 Latest Rumors
Best of Yardbarker

Today's Best Stuff

For Bloggers

Join the Yardbarker Network for more promotion, traffic, and money.

Company Info

Help

What is Yardbarker?

Yardbarker is the largest network of sports blogs and pro athlete blogs on the web. This site is the hub of the Yardbarker Network, where our editors and algorithms curate the best sports content from our network and beyond.