Found December 03, 2012 on Knickswag:
First off, I would like to congratulate Rasheed Wallace for lasting FIFTEEN games without getting tossed.  For Sheed is one of the few players in the NBA who can pick up 3 fouls within about 30 seconds.  He definitely fouled Scola hard to pick up the personal foul, but the first technical seemed to be a bit of a stretch by the officials.  Wallace simply tried to nudge Scola out of his way and he didn't even end up making contact with Scola anyway. Now, the second tech might be an issue that the Knicks have to deal with in Wallace's tenure as a Knick, whether that is 1 year, 2 years, or maybe even 5 if the Knicks' front office wises up and offers Sheed a 5 year $80 million max contract. (LOL). Wallace was heard screaming his trademark phrase "Ball Don't Lie!" after new Suns point guard Goran Dragic missed the first technical free throw.  Wallace has screamed this phrase several times throughout the season and the manner in which the officials have handled the outburst has been horribly inconsistent.  Half the time Wallace makes the remark it is simply ignored by the officials and the other half it has been called for a technical.  So Wallace's ejection was not all his fault since the referees need to do a better job with the consistency at which the "Ball Don't Lie!" technical is called.  Unfortunately, the most likely outcome of the situation is that Stern will tell his goons with whistles to crack down on the situation more severely and treat the expression as an automatic technical foul.  Wallace will have to cut down on the use of his phrase, but we all know he will have slip ups every once in a while. His historically hot temper was bound to get the best of him sooner or later and frankly, I was looking forward to the moment where we finally got to witness a Rasheed Wallace ejection.  It was definitely worth the wait.  However, I realized that watching Sheed put on a show was not all fun and games, because the Knicks had just lost one of their key rotation players in just the first quarter and being defeated by the lowly Phoenix Suns for the Knicks first home loss of the season would not have been fun to watch. Knicks fans might have become a little nervous when it was announced that Marcus Camby was not available to replace Rasheed Wallace due to a sore foot.  Thankfully, Chris Copeland put on the best performance of his young career by finishing with 8 points (4-5 shooting), 3 rebounds, 2 assists, a steal, and a blocked shot in just 10 minutes of action.  At one point, he lifted the Garden crowd off their feet by throwing down an emphatic put-back dunk off a missed three-pointer from Carmelo Anthony.  Inexplicably, Copeland did not receive any minutes in the second half. Rasheed Wallace needs to remember that we are not living in the year 2004 anymore and that over the years the NBA and officials have become a lot more soft and sensitive to players calling them out as opposed to years past.  It will be a curious situation to see how both Woodson and Sheed handle this situation since Woody is all about player accountability and Sheed has never been one to necessarily heed the advice of his superiors.  Unfortunately, we as Knicks fans might be subjugated to watching a milder mannered Sheed this season if he knows what is best for his team.  Thanks Stern.   Aaron Kopperl @AKop47 – Knickswag Contributor
Original Story:
http://knickswag.com/sheeds-ejection/
THE BACKYARD
BEST OF MAXIM
RELATED ARTICLES
How does one get ejected in only 85 seconds of playing time? Well, just let Rasheed Wallace show you the way. First, you give an opponent an extra shove after fouling him. Then, you argue with referees about the foul. And finally, you yell "Ball Don't Lie" when the opposition misses the technical free throw. The post It only took 85 seconds for Rasheed Wallace to get ejected...
Rasheed Wallace is making it his new thing to yell "BALL DON"T LIE, BALL DON'T LIE" at players when they miss shots.  He got caught doing it against Austin Rivers a couple weeks ago, now he earns himself an ejection for doing it to Goran Dragic of the Suns while shooting technical foul free throws yesterday.  Class act right there.  Never liked the guy one bit...
Rasheed Wallace wasn't really needed against the Suns today, and it's a damn good thing.  Due to the 30th ejection of his NBA career, Rasheed's afternoon lasted just 85 seconds.  With a little over a minute left to play in the first quarter, Wallace was whistled for a personal foul… then a technical foul… and then another technical foul, all in a span of approximately...
The People's Champion, Rasheed Wallace, was ejected in the Knicks game vs. the Suns. Why? Because he told the truth, Ball Don't Lie.The post Rasheed Wallace Gets Tossed For Telling The Truth appeared first on The Sports Fan Journal.
ProBasketballTalk just posted the following video from today's Knicks-Suns game where Rasheed Wallace gets a technical foul. When the technical free throw shot is missed, Wallace yells his infamous phrase, "ball don't lie!" The refs proceed to give him a second technical for yelling "ball don't lie," and eject him from the game.
It didn't take long for Knicks' Rasheed Wallace to get tossed from the game versus the Suns last night. And by not taking long, I am talking he gets ejected just moments, 85 seconds to be exact, upon entering the game for clobbering Suns' Luis Scola then going to his trademark "Ball Don't Lie" yell whenever he feels a foul call was not warranted. But...
Ball Don't Lie. Those three words were enough to send Rasheed Wallace to the showers in Sunday's game between the New York Knicks and Phoenix Suns. Wallace was hit with two technical fouls in 85 seconds. After being hit with a tech for shoving Luis Scola in the first quarter, Wallace continued to jaw at the refs. Then when Suns guard Goran Dragic missed a free throw, Wallace...
One of the best things about having Rasheed Wallace back in the association are the sound bites that come along with him. But I guess not everyone is a fan of Sheed's on court banter. During Sunday's game against the Phoenix Suns in the Garden, Sheed was given two technicals in the span of 85 [...]
It took Rasheed Wallace over a minute to get ejected from Sunday's Knicks and Suns game, and he did it in perfectly Rasheed fashion. Check out the minor train wreck that is 'Sheed just being 'Sheed. H/T Sports Grid Article found on: Cosby Sweaters
The NOC is here to cover week 6 in the Eastern Conference - Rasheed Wallace gets ejected in record time, Rondo's assist streak comes to a violent end, and The Heat hand The Wizards their 2nd win of the season. What are all their fans saying?  Watch to find out.  [Discuss on CG Forums!]
NBA News

Delivered to your inbox

You'll also receive Yardbarker's daily Top 10, featuring the best sports stories from around the web. Customize your newsletter to get articles on your favorite sports and teams. And the best part? It's free!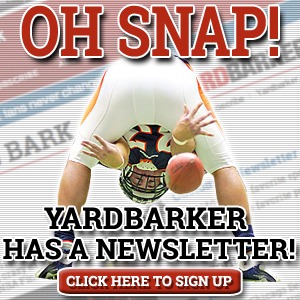 Latest Rumors
Best of Yardbarker

Today's Best Stuff

For Bloggers

Join the Yardbarker Network for more promotion, traffic, and money.

Company Info

Help

What is Yardbarker?

Yardbarker is the largest network of sports blogs and pro athlete blogs on the web. This site is the hub of the Yardbarker Network, where our editors and algorithms curate the best sports content from our network and beyond.