Found November 22, 2012 on NorthWest Sports Beat:
No answer For The Suns The Headline: the Suns come out blazing, shooting a near 60 percent against an ailing Portland team. Portland Trail Blazers vs. Phoenix Suns When: 9:00 ET, Wednesday, November 21, 2012 Where: US Airways Center (Phoenix) Officials: Eli Roe, Bill Kennedy, Kane Fitzgerald Attendance: 14,263 Love 'em 1. Lillard keeps a hot hand Rookie sensation Damian Lillard keeps a hot hand for the Blazers. He led the team in points Wednesday, putting up 24 points on 7-13 shooting. The savvy point guard added three assists and one steal. Lillard has been insanely hot over his last four games. In that span, he's shooting 56 percent while averaging 22 points and five assists per game. So Portland's got that going for them. 2. Leonard has strong debut as starter With J.J. Hickson missing this game due to a should sprain, Portland's (other) rookie Meyers Leonard got his first career start. Despite undisciplined play off the bench—which comes with being a rookie—Leonard looked rather poised and improved tonight. The big man ended his night with 12 points on 6-9 shooting with just three fouls. Leonard was a dominating force on defense, nabbing five rebounds with a pair of blocks and steals. As long as he can have defensive efforts like this every night, I say Portland made the right draft day decision. Hate 'em 1. Phoenix almost shoots 60 percent After some horrendous games, it looked like Portland's defense was turning a corner. They came into this game on a three game win streak, while holding opponents well under 50 percent shooting in that span. Then Phoenix turned Portland into Thanksgiving turkey, carving up that defense. The Suns finished their night shooting 59.7 percent from the field. Not to mention they were 7-17 from the arc. You can't give up numbers like that and hope to win. Despite a strong first start, Leonard can't save Portland from a decisive defeat. (Photo: Ross Franklin / AP) 2. Coughing up the ball When it came to protecting the ball, Portland was practically giving the thing away. The starters were particularly guilty of this. Lillard had six turnovers on the night, while L.A. had five. When all was said and done, Portland finished this game with 20 turnovers, and the Suns combined for 12 steals. So not only was Portland letting Phoenix make any shot they wanted, they were begging for them to have the ball. 3. LaMarcus going soft Are we ever going to be free from LaMarshmallow? I love LaMarcus Aldridge, and he's obviously the cornerstone of the franchise. But after two dominating seasons, he seems to be receding to his old self. L.A. finished his night with a mere 12 points on 5-15 shooting. He managed just seven rebounds. Aldridge was bested all night by the devastating duo (insert sarcasm) of Marcin Gortat and Markieff Morris. As a result, Portland was outscored 24-54 in the paint. CLICK HERE CHECK OUT OUR TRAIL BLAZERS BLOG AT THE NWSB!
Original Story:
http://www.nwsportsbeat.com/trailblaz...
THE BACKYARD
BEST OF MAXIM
RELATED ARTICLES
Top Blazers Last 7 Days Last week I wrote of a depth problem with this year's Portland Trail Blazers squad, and how a solution needed to be discovered if they were to stay competitive. Well, a solution is starting to reveal itself, and it's not by way of a trade, or any current player stepping up. No, the solution is increased minutes/workload for the current starters; a solution...
Back on track? The Portland Trail Blazers have won three straight contests, as its young roster is beginning to find success in a lighter part of the schedule. Matchup: Portland (5-5) @ Phoenix Suns (4-7) Venue: US Airways Center Time: 6:00 PM PT Date: Wednesday, Nov. 21, 2012 A game against the 4-7 Phoenix Suns could be just what the team needs to keep their streak going. Game Notes...
PHOENIX (AP) -- Marcin Gortat scored a season-high 22 points in only three quarters and the Phoenix Suns routed the Portland Trail Blazers 114-87 on Wednesday night to snap a three-game losing streak. Markieff Morris and Shannon Brown, inserted into the starting lineup earlier Wednesday, combined for 29 points for the Suns. Morris had 19 points and seven rebounds while Brown added...
Three straight wins have the Portland Trail Blazers feeling they're headed in the right direction. Three consecutive losses have the Phoenix Suns about to change theirs. Portland looks to continue its rejuvenation on offense against arguably the league's worst defensive team Wednesday night with a visit to Phoenix, which could test a new-look lineup. A victory would give...
PHOENIX -- After talking about his frustrations for three days, Suns center Marcin Gortat took some of them out on the Portland Trail Blazers on Wednesday night. Upset with his lack of involvement in the offense over the first 11 games, Gortat went public with his dissatisfaction in a Polish newspaper and spent two days tempering the outburst. But in his first opportunity to change...
The rumor mill is churning.  After an initial report that Gortat is unhappy in Phoenix and the Celtics have some interest… the story has progressed to the point where the Celtics are reportedly preparing to make an actual offer for him. But, according to Przeglad Sportowy, it looks like they'll be looking to upgrade their lack of size sooner rather than later. "The Phoenix...
Three straight wins have the Portland Trail Blazers feeling they're headed in the right direction. Three consecutive losses have the Phoenix Suns about to change theirs. Portland looks to continue its rejuvenation on offense against arguably the league's worst defensive team Wednesday night with a visit to Phoenix, which could test a new-look lineup. A victory would give...
Brandon Roy OUT for Friday Portland Trail Blazers' fans have had this game circled on their calendars since the NBA released their schedule this past offseason, but with Brandon Roy no longer available, it appears to be just another game between two struggling division rivals. Matchup: Portland (5-6) vs. Minnesota Timberwolves (5-5) Venue: Rose Garden Arena Time: 10:00 PM ET Date...
PHOENIX -- Upset with his lack of offensive involvement in the first 11 games, Marcin Gortat went public with his dissatisfaction with both his role and his play for the Phoenix Suns. Wednesday night, the Suns were sporting a new starting lineup, and a new Gortat to boot. Gortat made 11 of his first 14 shots from the field and finished with 22 points in only three quarters of...
Looking at their schedule, youd think the Timberwolves had some kind of in with whomever in the NBA is responsible for laying out the slate of games. First the convenient five-day break at the peak of their injuries, and now this post-Thanksgiving game in Portland, the city to which so many players and coaches are connected.First and foremost, theres Rick Adelman, who played in Portland...
Nicolas Batum ranks 11th in scoring, seventh in steals and fourth in minutes.
PORTLAND -- Guards Wesley Matthews and Damian Lillard were too much for Minnesota on Friday night, combining for 58 points in Portland's 103-95 victory at the Rose Garden. Matthews scored a season-high 30 points and Lillard added 28 for the Trail Blazers (6-6), who begin a seven-game road trip Sunday at Brooklyn. Kevin Love had 24 points and 13 rebounds for the Timberwolves...
NBA News

Delivered to your inbox

You'll also receive Yardbarker's daily Top 10, featuring the best sports stories from around the web. Customize your newsletter to get articles on your favorite sports and teams. And the best part? It's free!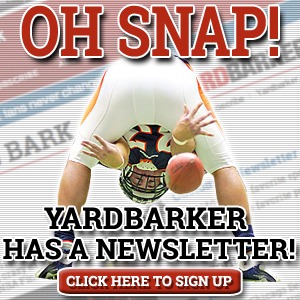 Latest Rumors
Best of Yardbarker

Today's Best Stuff

For Bloggers

Join the Yardbarker Network for more promotion, traffic, and money.

Company Info

Help

What is Yardbarker?

Yardbarker is the largest network of sports blogs and pro athlete blogs on the web. This site is the hub of the Yardbarker Network, where our editors and algorithms curate the best sports content from our network and beyond.