Posted April 29, 2013 on AP on Fox
Josh Smith scored 29 points as the Atlanta Hawks built a 17-point lead at halftime, then withstood an Indiana comeback over the final two quarters to even the series with a 102-91 victory in Game 4 on Monday night. After struggling much of the second half, Smith made every big play down the stretch. He swished a rare 3-pointer, came up with an offensive rebound to set up a 3 by Kyle Korver, then finished off a fast break with a right-handed dunk. Paul George scored 18 of his 21 points in the second half as the Pacers made a game of it but couldn't come back from a 57-40 deficit at the break. Tied at two wins apiece, the series returns to Indianapolis for Game 5 on Wednesday night. Korver added 19 points off the bench, most of them coming on his specialty: the 3-pointer. He knocked down five from outside the arc, including the biggest one with 2:33 remaining after Al Horford threw up a wild shot that missed. Smith snatched one of his 11 rebounds and spotted Korver lurking all alone on the outside. Horford chipped in with 18 points. Indiana was better offensively but still struggled to make shots, finishing at 38 percent on a 32-of-84 performance. George came alive after halftime, connecting three times from beyond the stripe, while every other starter was in double figures. It wasn't enough. The Hawks beat Indiana for the 13th straight time at Philips Arena, a streak that dates to 2006. But the Pacers can take solace with not having to win in Atlanta, as long as they take care of business on their home court. Then again, Indiana must be wondering how the series got to this point after the Pacers dominated the first two games in their building, averaging 110 points and a 16-point margin of victory. The Hawks turned the momentum with a 90-69 blowout in Game 3, then did enough good things in the first half to get the series back where it started as they return to the heartland. The Pacers played with much more effort than they did Saturday, but it didn't matter in the second quarter. Not with the Hawks gunning away from the outside - they went 7 of 8 from 3-point range in the period - and running the court with so much abandon that coach Larry Drew had to call a 20-second timeout late in the first half just to allow his players to catch their breath. Atlanta appeared on the way to a second straight blowout. Not so fast. Indiana turned up the defensive pressure and the Hawks began playing a little too loose with the ball. The Pacers ripped off a 15-1 spurt that nearly wiped out an 18-point deficit, holding Atlanta without a field goal for a good chunk of the third quarter. After Horford's dunk with 10:05 left in the period, the Hawks didn't make another basket until Devin Harris' nifty dash from one end of the court to the other for a layup with 1:34 remaining. Atlanta was able to stick with its big lineup after 7-foot center Johan Petro dashed back from Miami on a private jet sent by the team owners after witnessing the birth of his first child. Jacob Petro was born about 2 p.m., then his father headed to the airport and made it to Phillips Arena about two hours before tipoff. If the birth had taken longer, Petro was planning to stay in south Florida. Instead, he played 22 minutes with hardly any sleep the past two days, contributing four points and eight rebounds. Atlanta dealt with an old bugaboo in the second half: free throw shooting. At one point, the Hawks had made just 8 of 18 before Horford knocked down five of six to make the percentage look a little more respectable. Still, they finished 25 of 38 at the line, squandering a chance to put the Pacers away earlier. Notes: Smith appeared to be standing even farther behind the line than usual on free throws. It didn't help his percentage, as he made 9 of 16. ... Harris was late coming back out for the third quarter. Apparently suffering from dehydration, he took an IV in the locker room as a precaution before returning to the game midway through the period.
Original Story:
http://msn.foxsports.com/nba/story/at...
THE BACKYARD
BEST OF MAXIM
RELATED ARTICLES
ATLANTA -- The enigma that is Josh Smith could have been playing his final game at Philips Arena as a member of the Atlanta Hawks in Game 4 of this first-round playoff series. A pending unrestricted free agent a few months from now, Smith played in a way that ensured that he would suit up for at least one more game in the city in which he is a native and where he has played all of...
ATLANTA The enigma that is Josh Smith could have been playing his final game at Philips Arena as a member of the Atlanta Hawks in Game 4 of this first-round playoff series. A pending unrestricted free agent a few months from now, Smith played in a way that ensured that he would suit up for at least one more game in the city in which he is a native and where he has played all of...
Josh Smith has been an Atlanta Hawk his whole career, but his days as the face of the franchise are set to end shortly.  Smith wants a max deal, and Danny Ferry has no intention of giving him such a contract. Part of the reason the Hawks are interested in letting Smith walk is because of his horrid shot selection.  For all his athletic gifts and ability, Smith makes terrible decisions...
The Atlanta Hawks like this new lineup. Now they've got to show it can win on the road. Josh Smith scored a career playoff-best 29 points as the Hawks built a 17-point lead at halftime then withstood an Indiana comeback to even the series with a 102-91 victory over the Pacers in Game 4 Monday night. The enigmatic Smith struggled much of the second half but made every big play...
ATLANTA Larry Drew coached Jason Collins for three seasons with the Hawks, two when Drew was an assistant and another as the head coach. One of those years, Collins was instrumental with his defense on Dwight Howard in helping Atlanta advance past the Magic in the first round of the playoffs. Drew also had Collins earlier in his career when he was an assistant in New Jersey. But...
Atlanta Hawks center Johan Petro has missed practice to be with his wife for the birth of their child. Petro returned to his home in Miami to with his wife, who is scheduled to deliver the child on Sunday. The team is hopeful the 7-footer will return to Atlanta in time for Game 4 of the playoff series against the Indiana Pacers on Monday night. Petro made his first start of the...
The Josh Smith show tied the series between the Atlanta Hawks and the Indiana Pacers.  J Smooth finished the night with 29 points, 11 rebounds, 4 assists, 3 steals and one blocs to lead the Hawks to a 102 – 91 victory on Monday night. "You da one, Smoove," teammate Dahntay Jones said as he walked by Smith's locker. "You da one." For...
Tweet Kyle Korver is about as close to a one-trick pony as you can get in the NBA. Korver is simply known as a sharpshooter that really doesn't have a diversified skill-set. Among the things he is not known for is his defense. In fact, he's known as one of the poorer defenders in the [...]
The Atlanta Hawks were feeling a lot better about themselves Tuesday. There were plenty of smiles and good-natured ribbing, especially during a 3-point contest between Jeff Teague and Josh Smith to close out practice. Once Teague had finished off his teammate, it was time to head to the airport. Back to reality. While the Hawks have plenty of momentum - their playoff series with...
This has been one of the least talked about series in the playoffs this year.  Both teams lack any big name known outside of the United States.  These teams play a solid, grind it out style that doesn't appeal to most casual fans.  Luckily for you, I am not a casual fan. We will quickly run through the first three games of this series as we prepare for game four...
The Pacers looked like they were ready to take a 3-1 series lead back to Indiana, but after going up 21-14 in the 1st quarter they allowed the Hawks to score 8-straight points to close out the quarter and take a 22-21 lead. From there, things just fell apart as Josh Smith dominated and boosted the Hawks to a 17-point halftime lead. The Pacers would make several runs in the second...
NBA News

Delivered to your inbox

You'll also receive Yardbarker's daily Top 10, featuring the best sports stories from around the web. Customize your newsletter to get articles on your favorite sports and teams. And the best part? It's free!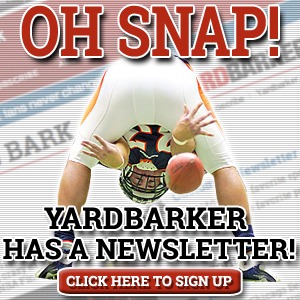 Latest Rumors
The Backyard

Today's Best Stuff

For Bloggers

Join the Yardbarker Network for more promotion, traffic, and money.

Company Info

Help

What is Yardbarker?

Yardbarker is the largest network of sports blogs and pro athlete blogs on the web. This site is the hub of the Yardbarker Network, where our editors and algorithms curate the best sports content from our network and beyond.