Posted April 25, 2013 on AP on Fox
PLAYERS:
Steve Nash
,
Steve Blake
,
Jodie Meeks
,
Kobe Bryant
,
Tony Parker
,
Dwight Howard
,
Darius Morris
,
Andrew Goudelock
,
Chris Duhon
,
Pau Gasol
,
Tim Duncan
TEAMS:
Los Angeles Lakers
,
San Antonio Spurs
Steve Nash needed three injections for pain relief on the Los Angeles Lakers' day off. He's still more likely to play in Game 3 on Friday night than Steve Blake or Jodie Meeks. And just in case anybody forgot, Kobe Bryant is at home in a walking boot, his season over. Late in a season featuring just about every tribulation imaginable, the Lakers have almost no healthy guards - never mind anybody who could keep up with Tony Parker. If they can't cover the gaping holes in their backcourt and figure out how to slow the San Antonio Spurs, the Lakers' tumultuous season probably won't extend past the weekend. Los Angeles still has two star big men, but even Dwight Howard realizes this patchwork roster is getting awfully flimsy. He won't use it as an excuse for whatever happens after the Spurs took firm control of the series in Texas. ''We have total confidence that we can come back and win this series,'' Howard said after a light practice at the Lakers' training complex. ''We believe in each other. We worked too hard to get to the playoffs. We had to fight to get in. We're not just going to give up because we're down and we have a lot of guys that are injured.'' But the Lakers realize they're in a tight spot heading back to Staples Center. Nash and Meeks, who has a sprained left ankle, are doubtful for Game 3 when the Lakers attempt to get started on just the third comeback from an 0-2 playoff series deficit in franchise history. Coach Mike D'Antoni said Blake is definitely out with a strained right hamstring. Nash attempted to remain optimistic after getting two epidural injections and a cortisone injection - his third pain-relieving injections in a week - on his sore back and hamstrings. ''Fingers crossed that it helps at all, and second, that it helps that quickly,'' Nash said. ''I have been called a doctor of chemistry by certain people in the media, but I couldn't make a prediction. ... I'm still in a lot of discomfort, not only from last night, but from getting a bunch of darts stuck in me.'' If none of the Lakers' top four guards can play in Game 3, D'Antoni will choose a starting backcourt from the remainders: Darius Morris, Andrew Goudelock and Chris Duhon. Morris and Duhon were buried on the end of D'Antoni's bench all season, while Goudelock was busy winning the NBA D-League's MVP award. Although the Lakers are down to third-string guards, they've still got high-caliber big men in Howard and Pau Gasol. D'Antoni is counting on a big game in the low post from Howard and another do-everything performance by Gasol, who had two triple-doubles in the Lakers' final three games of the regular season. ''Knock on wood that nothing else happens, because it's hard to lose teammates, and teammates that are playing their hearts out,'' said Gasol, who had a concussion and a serious foot injury earlier this season. ''We've fought so hard to be here, and it's hard not to have the players that we can have at this point to have a better chance against a really good San Antonio team.'' Howard's foul trouble helped doom the Lakers in Game 2, when Parker took advantage of the shot-blocking center's absence with a series of slashing drives past the Lakers' overmatched guards to the unprotected rim, tipping the game decisively in San Antonio's favor. The veteran, tested Spurs aren't getting excited about two solid wins. ''It's going to change,'' Tim Duncan said. ''The energy is going to be in their building. They're going to continue to attack. They believe they're due a win, they're due more calls, they're due all kinds of different things, and they're going to come out even harder than they played before. We're going to be ready for that, and we've got to start building a personality on the road.'' The Lakers fell apart physically while San Antonio steadily kept control of Game 2 - never running away, but never allowing much of a threat from Los Angeles. Nash aggravated his right hamstring in the first half, while Blake needed help to the locker room after getting hurt in the fourth quarter - and Meeks didn't even play. D'Antoni laughs at many Lakers' fans notion that his shortened rotations late in the season are the reason for their injuries now, including Bryant's torn Achilles tendon at the close of a minutes-heavy season. Los Angeles finished the regular season on a 28-12 surge, rallying from seven games below .500 in late January to the seventh seed in the West. ''We were trying to get in the playoffs, and we went short (because) we had injuries,'' D'Antoni said. ''Some guys had to play heavier minutes than normal. Most of the year, we played 10 guys. I don't know how many guys people want us to play. Matter of fact, when we were (losing), we were playing a lot of guys. We shortened it up to get to the playoffs. Take your pick: We can have everybody rested and be at the beach right now, or we can be in the playoffs.''
Original Story:
http://msn.foxsports.com/nba/story/Sp...
THE BACKYARD
BEST OF MAXIM
RELATED ARTICLES
FAMILY MATTERS
Steve Nash is trying to avoid paying child support to his ex-wife. See what the Lakers guard is arguing to support his case.
The Lakers are hurting, literally, as critical Game 3 vs. the Spurs quickly approaches. Steve Nash, who received two additional epidural injections in his back and a cortisone shot in his right hip Thursday, will be a game-time decision Friday night, Mike D'Antoni said. This morning we'll prepare for tonight's game against the Spurs. We have to protect are home with...
After the disappointing performance in Game One, the Los Angeles Lakers were back at practice yesterday making adjustments for Game 2 tonight. Following practice, Steve Nash and Steve Blake took a few moments to chat with the media regarding tonight's contest against the San Antonio Spurs. For Nash, a balance needs to be found in what his mind thinks his body can do...
EL SEGUNDO, Calif -- Steve Nash needed three injections for pain relief on the Los Angeles Lakers' day off. He's still more likely to play in Game 3 on Friday night than Steve Blake or Jodie Meeks. And just in case anybody forgot, Kobe Bryant is at home in a walking boot, his season over. Late in a season featuring just about every tribulation imaginable, the Lakers have...
The Phoenix Suns have opted to change course a year after losing Steve Nash and finishing in last place in the Western Conference. The organization has been lost in the woods even in those last years with Nash playing point guard, but moving on and moving forward has been difficult. The organization fired coach Alvin Gentry midway through the season after he went 13-28. Now they...
The Los Angeles Lakers knew they wouldn't have guards Steve Blake or Kobe Bryant last night. It also turns out that they didn't have Steve Nash or Jodie Meeks against the San Antonio Spurs, instead having to go with a backcourt featuring the likes of Andrew Goudelock and Darius Morris. Oh yeah, and Chris Duhon was available off the bench.As you would expect with this backcourt...
OF COURSE HE DOES
Metta World Peace believes that injured teammate Kobe Bryant shouldn't make good on his promise to halt his live-tweeting of Lakers playoff games.
ON GUARD?
Steve Blake is out indefinitely and Steve Nash and Jodie Meeks both are doubtful for Game 3 against the San Antonio Spurs on Friday at Staples Center.
Steve Nash, Steve Blake and Jodie Meeks are all doubtful for Game 3 against the Spurs. Steve Blake had an ultrasound Thursday that showed a moderately strained right hamstring. According to the Lakers, he is "out indefinitely." Steve Nash had two epidural injections in his back and a cortisone shot in right hip on Thursday. Jodie Meeks will undergo an MRI Thursday afternoon...
Steve Blake won't play for the Los Angeles Lakers in Game 3 against the San Antonio Spurs on Friday, and fellow guards Steve Nash and Jodie Meeks are doubtful. The Lakers are running out of healthy guards, and they're increasingly out of ideas on how to stop the Spurs from ending their tumultuous season. Blake has a strained right hamstring that will keep him out indefinitely...
NBA News

Delivered to your inbox

You'll also receive Yardbarker's daily Top 10, featuring the best sports stories from around the web. Customize your newsletter to get articles on your favorite sports and teams. And the best part? It's free!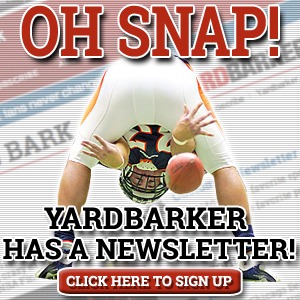 Latest Rumors
The Backyard

Today's Best Stuff

For Bloggers

Join the Yardbarker Network for more promotion, traffic, and money.

Company Info

Help

What is Yardbarker?

Yardbarker is the largest network of sports blogs and pro athlete blogs on the web. This site is the hub of the Yardbarker Network, where our editors and algorithms curate the best sports content from our network and beyond.