Found November 14, 2011 on Project Spurs:
• Boston.com hopes the Boston Celtics can pull a page out of the San Antonio Spurs' play book and win an title with an aging core and in particular how a shortened season can help Boston like the lockout did for the 1999 Spurs.
• Spurs head coach Gregg Popovich chats with a participant at this past Rock 'n' Roll half-marathon in San Antonio.

• Is this Spurs' Tony Parker new squeeze he took to the BNP Paribas' Tennis Masters Final?


• Manu Ginobili spoke on the progress of a new stadium being proposed in Argentina and talked about his kids.
• Express News' Tim Griffin gives a healthy scoop of NBA player's Twitter reactions to today's news the lockout might have ended the NBA season.
• Pounding the Rock has a funny photo of Manu detailing the complex world of the BRI.
• If there is any silver-lining in the possible canceled NBA season is the fact the women of the gentleman's club Rick Cabaret will be hooping throughout the lockout. And by hooping I mean women running up and down the court in next to nothing.
(Warning: NSFW)
Got a Spurs link to share? Leave us thelinkin the comments and we will be sure to post it.
Original Story:
http://www.projectspurs.com/2011-arti...
THE BACKYARD
BEST OF MAXIM
RELATED ARTICLES
Allen Iverson wants to make an NBA return, and he's interested in the Boston Celtics. (Boston Globe)Now, after a year off, Iverson said he is ready to end his career in a more heartening fashion. Knowing that the Celtics will be seeking help, Iverson's manager, Gary Moore, told the Globe his client would love to come to Boston."I have already spoken to Allen about that and...
As we reported here, Spanish team Unicaja Malaga has been interested in signing San Antonio Spurs' Tiago Splitter for the duration of the NBA lockout and reportedly offered him a huge amount of money.According to solobasket.com, Splitter will sign with Unicaja for the duration of the NBA lockout. Gradually, the movement has taken shape that has been brewing in recent weeks:...
Professional basketball players, including Rajon Rondo and Paul Pierce, will compete in Boston Saturday night. Of course, they'll play at Harvard, neither team will play any defense, who wins or loses won't matter,  the NBA lockout continues indefinitely, and seeing Jeff Green and Kendrick Perkins on the same court will only conjure vicious memories.Do I sound bitter? That's...
The entire staff here at Project Spurs is a very tight-knit group and when one of our "family members" is hurting, it affects us all. Last week, Jason Rogers lost a very special person in his mother so we are dedicating this episode of the Spurscast and this entire week of posts at Project Spurs to the memory of Georganna Metz Rogers.On this episode of the Spurscast. Jeff...
On this special episode of the Spurscast, Jeff and I talk about what exactly could come from the players rejecting the last deal and disbanding from the union.Aside from a very high possibility of the 2011-12 season being cancelled, we talk about the ripple effect, which probably means more San Antonio Spurs players will be heading overseas.We also talk about losing one of Tim Duncan...
San Antonio Spurs' Tony Parker was on hand at the Paris Masters to present tennis legend Roger Federer the Paris Masters trophy after defeating Frenchman Jo-Wilfried Tsonga in the final match. From playing for ASVEL-Villeurbanne, starring in an European French fast-food commercial, and much more, it seems Parker isn't letting the NBA lockout keep him down. Tony Parker on WhoSay
The on-going NBA lockout is going to be devestating on many people outside the arenas and lockerrooms. It's a fact, NBA cities rely on revenue from NBA games. From restaurants, outside vendors, arena employees to bars, the longer the lockout rages on, more money will be lost which could mean an estimated loss of $90 million for the city of San Antonio without the San Antonio...
Delonte West is one crazy ass dude, but this idea is pure Genius.  I mean think about it for a second.  They're already one of the most known companies in the world and their slogan fits perfectly.  "Just do it."  I mean why would they not do this?  Every young guy in the freaking world would drop a couple extra pennies to have a Nike check on their condom...
Jokes about Nike's slogan are nothing new. Anyone who is above the age of 12 that hasn't heard an off-color comment that's related to "Just Do It" must be living in an extremely remote area of the country.  Sex jokes are associated with Nike's tag line all the time, and I'm sure the people at [...]
Rajon Rondo and some of his NBA buddies will be hooping at Harvard Universsity this weekend. Reports the Boston Globe: "Celtics guard Rajon Rondo announced yesterday he is hosting a charity game Saturday featuring NBA players, including teammate Paul Pierce and two-time league scoring champion Kevin Durant. 'The Boston Charity Classic' will take place at 6 p.m. at Lavietes...
We may all be down as a result of the news that the NBA Players Association rejected the owners proposal to begin an NBA season, but we're not going to let these money-hungry animals hold us back. Despite the fact the chance of an NBA season is slimmer than The Olson Twins once were, we're [...]
NBA News

Delivered to your inbox

You'll also receive Yardbarker's daily Top 10, featuring the best sports stories from around the web. Customize your newsletter to get articles on your favorite sports and teams. And the best part? It's free!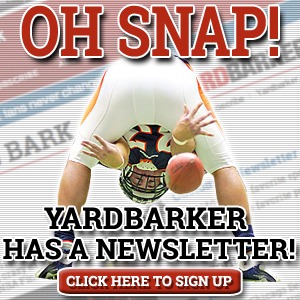 Latest Rumors
Best of Yardbarker

Today's Best Stuff

For Bloggers

Join the Yardbarker Network for more promotion, traffic, and money.

Company Info

Help

What is Yardbarker?

Yardbarker is the largest network of sports blogs and pro athlete blogs on the web. This site is the hub of the Yardbarker Network, where our editors and algorithms curate the best sports content from our network and beyond.