Found May 30, 2012 on Next Impulse Sports:
<a href="http://www.mogreet.com/moshare/it/" class="moshare-button-hor" data-channel="wordpress-1.2.8" data-message="In last night's game two of the San Antonio Spurs-Oklahoma City Thunder Western Conference Finals, some fans got into in the stands. Whether it was frustration on the OKC fans' part or just pure drunkenness (highly likely) this is how the brawl went down, according to "William Wilkerson", who captured this fight on his camera phone a row or two away from the action: OKC fan was waving a KD jersey in the air right before the 4th quarter when a drunk Spurs fan from a row behind us walked down and grabbed it, then threw it. OKC fans obviously was pissed so he walked up and punched Spurs fan. OKC's girlfriend got involved. Spurs fan hit OKC's girlfriend and choked her. Cops came. Meanwhile, another Spurs fan sucker punched OKC fan. OKC's girlfriend jumped on Spurs fan. Spurs fan No. 2's mom then whale...
Original Story:
http://cosbysweaters.com/2012/05/30/s...
THE BACKYARD
BEST OF MAXIM
RELATED ARTICLES
I fear that the days of showcasing what Russell Westbrook and Kevin Durant are wearing in postgame are slowly waning. The Thunder was dropped by the Spurs in game two of the Western Conference finals on Tuesday night. Postgame for the two – who along with James Harden combined to score 88 points and still [...]
Two games into the Western Conference Finals, the Oklahoma City Thunder find themselves in a bit of a predicament.  Down 0-2, they face the daunting task of beating a team that's won 20 in a row four times in five games.  To make matters worse, they've yet to find an effective defensive lineup.  Kendrick Perkins is too slow, and Serge Ibaka… well, Tim Duncan tends to make...
On June 7, 2007, Sam Presti took over basketball operations in Seattle. The team was dreadful, their two best players wanted out, and Seattle was about to lose the team. Fast forward five years, and the Thunder is playing in its second straight Western Conference Finals. To say that Sam Presti has done a poor job would be laughable. However, for some reason, he seems to be "untouchable"...
DUNKIN' ON DUNCAN
The Oklahoma City Thunder have finished off the San Antonio Spurs unbeaten streak in the NBA playoffs after they collected a 102-82 victory in game three of the Western Conference Finals. Thunder star Kevin Durant decided to make his night more memorable by throwing down this poster dunk on Tim Duncan in the second quarter of play:
Thanks to the Oklahoma City Thunder, we're now tragically aware of a Nerd Chic movement digging its frightening tentacles into the NBA. (Our advised response for commissioner David Stern: Go Dress Code Red.) The Thunder also provided evidence that the Dallas Mavericks and Los Angeles Lakers could stand to hire a few more quick employees. And they've reminded us how astute...
OKLAHOMA CITY (AP) -- Kevin Durant scored 22 points, Thabo Sefolosha set playoff career-bests with 19 points and six steals, and the Oklahoma City Thunder snapped San Antonio's 20-game winning streak by beating the Spurs 102-82 in Game 3 of the Western Conference finals on Thursday night. Oklahoma City closed its series deficit to 2-1 and will host Game 4 on Saturday night....
Last night I tried out SportsYapper for the San Antonio Spurs-Oklahoma City Thunder Game 2 of the Western Conference Finals and I must admit, it was one fun experience. Imagine getting texts to your mobile device, cell phone or tablet from Spurs fans from all over the world who are on SportsYapper. No need to sort through Twitter hashtags anymore to catch the action with your friends...
                Another dominating performance by the Spurs Tuesday puts them up 2-0 in their Western Conference Finals series against the Oklahoma City Thunder. Five quick thoughts from the game: Scott Brooks is becoming an issue. Is he slightly overrated? Is the talent on the team helping him? For the 2nd straight game, there were questionable decisions made throughout...
OKLAHOMA CITY -- The San Antonio Spurs' winning streak came to a screeching halt Thursday. The question now is whether the Oklahoma City Thunder can actually turn the Western Conference finals into a series instead of serving as a mere road block in the Spurs' march to the NBA Finals. Kevin Durant and the Thunder smacked the Spurs 102-82 in Game 3 on Thursday night. ...
1. Kevin Durant Dunks on Andrew Bynum-The Oklahoma City Thunder just destroyed the Los Angeles Lakers in their 1st game in the Western Conference semi-finals. The Thunder cruised to a 29 point victory and in the blow out they had many highlight plays. The best play of the night goes to Thunder superstar Kevin Durant who threw a monster dunk on one of the best shot blockers...
It's easy to watch the Game 3 pounding the Oklahoma City Thunder just put on the San Antonio Spurs and lose your mind as a Boston fan.
There are four-winning streaks in play tonight, and one or three of those streaks will be broken by the time the San Antonio Spurs and Oklahoma City Thunder complete game three of the Western Conference Finals. For the Spurs, they have three winning streaks on the line tonight. First, they have their undefeated playoff record (10-0) at play. Second, they have their final 10-game...
Thunder News

Delivered to your inbox

You'll also receive Yardbarker's daily Top 10, featuring the best sports stories from around the web. Customize your newsletter to get articles on your favorite sports and teams. And the best part? It's free!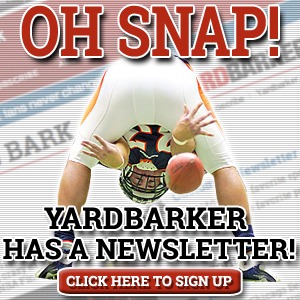 Latest Rumors
Best of Yardbarker

Today's Best Stuff

For Bloggers

Join the Yardbarker Network for more promotion, traffic, and money.

Company Info

Help

What is Yardbarker?

Yardbarker is the largest network of sports blogs and pro athlete blogs on the web. This site is the hub of the Yardbarker Network, where our editors and algorithms curate the best sports content from our network and beyond.