Found February 04, 2013 on NorthWest Sports Beat:
LA at center? Throughout his NBA career, LaMarcus Aldridge has become one of the best power forwards in the game. He's an inside-outside threat, he's a two-time All-Star and his game has improved drastically since the departure of Brandon Roy. So why would we want to move the big man away from his natural position? Simply put, he has the potential to be even better as the Portland Trail Blazers' starting center. *All advanced statistics are provided by 82games.com and accurate as of Feb. 2, 2013 at 12:00 AM PT.    LaMarcus Aldridge has proven he can play center. (Photo: Nelson Chenault/USA TODAY Sports) *The Big Disclaimer Let's get this out of the way right off the bat. LaMarcus Aldridge has only played nine percent of the 2012-13 season at the center position. The sample size is small, and it's possible that more minutes would balance out the impressive showings we've seen thus far. But on a team that has lacked a dominant center for so many years, the risk of balancing out statistics might be worth it. The Blazers are fighting for a playoff spot out West, and half way through the season, Aldridge has been more productive when he's playing the 5-spot than when he's playing power forward. Offense Aldridge has been touted throughout the years for his deadly jump shot. His range has extended season after season, and he's trusted to score the ball virtually anywhere inside the three-point line. The past few years, though, we've seen the big man develop more moves inside, and that's the kind of versatility that helps take advantage of bigger players. At the power forward position, Aldridge is averaging 25.2 points per 48 minutes. However, when he's played center this season, that number has jumped up to 28.1. That's good enough to put him just outside the top 10, which makes sense considering his field-goal percentage increases from 46.4 percent to 51.1 percent. Per 48 minutes, Aldridge also averages 3.5 fouls per game. That number drops to 2.6 when at the 5-spot. If you're unfamiliar with ESPN's PER stat, it is defined as "the overall rating of a player's per-minute statistical production," (according to ESPN). When Aldridge is playing the 4, his PER is 18.6—3.6 above the league average. However, when he plays center, his PER skyrockets to 25.3. Only four players in the league have a higher number than that approaching All-Star Weekend, and those players are Brook Lopez, Chris Paul, Kevin Durant and LeBron James. Defense Defense is where Aldridge's game has always needed the most work. He's only averaged one block per game throughout his six-and-a-half years, and his toughness has often times been questioned against bigger competition. LaMarcus Aldridge has been a better rebounder as a center this season. (Photo: Bruce Ely/The Oregonian) When you look at the stats, though, for the 2012-13 season, you have to question whether or not that criticism is 100 percent valid. As a center this season, Aldridge has out-rebounded his opponents 14.3 rebounds per 48 minutes to just 7.6. As a power forward, he's averaged just 10.6 rebounds—a number that is completely negated by the 10.6 rebounds he's allowed to his competition. When playing his natural position, the Blazers' big man allows his fellow forwards to post a 16.0 PER. That number is 1.0 above the league average, and it drops to just 12.7 when he plays center. It's true that Aldridge allows his center competition to shoot a higher percentage than his fellow power forwards, but he also draws 2.3 more fouls per game as the man in the middle. He commits 3.5 fouls per 48 minutes as a 4, and that number drops nearly a whole foul when he plays the 5. Why It Still Won't Happen When it comes down to it, Aldridge simply doesn't want to play center. Despite the evidence that he can handle his own against the bigs of the NBA, the 6'11" forward wants "the luxury of playing with a dominant center," according to The Columbian's Candace Buckner (h/t Blazer's Edge). Given more minutes, it's possible that Aldridge could be that dominant center. But when it comes down to it, you have to keep your stars happy, and Aldridge is happy as a power forward. J.J. Hickson has done a remarkable job playing center this year, but his future is in flux, as he's in a contract season.  Portland could be looking for a new big man this summer, and while Aldridge makes sense, expect them to look elsewhere when it comes to the starting center position. CLICK HERE TO CHECK OUT THE BLAZERS BLOG IN OUR CLUBHOUSE TODAY AT NWSB!
Original Story:
http://www.nwsportsbeat.com/trailblaz...
THE BACKYARD
BEST OF MAXIM
RELATED ARTICLES
Another classic? The Portland Trail Blazers  have begun to establish a bit of a history with the Dallas Mavericks. Whether it's Game 4 of the 2011 playoffs, LaMarcus Aldridge's game-winner in 2012 or the most recent matchup that involved both an improbable comeback and a last-second shot in Portland's favor. Matchup: Portland (25-23) @ Dallas Mavericks (20-28) Venue: American...
LaMarcus Aldridge came up big down the stretch in carrying the Portland Trail Blazers to victory in their last game. That probably doesn't come as much of a surprise to the Dallas Mavericks. A week after his buzzer beater buried the Mavericks, Aldridge will again look to frustrate one of his favorite opponents when the Trail Blazers visit Dallas on Wednesday night. Portland...
LaMarcus Aldridge had 25 points and 13 rebounds to help the Portland Trail Blazers avoid a late collapse and hang on to beat the Minnesota Timberwolves 100-98 on Monday night. Wes Matthews scored 22 points and Damon Lillard added 21 points for the Blazers, but they each had five of the team's season-high 28 turnovers. The Blazers never trailed in the game, but the Wolves had...
It is well known that what separates the Portland Trail Blazers from being a bona fide playoff contending team and a pretending playoff team is their bench. What is disheartening is that their bench is home to a number of their recent first round draft choices. One of those former first round picks is point guard Nolan Smith, the Blazers 21st selection from Duke in the 2011 NBA Draft...
On the road again The Portland Trail Blazers just wrapped up a home-and-home series with the Utah Jazz, which means it's time to pack their bags and head on out for a seven-game road trip. Matchup: Portland Trail Blazers (24-23) @ Minnesota Timberwolves (18-26) Venue: Target Center Time: 5:00 PM PT Date: Monday, Feb. 4, 2013 Game one of the trip puts the team in Minnesota to take...
Close Call Coming off a 105-99 big win against the Utah Jazz that saw the Portland Trail Blazers (25-23)  tighten up the Northwest Division of the NBA's Western Conference, Portland had to hold out against the Minnesota Timberwolves (18-27) until the very last second in a 100-98 win. Portland entered the fourth quarter leading the T-Wolves 77-58, a relatively large margin by...
MINNEAPOLIS - In a matter of minutes, the Portland Trail Blazers went from cruise control to crisis, from a comfortable lead to a nail-biting finish. "The fourth quarter didn't go the way we wanted it to,'' Blazers coach Terry Stotts deadpanned after his team's 100-98 victory over the Minnesota Timberwolves on Monday. Down 19 after three quarters at Target...
MINNEAPOLIS It's in part thanks to the Timberwolves that Nicolas Batum got his four-year, 45 million deal this offseason, a contract that many assumed to be more than what the small forward was worth. It was the result of a bidding war between the Timberwolves and Trail Blazers, and Portland eventually won, matching Minnesota's offer for the restricted free agent. Since...
The Portland Trail Blazers have enjoyed an offensive surge during their home winning streak, but that hasn't translated to any road success lately. That may change against a slumping Minnesota Timberwolves team they've dominated in recent years. The Trail Blazers look to snap a four-game road losing streak Monday night as they try to win for the 10th time in 11 trips to...
NBA News

Delivered to your inbox

You'll also receive Yardbarker's daily Top 10, featuring the best sports stories from around the web. Customize your newsletter to get articles on your favorite sports and teams. And the best part? It's free!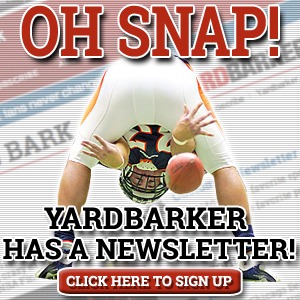 Latest Rumors
Best of Yardbarker

Today's Best Stuff

For Bloggers

Join the Yardbarker Network for more promotion, traffic, and money.

Company Info

Help

What is Yardbarker?

Yardbarker is the largest network of sports blogs and pro athlete blogs on the web. This site is the hub of the Yardbarker Network, where our editors and algorithms curate the best sports content from our network and beyond.