Found January 18, 2013 on Fox Sports Arizona:
PLAYERS:
Alvin Gentry
,
Robert Sarver
,
Steve Nash
,
Amare Stoudemire
,
Lance Blanks
,
Michael Beasley
,
Wesley Johnson
,
Lindsey Hunter
,
Dan Majerle
TEAMS:
Phoenix Suns
,
Los Angeles Lakers
,
New York Knicks
,
Oklahoma City Thunder
PHOENIX So, Alvin Gentry and the Phoenix Suns have come to the shared conclusion that someone else should coach this struggling NBA team. Examining this opinion from the perspective of Gentry, whos been the teams head coach since February 2009, is something were going to skip. Instead, our expected task should be deciding how we feel about the Suns portion of this mutually pondered development. I could pound the keyboard and declare that mutually agreeing to have someone other than Alvin coaching the Suns is a terrible idea. Or I could lob major props at owner Robert Sarver and president of basketball operations Lon Babby, writing that with the team crawling to this seasons halfway point at 13-28 its about stinking time. But I wont do either. Why not? Well, because I just dont know. For context in this predicament, lets check in with Babby. He was the perfect coach with the previous group, Babby -- referring to Suns teams that featured Steve Nash and Amare Stoudemire -- said of Gentry during a Friday afternoon press conference at U.S. Airways Center. In Babbys interpretation of events, Gentry just isnt the guy to coach the current group. Sometimes it just doesnt feel right, said Babby, who sort of refused to get into technical specifics of why Gentry was ushered out. It wasnt about wins and losses. It was about a feel of where the group was progressing. As someone who traipses through the Suns locker room before and after every game, this is a group that had the feel of several guys in progression toward a greater calamity. It didnt yet seem like fistfights on the horizon, but an undercurrent of disharmony was translating to the hardwood. Lets just say that losing 13 of their last 15 games has escorted a few players to the role of unhappy campers. The point guard, for example, recently said only three Suns play hard on a consistent basis. The center has been unhappy with his offensive-participation rate since Nash dribbled off to Hollywood. Yeah, it really seemed that Gentry was the perfect coach for the previous group, but not so perfect for this one. The previous group had more talent and a considerably high level of basketball aptitude than the current group. The current group, it should be pointed out, was put together by Babby and general manager Lance Blanks, who like Gentry are in the final year of their contracts. For the record, just coming in and grabbing superstars isnt exactly a breeze. With Babby and Blanks at the helm, the Suns hardly struck gold in their first two drafts, but they did manage to sort of successfully woo Eric Gordon (for good or bad) with a whopping contract offer, subsequently matched, and collect a bag of future draft selections. Babby also was eager to point out that Gentrys shared-dismissal solution had nothing to do with which players played and which didnt. If had been speculated that not playing off-season additions Michael Beasley and Wesley Johnson contributed to Alvins doom. So, beyond simply losing, Sarver and Babby now preside over a team that was seemingly headed toward an emotional implosion. Lacking sufficient talent to win games without playing hard and together, the Suns were managing to reach defeat in many head-scratching, eye-rolling ways. Although he avoided those pesky specifics regarding what Gentry did or didnt do, Babby said the current Suns are Regressing. We have to have our culture moving forward. And by culture, he wasnt referring to blasting opera tunes in the locker room as pre-game motivation. Its the culture of winning -- of not just playing hard but playing the right way together -- that this team hasnt demonstrated. Gentry is familiar with that culture, because it helped the Suns reach the Western Conference finals in 2010. But with the current roster hes been obliged to work with, he has been unable to inspire transcendent cohesion among middling-level talent. Getting rid of him is the thing to do then, right? Well, only if his eventual replacement is better at rallying his players toward a collective effort and making adjustments than Gentry has been. Babby, whos aiming to have an interim coach in place before Sundays practice, will choose the successor from the Suns current pool of assistants. Press-room gossip suggested the smart money should be on skill-development chief Lindsey Hunter, with veteran defensive-oriented assistant Elston Turner and former Suns star Dan Majerle also on the short list. Will one of these guys have more success than Gentry? Like Babby, I have a feeling about where this could be going, but until Hunter or Turner or Majerle spend time on the job, how is anyone to really know? With 41 games to use as an audition, Babby and Sarver can sit back and judge whether to anoint this interim coach as the full-time leader or go out and find someone else. Will the interim guy enjoy a honeymoon of player harmony, ball movement and help defense? A temporary uprising certainly wouldnt be shocking. But would it translate to next season? The opportunity to see someone else leading the team does make more sense than sitting back and grinding our teeth while Gentry and the Suns stagger toward the finish line. This stagger, however, has the capacity to help the flexible Suns begin to add talented players who are a lot more like the players Gentry coached during the relative glory days. See, even if Alvin Gentry isnt the perfect coach for the current team, here's a sobering concept: There probably shouldnt be a perfect coach for a team like this. Rather than blame Gentry for a culture regression, how about building a roster with players whove already shown a willingness to play for each other? With a few more months left to demonstrate that he and Blanks should be allowed to play with the Suns draft picks and cap flexibility, Babby couldnt fire the current players and hire the Oklahoma City Thunder as an interim team. So, sitting at a grumpy, grumbling 13-28, the Suns will take their marching orders from another voice. If they respond, play smarter and as a unit, they can win a little and kick start that culture change. But judging the mutually decided removal of Alvin Gentry shouldnt be considered a wise move until we see the work of his eventual replacement.
Original Story:
http://www.foxsportsarizona.com/01/18...
THE BACKYARD
BEST OF MAXIM
RELATED ARTICLES
PHOENIX -- Alvin Gentry is out as the Phoenix Suns coach. The news was first reported Friday morning by FOX 10 sports anchor Jude LaCava and was confirmed by the Suns shortly afterward, who said an interim head coach would be named within 48 hours. Immediate speculation centered on assistant coach Elston Turner and player development assistant Lindsey Hunter. The Suns issued a...
The Phoenix Suns say the team and coach Alvin Gentry have ''mutually agreed to part ways.'' Gentry had coached the Suns since replacing the fired Terry Porter at the All-Star break of the 2008-09 season, compiling a 158-144 record. His 2010 squad, led by Steve Nash, advanced to the Western Conference finals. But Nash left and the team underwent what has been a disastrous...
The Phoenix Suns concluded on Friday morning, that the losing streak that engulfed the club, had to end. They decided that the best way to remedy the situation, would be a new voice in the locker room, so according to a report from the "Arizona Republic," they fired veteran head coach Alvin Gentry. The Suns lost at home to the Milwaukee Bucks Thursday night, pretty much sealing...
The Phoenix Suns have parted ways with head coach Alvin Gentry after the team posted its worst first-half record in over 25 years (13-28). The Suns released a report stating that the two sides have agreed to mutually part ways after 4 plus seasons as their coach. They're expected to name an interim coach over [...]The post Dommermuth: Why Suns Management is Clueless appeared first...
The Suns tried to slide this in and thought no one would notice. After firing of Alvin Gentry today, top candidates to become Suns interim coach: assistants Elston Turner and Lindsey Hunter, sources say. — Adrian Wojnarowski (@WojYahooNBA) January 18, 2013
Add Alvin Gentry to the pile of discarded NBA coaches this season. Gentry was let go on Friday morning. The Suns current record was 13-28 and the team has only won two of their last 15 games including a loss to the Milwaukee Bucks on Thursday. During Gentry's time with the team his overall record was 335-370. He became the interim head coach in 2009 after Terry Porter was fired...
The franchise is mired in a post Nash morass.
  The Phoenix Suns have started the 2012-2013 season 13-28 after losing MVP point guard Steve Nash to the Los Angeles Lakers in the off season. The Suns were hoping the additions of Michael Beasley and Goran Dragic would at least help them stay around the .500 mark. With the [...]
BOSTON — Bad teams seldom have sterling chemistry, but there are levels of disgust. The Charlotte Bobcats, for instance, have hung tough as their promising start has turned into another lottery-bound season. Celtics coach Doc Rivers summed up the general consensus among opposing coaches earlier this week when he marveled at the Bobcats' resilience, saying: "They just keep playing...
The Phoenix Suns picked player development director Lindsey Hunter as interim coach, two days after the team parted ways with Alvin Gentry.
PHOENIX Further evidence of a troubled Phoenix Suns season arrived at U.S. Airways Center on Thursday night when the home team couldn't even defeat the Milwaukee Bucks. OK, so the Bucks (20-18) are pretty decent, by Eastern Conference standards. But we're looking at their slouching in historical context, which tells us that some form of Suns voodoo was preventing the Bucks...
When head coach Alvin Gentry and the Suns parted ways Friday, Phoenix center Marcin Gortat took to Twitter to thank him for all the opportunities he was given through the 3 years they spent together, but it didn't take long before Gortat was already making a case for former Magic head coach Stan Van Gundy to come to Phoenix:
NBA News

Delivered to your inbox

You'll also receive Yardbarker's daily Top 10, featuring the best sports stories from around the web. Customize your newsletter to get articles on your favorite sports and teams. And the best part? It's free!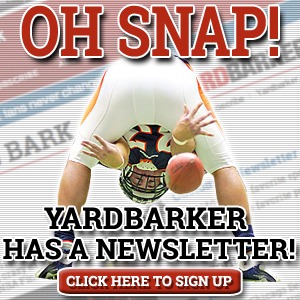 Latest Rumors
The Backyard

Today's Best Stuff

For Bloggers

Join the Yardbarker Network for more promotion, traffic, and money.

Company Info

Help

What is Yardbarker?

Yardbarker is the largest network of sports blogs and pro athlete blogs on the web. This site is the hub of the Yardbarker Network, where our editors and algorithms curate the best sports content from our network and beyond.