Found January 27, 2013 on NBA 24/7 365:
Welcome to the first installment of my weekly post where I, Scott from Crabdribbles.com, bring to you the best performance and top five plays from the past week in the D-League. It's pretty simple, really — if you play well and your team wins, you have a good chance to secure the week's top honors. And as far as the to five plays plays go, simply throw down a thunderous dunk or score a game-winner and you'll surely grab my attention. With that said, let's get straight to it. Performance of the Week There were several great performances this week.  Here are four which just missed the cut: Sean Singletary put up 38 points, nine assists, and eight rebounds vs. Vipers on Monday night. Andrew Goudelock scored 28 points and the game-winning floater vs. Legends on Monday night. Luke Harangody posted a huge double-double (29/17) vs. BayHawks on Saturday night. Mike Davis had a career-high 25 rebounds vs. Legends on Saturday night. But it really came down to a pair of performances from some NBA rookies — Jeremy Lamb and Tornike Shengelia. On the 23rd, Lamb scored 30 points and pulled down seven boards in just 26 minutes vs. the L.A. D-Fenders. He was incredibly efficient, as he shot 12-16 from the field and 3-5 from the three. However, there's a catch. As impressive as Lamb's performance was, he put up big numbers against one of the worst teams in the league, and the 66ers crushed the D-Fenders by 23 points. For that reason, he gets runner-up honors for this week. That leaves us with Toko Shengelia's record-breaking performance in a 123-115 win vs. the Maine Red Claws on the 25th. Before we get to his monster stat line, there is something you should know about the Red Claws. In this year's draft, the Boston Celtics drafted a defensive juggernaut by the name of Fab Melo. While he's yet to crack the Celtics' rotation, he has raised some eyebrows with his remarkable average of 3.63 blocks per game. He has registered five or more blocks four times in 19 games, and two days before Christmas Day he recorded his first triple-double as a pro (15 points, 16 rebounds and 14 blocks). So, not only was this a matchup against one of the best teams in the D-League, but also against one of the best low-post defenders. After a tremendously slow start to the game (four turnovers and two points in the first quarter), Toko soon found his rhythm and wrapped up the night with 39 points (17-21 FG), 18 rebounds, six assists, and three steals. It was the most points scored by a member of the Armor since December 15th, 2009, and Toko's 17 field goals is a new franchise record. Despite their best efforts, Fab Melo and the Red Claws' defense could do nothing to slow down the Nets' 54th overall pick. To be fair, I doubt that any team in the D-League could've stopped Toko that night. Top Five Plays of the Week This week's top five plays feature Fab Melo, Hilton Armstrong, Dominique Sutton, Josh Selby, Dar Tucker and Andrew Goudelock. Hopefully the terrible commentating won't ruin the awesomeness for you. Follow Scott on Twitter @crabdribbles.
Original Story:
http://nba247365.com/?p=9944
THE BACKYARD
BEST OF MAXIM
RELATED ARTICLES
Tornike Shengelia holds D-League averages of 28.3 points, 13.7 rebounds, 7.0 assists and 3.0 steals per game.
HOW SWEET
Glen Davis catches Gerald Wallace mid-air after the Nets' forward makes a layup and nonchalantly carries him rather than letting him hit the deck:
The NBA is reportedly flexing its muscle at a Brooklyn man named Mike Sorisi.  According to the New York Post, Sorisi, 26, is a passionate Knicks fan who lives in the heart of Brooklyn Nets territory.  In an effort rally other Knicks fans living in what is now enemy turf, Sorisi is said to have coined the term "Knicklyn" to represent Knicks' fans who are faced with rooting...
Anyone who plays basketball in front of thousands of people for a living is going to end up getting photographed and/or videotaped in some compromising positions and/or doing some pretty weird looking stuff.  It's simply inevitable (…isn't that right, Kobe Bryant?).  That being said, Glen Davis seems to appear in various types of unusual photos and videos much more frequently...
Our old friend Big Baby is used to having people jumping on him (like the Nate Robinson/Shrek and Donkey moment). So I guess it was his natural reaction to catch Gerald Wallace in mid-air as he went up for a lay-up. Video courtesy of the NBA.
Sometimes NBA players have nowhere to hid from flying balls and during tonight's Orlando Magic/Brooklyn Nets game, Nets forward Andray Blatche took one right to the mug.With less than three minutes to play, Orlando reserve Kyle O'Quinn was trying to save a possession and fired a ball going out of bounds at Blatche.That's when Andray world got a little shook up:
NEW YORK (AP) -- Like Brooklyn bullies, the Nets love picking on the little guys. They beat Orlando four times this season and are 17-0 against teams that were under .500 when they played them. Now the big boys are coming to Barclays Center. Deron Williams had 20 points and nine assists, and the Nets beat the Magic 97-77 on Monday night for their eighth straight home victory....
Deron Williams had 20 points and nine assists, and the Brooklyn Nets beat the Orlando Magic 97-77 on Monday night for their eighth straight home victory. The Nets rebounded from their first two-game losing streak under P.J. Carlesimo, finishing off a four-game sweep of the Magic, who dropped their sixth straight. Brook Lopez scored 16 points and Joe Johnson had 13 for the Nets...
Keith Bogans and Joe Johnson lit up the Magic from three-point range tonight, combining for 25 points on 6-11 shooting from behind the arc Another poor third quarter made the chances of an easy Nets win much more slim, but ultimately wasn't bad enough to allow the lowly Orlando Magic into seizing the lead from the home team tonight at the Barclays Center. In sweeping...
It's not often that you get to see an NBA player catch another but during Monday night's Brooklyn Nets/Orlando Magic affair, Orlando's Glen Davis came up holding Brooklyn's Gerald Wallace.The moment happened in the third quarter of play and watch as Glen catches "Crash" after a drive attempt:
Game time: 7:30 PM ET TV: FOX Sports Florida The Brooklyn Nets have been playing better basketball under interim coach P.J. Carlesimo, but have dropped two in a row after having problems defending the paint. The outlook for the Orlando Magic appears much worse, as they've lost five straight heading into a five-game road trip. Brooklyn will try to shore up its interior defense...
P.J. Carlesimo has started Reggie Evans at power forward for the last 13 games.
NBA News

Delivered to your inbox

You'll also receive Yardbarker's daily Top 10, featuring the best sports stories from around the web. Customize your newsletter to get articles on your favorite sports and teams. And the best part? It's free!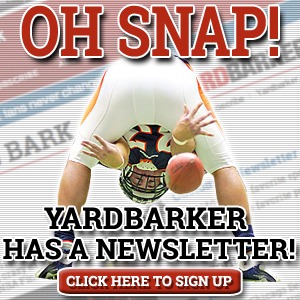 Latest Rumors
Best of Yardbarker

Today's Best Stuff

For Bloggers

Join the Yardbarker Network for more promotion, traffic, and money.

Company Info

Help

What is Yardbarker?

Yardbarker is the largest network of sports blogs and pro athlete blogs on the web. This site is the hub of the Yardbarker Network, where our editors and algorithms curate the best sports content from our network and beyond.