Found October 05, 2012 on Purple and Gold Blog:
PLAYERS:
Ray Allen
,
Paul Pierce
,
Kevin Garnett
,
Steve Nash
,
Rajon Rondo
,
Andrew Bynum
,
Derek Fisher
,
Kobe Bryant
,
Dwight Howard
TEAMS:
Boston Celtics
,
Miami Heat
,
Los Angeles Lakers
,
Philadelphia 76ers
,
Oklahoma City Thunder
,
New York Knicks
,
San Antonio Spurs
,
Los Angeles Clippers
Contributed by guest writer Frank Palmasani
The lean, green, Laker-rival machine; Ray Allen is gone. Two of their three best players are old. Their all-star point guard is the Celtics final saving grace. So why are they the number 2 team to beat for the Lakers in the East?
Who knows.
If one truth will ever hold relevant, it is that the Celtics play their best against the Lakers. Though it's a franchise rivalry, it isn't the sports drama of Bird v. Magic or West v. Russell. However, an old age rivalry is a heated rivalry none-the-less, and while it seems to be more of a Kobe versus the entire team instead of Kobe versus Paul Pierce or Kevin Garnett it is still the same heated rivalry. The Celtics have put it all on the line in recent matchups with the purple and gold. The Finals, the ABC channel Sunday broadcasts, the fights and the complaining; all of it a product of this legendary rivalry.
But is a built in fire enough to ward of the new Lakers?
They have a point guard who has proven time and time again that he can orchestrate a team on court. He has not proven himself as a true leader, but easily a man who knows the right spot to put the ball and can score when he needs too. They have their old reliable, Paul Pierce. He is a proven leader, plays good defense, and has even proven to be clutch. And what of Kevin Garnett, you ask? Well he is still Kevin Garnett. Age will touch anyone physically, but his intensity still remains at its peak. Even on those days where his bones are aching and muscles are sore, he still has the same "I WANT IT" defensive mind set. In the past years that mindset has been huge difference maker.
But the Lakers have Dwight. And Kobe. And Nash. The confrontations will be hard fought, and of course will not be as one sided as the roster would imply.
Steve Nash going head to head with Rondo would be a mismatch for each at different aspects of the position. Steve Nash is easily the more seasoned and skilled passer, better handler, and twice as clutch. However, Rondo quicker and there is not much that Nash could do to impede his penetration. That will more than likely be the highlight of the game.
Kobe versus Paul Pierce, on the other hand, will not be nearly as interesting as watching Ray Allen and Kobe going at it verbally and physically. However, it is a match up none the less. Kobe plays a defense almost similar to free safety in football when playing the Celtics large in part to the fact Rajon Rondo has the three point game of Andrew Bynum. That may not change as Steve Nash is much better defensively as the aging Derek Fisher was. So he may find himself switching on Pierce often as pieces are moved around the court and Meta World Peace is switched off. Kobe has great hustle, quick hands, and is a proven first-team defender. The combination of having to handle a pit-bull like Meta World Peace and Kobe Bryant on a consistent basis would be too much to handle.
As far Dwight Howard versus Kevin Garnett, that is a no contest. In his prime KG would have easily controlled the post; Garnett was a defender who's defensive smarts and timing were unmatched. However, in his later years, while the intensity still remains his athleticism has taken its toll. He will not be able to hold up an entire game with Dwight Howard. Feel about Dwight as you want but he is just to strong.
All these match ups aside, the game will remain hard fought and close.
It is just something about this rivalry that never lets it be simple.
Previous "The Competition" articles: New York Knicks, San Antonio Spurs, Oklahoma City Thunder, Los Angeles Clippers
Original Story:
http://www.purpleandgoldblog.com/2012...
THE BACKYARD
BEST OF MAXIM
RELATED ARTICLES
Still getting used to his new surroundings in Miami, Ray Allen went to the wrong end of the court when it was time to line up for the national anthem. Once play began, he looked right at home. No longer looked upon as a villainous character in Miami, Allen got tons of cheers from the crowd when the reigning NBA champion Heat held an open scrimmage before about 10,000 fans on Wednesday...
I'll give ESPN a break, there's been way too much going on in the sports world to be thinking about the NBA.  But Ray Allen was one of the most notable offseason free agent moves as the Big 3 broke up and he went from Boston to the defending champion Miami Heat.  Maybe if Ray Allen had indeed gone to Oklahoma City instead of Miami, he and Kevin Garnett would still...
According to an AP article covering the Miami Heat's fan appreciation scrimmage, Ray Allen was all-smiles in his Miami debut. In his newly dawned Heat colors, Ray hit a three-pointer and scored 13 points, filling in the starting line-up for the recovering Dwyane Wade. Ray reveled in his new position with the Heat but as [...]
Oops. I'm sure there are a bunch of Heat "fans" wondering "When did we trade Ray Allen?"
MIAMI -- Miami Heat fans are already warming up for the Oct. 30 regular-season opener against the rival Boston Celtics. NBA scrimmages are normally filled with nothing but cheers, but there was some booing Wednesday night at AmericanAirlines Arena. That happened when two women late in the first half walked by in the stands, one wearing a Ray Allen No. 20 Celtics jersey and the other...
"That's what Boston is all about. It's not about one guy. It's about everybody. Whatever my job is going to be -- if I have to get into the game and kill somebody, I kill him." Darko Milicic With that statement KG has likely come up with a list of targets. Here's my best guess. 1) Ray Allen 2) Ray Allen 3) Ray Allen 4) Lebron 5) DWade 6) Lebron...
(source feed provided no summary content for this entry)
Last night, Ray Allen made his debut as a member of the Miami Heat during their first scrimmage. He scored 13 points. And then later created somewhat of a stir off in the stands. Apparently a group of Boston Celtics fans were in the stands, wearing Ray's jersey, but in green. So much commotion was created that Dwyane Wade actually grabbed a microphone and asked: "Will all...
In September of 2007, a newly reconstructed Boston Celtics team gathered for a road trip. The post office was still processing Kevin Garnett's change of address from Minneapolis. Ray Allen still had movers packing his stuff up in Seattle. The introductions were fresh, and the team still needed to get to know each other. And this road trip they were about to embark upon was...
Like us on Facebook Celtics Daily Links for Saturday, 10/6 CLNS Radio Eddie House: I don't believe KG doesn't have Ray Allen's number Eddie House reacts to Kevin Garnett's claim that he does not have Ray Allen's number. Although he respects KG's claim, House does not believe that KG does not talk to Ray Allen [...]
LeBron James, Chris Bosh, Ray Allen and Rashard Lewis are among those expected to play for Miami on Sunday when the reigning NBA champion Heat make their preseason debut against the Atlanta Hawks. Heat coach Erik Spoelstra says Mario Chalmers and Joel Anthony will be held out of the game. Dwyane Wade will be listed as ''day-to-day'' for the entire preseason while...
NBA News

Delivered to your inbox

You'll also receive Yardbarker's daily Top 10, featuring the best sports stories from around the web. Customize your newsletter to get articles on your favorite sports and teams. And the best part? It's free!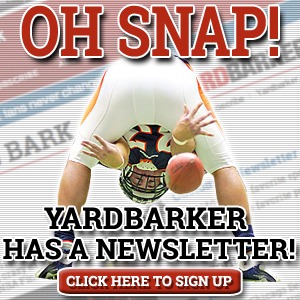 Latest Rumors
Best of Yardbarker

Today's Best Stuff

For Bloggers

Join the Yardbarker Network for more promotion, traffic, and money.

Company Info

Help

What is Yardbarker?

Yardbarker is the largest network of sports blogs and pro athlete blogs on the web. This site is the hub of the Yardbarker Network, where our editors and algorithms curate the best sports content from our network and beyond.