Found January 23, 2013 on NBA 24/7 365:
PLAYERS:
Chris Paul
,
Kevin Durant
,
Jamal Crawford
,
Grant Hill
,
Blake Griffin
,
Serge Ibaka
,
Kendrick Perkins
,
Eric Bledsoe
,
Kyrie Irving
,
Rajon Rondo
,
Avery Bradley
,
Luke Walton
,
Tristan Thompson
,
Tyler Zeller
,
Jared Sullinger
,
Will Bynum
,
Andre Drummond
,
DeAndre Jordan
,
Josh McRoberts
,
Ersan Ilyasova
,
Doris Burke
,
Jon Barry
,
Reggie Miller
,
Nerlens Noel
,
Desmond Mason
,
Caron Butler
TEAMS:
Los Angeles Clippers
,
Oklahoma City Thunder
,
Cleveland Cavaliers
,
Boston Celtics
,
Detroit Pistons
,
Orlando Magic
,
Milwaukee Bucks
,
Kentucky Wildcats
Unfortunately, Chris Paul's absence leaves us with not much to take away from Tuesday night's feature matchup between the West-leading Thunder and second-place Clippers.  Thankfully, however, Kevin Durant was so kind as to make the event very much worth watching.  Hopefully you didn't give up on him at halftime, when he only had eight points, because he finished with an impressive 32 (third straight game of 30+).  After pulling ahead early and taking a double-digit lead in the beginning of the third quarter, the Thunder seemed to have an easy answer — the uncontested perimeter jump shot — to each and every momentous field goal scored by the Clippers.  Four times in that third quarter alone did OKC answer an LA score with a spirit-crushing three-pointer, leading to a 33-23 advantage in the period.  To their credit, the Clippers refused to go quietly; when Jamal Crawford and Grant Hill scored the first seven of the fourth, they were suddenly within striking distance.  That's when Durant's onslaught finally began.  Skip to 4:50 to watch the Clipps get put to bed with no dessert by a pair of early-shot-clock bombs… The dunk wasn't even necessary, obviously.  At that point he was just styling.  The nature of those last couple shots… the fact that 90% of the NBA gets benched for taking them, and just the pure coldbloodedness… it felt like he'd racked up eight or nine buckets in a row rather than three or four. Prior to Durant's takeover, Blake Griffin had been by far the game's most dominant individual performer.  He didn't get any help whatsoever, but that wasn't any fault of his own (five assists to teammates that shot 43%).  Griffin absolutely dominated an aggressive Serge Ibaka and did it primarily with his back to the basket, which actually came as no surprise to me. Those who watch basketball know Griffin has played very well with his back to the basket all season long.  Those who watch only highlight and box scores, on the other hand, might see this… …and since it looks so unconventional they'll assume Griffin doesn't know what he's doing down on the block.  Thing is, he knows exactly what he's doing.  This move where he spins one way and weirdly counters his turn in midair is a calculated thing that he does, and he does it with great success.  While it may not fit into your scope of pretty post play, it's not the aesthetics of the process that matters; only the results.  Griffin gets results.  For instance, he finished with 31 points, 11 rebounds, and 5 assists on 11-19 against the Thunder.  That's without Chris Paul, and against a guy that most consider an elite defender (more of a help defender as far as I'm concerned, but still). The Thunder — Serge Ibaka, specifically — were called for two more illegal screens within the last two minutes of a game.  Both were good calls.  The NBA is obviously full of moving picks, but I doubt that any team sets as many as the Thunder.  Kendrick Perkins must get whistled for at least one per game.  Serge Ibaka, on the other hand, probably gets away with four or five of them every game.  However, the way the officials have been calling these moving screens on the Thunder recently… I wonder if they've picked up on Ibaka's tendency to levy blocks like he's playing NFL football?  Probably not, but it's a pretty weird coincidence that OKC has been called for so many illegal screens in their last two games.  If this is some sort of point of emphasis it will make the Thunder a little less impossible to beat (though points of emphasis never seem to last long; you may have noticed that flopping penalties have become quite few and far between, and not because guys have given up flopping). Eric Bledsoe played a terrible game (5-16, 12 points), but he did have two blocks and a goaltend.  The goaltend was blatant, too… like the type that JaVale McGee might commit.  The thing about Bledsoe, though, is that he's six feet tall.  He's not supposed to be physically capable of having a JaVale McGee moment. Meanwhile, in Cleveland, Kyrie Irving made his case for an All-Star berth by committing 40 counts of felonious assault and battery against the Celtics.  Rajon Rondo, purported defender of significant consequence, was the primary victim.  SBNation is implicating Rondo's teammate Avery Bradley, stating that he allowed the crime to take place and is falsely denying his role, but SBNation might want to check their facts.  Rondo, not Bradley, guarded Irving for the majority of the game, allowing him at least 11 points as primary defender in the first quarter alone, and no fewer than 18 in game (including the conclusive basket + FT that gave the Cavs a two-possession lead with 23 seconds left). Bradley, on the other hand, gave up just six points to Irving in the entire game, and the two jump shots that Irving made over Bradley were arguably the most difficult attempts he converted all night.  The proof is in the pudding..er..the video: No more All-Defense nods for Rajon Rondo, please.  He's a brilliant offensive player, one of the most gifted passers in the game today, but his defense is bad.  Especially when he's drunk (what other possible explanation is there for that play?). The Cavaliers' passing was brilliant in this 95-90 victory.  It wasn't just Irving, either.  As a matter of fact, he only had 5 of their 28 assists.  Luke Walton was actually the team leader in the category with SEVEN dimes, and even the big guys, Tristan Thompson and Tyler Zeller, got involved, combining for nine helpers.  The distribution of the dimes demonstrates the way the Cavaliers used multiple passes on each possession to break through the various layers of Boston's defense.  Exhibit A: Walton also went 3-3 from the floor for seven points.  Tristan Thompson was impressive with 21 points and 9 boards. I'm not sure there is even one single moral victory the Celtics can take away from this loss, their fourth in a row, but Jared Sullinger had a nice homecoming game off the bench.  Sullinger was particularly effective in his initial first-half stint, during which he battled the entire Cavalier team for rebounds and putback scores.  He finished with a double-double, 12 points and 10 boards, in 26 minutes. The Detroit Pistons scored 54 of their 105 points in the paint as they trampled the Magic in a 15-point rout.  Eighteen of those 54 paint points came on slam dunks, mostly of the alley-oop variety. The Pistons are actually quite entertaining.  Their bench is like poor man's version of the Clippers, with Will Bynum being Chris Paul and Andre Drummond being DeAndre Jordan.  Bynum and Drummond had really nice games on the stat sheet, by the way, finishing with 15/6 and 11/11 respectively.  Both players made my "All Under 20 MPG Team," as did Sir Charles Villanueva, who made two threes and grabbed six rebounds. Josh McRoberts only had one assist last night, but did you know that he averages 1.7 of them in just 17 minutes per game?  That's 3.6 per 36 minutes, which is 9th amongst power forwards and centers, and just .2 fewer than Joakim Noah averages.  About a week ago I heard one of Orlando's commentators talk about how McRoberts is one of the best in the league at making secondary passes around the rim (he receives a pass in the paint and could take the shot, but finds a teammate for an even easier shot).  I kind of disregarded it, but then again I kind of didn't, because Orlando's commentators tend to be knowledgeable and I'd seen McBob make this pass just a few games prior.  Sure enough, McBob's lone assist last night was another dish of that same variety.  Having seen him do this multiple times now — in addition to making other brilliant passes — I am officially labeling Josh McRoberts the most underrated passer in the NBA.  His play-making skills actually go all the way back to the '07 Summer League, apparently, but we weren't paying attention. ERSAN ILYASOVA! Is he back?!  Ersan had his second straight game of 27 points as the Bucks stampeded their way past the century mark in a 110-102 win over the Sixers.  Turkish Delight also added a season-high 16 rebounds, 2 assists, and 3 steals.  The Bucks' next games are Friday and Saturday against the Cavs and Warriors, so stay tuned to see if this trend continues. Highlight Recap, A Glimpse Into The Future Edition: I'd rather watch a D-League game commentated by Doris Burke, Jon Barry, and Reggie Miller than watch college "basketball," but this alley-oop and subsequent rim hang swaggerishly executed by Kentucky's Nerlens Noel, a top NBA prospect, is something I can enjoy… Yeah, I'll give that the Desmond Mason stamp of approval.  Also, Blake to DJ and Avery Bradley. Lowlight Recap, Spalding Tattoo Edition: Caron Butler smashes the ball off of referee Derek Richardson's face, knocking him to the floor.  Butler sees it happen and doesn't apologize at all, rather walking in the other direction whilst cursing at Richardson for getting in the way of his highlight. Props to Richardson for making the right call anyway.
Original Story:
http://nba247365.com/?p=9843
THE BACKYARD
BEST OF MAXIM
RELATED ARTICLES
THUNDEROUS
Kevin Durant takes Matt Barnes one-on-one and finishes with the HUGE flush. Durant's big jam came during the 4th quarter of Tuesday night's game and put the Thunder up 101-85 at Staples Center, as they were in total control over the Clippers and would eventually walk away with the 109-97 win against a strong Western Conference foe. Durant finished with 32 points, 7 assists and...
Kevin Durant owned the fourth quarter and was in complete takeover mode on Tuesday night vs. the Clippers, evidenced by this thunderous dunk over Lamar Odom. KD is not nice:
CLEVELAND (AP) -- Kyrie Irving scored 15 of his 40 points in the fourth quarter, including several key late baskets, to lead the Cleveland Cavaliers in a 95-90 victory over the Boston Celtics on Tuesday night. Irving scored 11 points in the final 2:33 on four layups and three free throws to give Cleveland back-to-back wins at home for the first time this season and send Boston to...
Kevin Durant of the Oklahoma Thunder was on fire down the stretch of his team's match-up against the Los Angeles Clippers on Tuesday night. One of the highlights was a monster dunk that he threw down on Lamar Odom. Check out KD just demolish Odom's soul on the slam. We would be doing a disservice to Durant's handles if we didn't mention the nasty crossover he pulled off...
What's an NBA player to do away with a few days off before facing a Los Angeles opponent?  Party, of course.  After Sunday's OT loss to the Nuggets, Thunder teammates, Kevin Durant & Russell Westbrook touched down in LA and hit up GreyStone Manor in West Hollywood:
LOS ANGELES -- Kevin Durant had 32 points, seven assists and seven rebounds to lead the visiting Oklahoma City Thunder to a 109-97 win over the Los Angeles Clippers on Tuesday night at Staples Center in a matchup of the two best teams in the NBA. The highly anticipated showdown between the two titans was dimmed by the absence of Clippers guard Chris Paul, who missed his fourth...
The Milwaukee Bucks just gave their general manager a three-year extension, they're 6-2 under an interim coach and they're about to face a team they have mostly beaten of late. If Kyrie Irving plays near the level he did his last time out, though, the Cleveland Cavaliers can hardly be overlooked. The Bucks look to match their longest winning streak of the season at four...
Boston came into this game hurting. Losers of 3 straight, the Celtics surely looked at this game in Cleveland as a prime opportunity to get things back on track. Kyrie Irving had other ideas. "Mr 4th Quarter" disguised himself as "Mr 1st Quarter" in this one as he came out looking to make a statement against the East's All-Star starting PG Rajon Rondo. Irving was aggressive...
CLEVELAND -- Point guard Kyrie Irving fired in a game-high 40 points in the Cavaliers' 95-90 victory over the Boston Celtics on Tuesday at Quicken Loans Arena. The loss was the Celtics' fourth in a row. Irving, gunning for a spot on the Eastern Conference All-Star team, was 16 of 24 from the field, 1 of 3 from behind the arc and 7 of 7 from the foul line. It was the second...
LOS ANGELES (AP) -- Coming off a loss two nights earlier in Denver, the Oklahoma City Thunder were more interested in bouncing back with a win than making any statements against the Clippers. Kevin Durant scored 32 points, Russell Westbrook added 26 and the Thunder won 109-97 on Tuesday night in a matchup of teams with the two best records in the NBA. "We've got 82 games...
By Sam Amico FOXSportsOhio.com Kevin Durant and the Thunder take over the top spot, while the Clippers, Spurs and Heat all continue to prove they're extremely worthy challengers. Also, check out the week's top performances. 1 Thunder 32-9 1 Kevin Durant isnt quite LeBron, but hes closer than ever. And today, the Thunder are the best team in the league because of it. ...
Jennings had the best chance of breaking the streak, but the fourth-year point guard won't be making his first All-Star appearance. The 23-year-old is averaging 18.7 points, 3.5 rebounds, a career-best 5.8 assists and career-best 2.0 steals per game. Instead, Eastern Conference coaches chose Philadelphia point guard Jrue Holiday and Cleveland point guard Kyrie Irving as the reserve...
NBA News

Delivered to your inbox

You'll also receive Yardbarker's daily Top 10, featuring the best sports stories from around the web. Customize your newsletter to get articles on your favorite sports and teams. And the best part? It's free!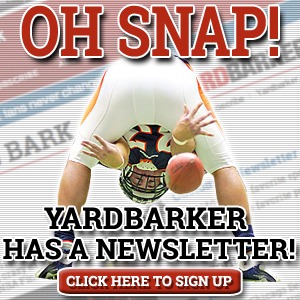 Latest Rumors
Best of Yardbarker

Today's Best Stuff

For Bloggers

Join the Yardbarker Network for more promotion, traffic, and money.

Company Info

Help

What is Yardbarker?

Yardbarker is the largest network of sports blogs and pro athlete blogs on the web. This site is the hub of the Yardbarker Network, where our editors and algorithms curate the best sports content from our network and beyond.