Found November 03, 2012 on NBA 24/7 365:
PLAYERS:
James Harden
,
Wilt Chamberlain
,
Paul Pierce
,
Jeremy Lin
,
Marcus Morris
,
Josh Smith
,
Kevin Love
,
Greg Stiemsma
,
Kemba Walker
,
George Hill
,
Gerald Green
,
D.J. Augustin
,
Eddy Curry
,
Bernard James
,
Troy Murphy
TEAMS:
Houston Rockets
,
Boston Celtics
,
Atlanta Hawks
,
Minnesota Timberwolves
,
Charlotte Hornets
,
Indiana Pacers
,
Dallas Mavericks
,
Los Angeles Lakers
Would you believe me if I told you James Harden's encore was even more spectacular than his debut? What if I told you he dropped 45 last night, and that only Michael Jordan and Wilt Chamberlain have scored more points in a team's first two games of any NBA season? It's all true, folks. Remember, I have no reason to stretch the truth. I, like many, have been critical of Houston's decision to build around Harden. Right now, he's making me out to be a complete and utter maroon… and I don't even care. Not even a little bit. In fact, I'm extremely excited about potentially being wronger than I've ever been before. Having watched Harden drop 82 points in his first two games as a featured scorer, I'm like a kid on Christmas Eve as I wait for Houston to head home and take on the Blazers at 8 o'clock Eastern on Saturday. What I've come to enjoy most about James Harden is probably the speed at which he attacks the defense. He doesn't have lightning quickness, yet he gets to the basket with ease. His style is more methodical… similar to a Paul Pierce or a Joe Johnson. Harden is absolutely incredible at getting the most out of his final two steps — he frequently takes them in different directions as he navigates winding lanes to the bucket. Harden has been so remarkable that he's basically overshadowed everything else that's going on not only in Houston, but around the entire league. So, I want to note that Jeremy Lin and Marcus Morris were key in lifting the Rockets over the Hawks last night. Lin nearly finished with a triple-double as he scored 21 points, grabbed 10 rebounds, and dished 7 assists. Morris's 17 came on 8-14 off the bench. Josh Smith's first game as "the man" in Atlanta went… well, exactly how I figured it would, actually. Smith certainly wasn't shy against the Rockets — he fired off 21 attempts, 7 of which came from 20 feet and out. Despite a surprising swish on his first look from the outside, Smith finished just 2-7 (28.5%) on jump shots and launched his first air ball in the second quarter. Smith's struggles from the perimeter reflected those of his Hawks, who missed 29 of 40 shots from outside the paint. Overall, the Hawks looked fantastic in the open court and a little rough in the half court. Thirty-three of ATL's 102 were scored on the break, which is pretty damn impressive, but their lack of size (completely demolished 23-7 in the offensive rebounding column), polish, and Joe Johnson was very evident when they were unable to get out and run. Atlanta also produced the bonehead play of the day: down three with a minute or so to go, Jeff Teague passed up a wide-open, in-rhythm shot from the top of the key. To compound his mistake, he swung the ball to Josh Smith on the wing. Needless to say, Smith didn't think twice about shooting. Even more needless to say, he missed. Badly. Offensively speaking, the Minnesota Timberwolves (when healthy) feature one of the most imposing frontcourts in the league. However, Kevin Love and Nikola Pekovic aren't so scary at the defensive end of the floor, where they average a combined 1.5 blocks per game. For this reason, Greg Stiemsma's 16-minute performance in Minnesota's 92-80 victory over DeMarcus Cousins and the Kings had to feel encouraging. Stiemsma came in off the bench and made his presence felt around the basket as he blocked 4 shots and effected many others. In addition to his effective defense of the rim, Stiemsma drew Cousins' third foul on a charge and pulled down 7 rebounds. Mike Dunlap's Charlotte Bobcats are 1-0, meaning they've snapped the franchise's 23-game losing streak. Kemba Walker scored 30 points to lead the Cats past the Pacers, but it was the defense of Dunlap's group that really made the difference. It was clear from the early going that the Bobcats would aim to force the Pacers to live and die by the outside shot. The played a lot of zone and sent swarming double teams at post players and penetrators, which helped force 17 Indiana turnovers. More importantly, it resulted in the Pacers firing 26 threes, of which they made only 7. George Hill, Gerald Green, and DJ Augustin went a combined 3-17. Augustin, a former Bobcat, had a wide-open look to win it at the buzzer but missed well short. Regular readers may recall my recent assessment of the Eddy Curry experiment. In Wednesday's "Starting Lineup," I essentially predicted that the fun would soon come to an end.  Curry had played extremely poorly during a blowout loss to the Jazz, landing him benched in favor of the rookie Bernard James.  Unfortunately, my damning suspicions were confirmed yesterday when the Mavericks announced the signing of Troy Murphy.  To make room for the addition, Curry has been let go. TO BE UPDATED THROUGHOUT THE DAY — I HAVE MUCH MORE TO REPORT, SO CHECK BACK LATER.
Original Story:
http://nba247365.com/?p=8220
THE BACKYARD
BEST OF MAXIM
RELATED ARTICLES
Is Jeremy Lin overrated? Will his star fall back to earth in Houston? Can he mesh with the Rockets and continue his run of improbable success? No one knows, but this much is sure: Tons of people love Lin's story, and that story got 10 times cuter when Lin posted a photo of himself from a Halloween of yesteryear this week. Lin apparently went trick-or-treating...
The Oklahoma City Thunder got its first taste Thursday night of life without James Harden, part of a buzzer-beating 86-84 loss that should drive home the obvious and its consequences: A new era in Thunder basketball has begun, and that's one of several reasons the Western Conference is now up for grabs. We're just a few games into the season, yes, but Oklahoma City's...
Every morning, we will give you five things from the night before in the NBA to start your day. 1: Harden ready for lift off OK, I am done with the Rockets puns for now. The story of the day in the NBA though was James Harden's debut in a Rockets uniform. It was only four days ago that Harden was surprisingly traded from the Thunder to the Rockets. He has barely had time...
James Harden has put on quite a show in each of his first two games with the Houston Rockets. The reigning Sixth Man of the Year is only starting to get comfortable. Harden looks to continue his remarkable play Saturday night as the undefeated Rockets open their home schedule against the Portland Trail Blazers, who haven't experienced much success during their last several...
Maybe if the Thunder made James Harden their feature player they would have won the NBA championship, ha! Last night, in his Rocket's debut, Jimmy Beard lit up the night posting 37/6/12 with 4 steals and 4 threes on 14-25 FG in a whopping 44 minutes. The guy didn't come off the court, son! After the game Jeremy Lin said James better go for 40 points and 15 dimes every night because...
The city of Houston is buzzing. With the fanfare that always seems to accompany Jeremy Lin since his anointment last year, and the acquisition of James Harden followed by two monster games, The Rockets have not garnered this type of attention in years. Amidst all of the excitement, several Rockets role players are ready to [...]
ATLANTA -- James Harden picked up where he left off after his eye-popping 37-point debut against the Pistons on Halloween, scoring 45 points to lead Houston Rockets to a 109-102 win over the Atlanta Hawks. Jeremy Lin added 21 points and 10 rebounds, and Omer Asik had a career-high 19 rebounds. Josh Smith led the Hawks' frantic fourth-quarter comeback, giving the Hawks an...
(one thing I've learned is I need to find a photo of Harden in a Rockets jersey)Every night (well - perhaps not EVERY night) I'll be firing up my NBA League Pass and scanning that night's box scores to bring you, my beloved reader, what I learned from the NBA that night.  Because the internet was invented for knee-jerk, totally premature, irrational reactions to things...
Fear The Beard? Not PDX The Portland Trail Blazers have impressed early in the 2012-13 season, and that trend was no different on the road against the Houston Rockets. Both teams are now 2-1 on the season, but only the Blazers escaped Saturday night with a hard-fought victory. The final score was 95-85 in Portland's favor, and there were a handful of key elements to the victory...
If Jeremy Lin has a very productive year for the Rockets, he'll make it difficult for the Knicks to forget him so easily. In Houston's inaugural game of the season Wednesday night, he propelled himself to a strong start. The Harvard grad scored 12 points, dished out 8 assists, and grabbed 4 steals. Perhaps more impressively, Lin's had a team-high plus/minus of +23 (the...
NBA News

Delivered to your inbox

You'll also receive Yardbarker's daily Top 10, featuring the best sports stories from around the web. Customize your newsletter to get articles on your favorite sports and teams. And the best part? It's free!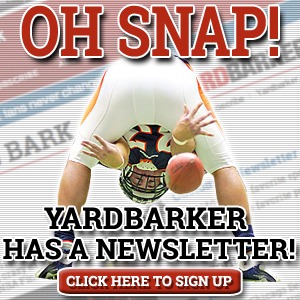 Latest Rumors
Best of Yardbarker

Today's Best Stuff

For Bloggers

Join the Yardbarker Network for more promotion, traffic, and money.

Company Info

Help

What is Yardbarker?

Yardbarker is the largest network of sports blogs and pro athlete blogs on the web. This site is the hub of the Yardbarker Network, where our editors and algorithms curate the best sports content from our network and beyond.