Found February 09, 2013 on NBA 24/7 365:
PLAYERS:
Rudy Gay
,
Paul George
,
Vince Carter
,
David West
,
Amir Johnson
,
Tracy McGrady
,
Lance Stephenson
,
Kobe Bryant
,
Byron Mullens
,
Kemba Walker
,
Steve Nash
,
Jodie Meeks
,
Ricky Rubio
,
Derrick Williams
,
Nikola Pekovic
,
Carmelo Anthony
,
Andrei Kirilenko
,
Luke Ridnour
,
Tyson Chandler
,
Jason Kidd
,
J.R. Smith
,
Dante Cunningham
,
Zach Randolph
,
Marc Gasol
,
Al Jefferson
,
Taj Gibson
,
Carlos Boozer
,
Nate Robinson
,
Mike James
,
Kris Humphries
,
Ben Gordon
,
Michael Beasley
,
Kendrick Perkins
,
Marcin Gortat
,
Kyle Korver
TEAMS:
Toronto Raptors
,
Indiana Pacers
,
Dallas Mavericks
,
Atlanta Hawks
,
Charlotte Hornets
,
Los Angeles Lakers
,
Minnesota Timberwolves
,
New York Knicks
,
Golden State Warriors
,
Memphis Grizzlies
,
Utah Jazz
,
Chicago Bulls
,
Brooklyn Nets
,
Phoenix Suns
,
Oklahoma City Thunder
I still don't like the trade from a business standpoint, but Rudy Gay proved his basic on-court worth to the Raptors in a 100-98 overtime victory in Indiana.  Though Gay experienced just mixed success (9-25 from the floor) going one-on-one against a stingy defender in Paul George, he did come through with 17 of his 23 points in the fourth quarter and overtime, including the game-winning jump shot with 1.7 on the clock.  Say what you will about "hero ball," but not since Vince Carter have the Raptors had a player capable of creating this sort of shot on a consistent basis. Foolishly, I decided to give up on this game near the end of the fourth quarter, when David West (30 points) made a pair of free throws to put the Pacers up four with 10 seconds to play.  How'd the Raptors pull off the improbable?  Well, Amir Johnson got his Tracy McGrady on, scoring four points in six seconds.  As well as he played, this was basically David West's fault.  It appears that he was angry about Johnson's first offensive rebound/score, leading him to make one of the most regrettable inbound passes since Anthony Carter in the '09 Conference Finals.  Frustration in the game of basketball is something that every player deals with, but West has to cope with his emotions more gracefully than he did here.  He basically just grabbed the basketball, took a quick step backwards (I'm not even convinced that he was completely out of bounds), and angrily hucked the ball in the direction of a guarded Lance Stephenson.  Had he simply taken a moment or two to think the Pacers likely win this game in regulation. The Raptors have suddenly won two of their last five games decided by five points or less.  Considering their luck (or lack thereof) during the first half of the season, two-and-three ain't so bad.  This victory actually snaps a streak of three consecutive overtime losses for the Raps. The Bobcats' dominance over the Lakers is a thing of the past, mostly because they can't seem to sustain large advantages.  In a pair of losses to the Lakers, the Bobcats have blown 38 points worth of leads (18 in LA and 20 in Charlotte), which is pretty much the most depressing possible way to be swept in a season series.  On Friday night, the Bobcats established their 20-point cushion on the strength of their fast break, which produced 24 points.  The defensively-challenged, athletically-impaired Lakers struggled mightily to keep up as the Bobcats ran them into the ground off of their own turnovers.  Charlotte pulled out to a 20-9 lead as Los Angeles coughed it up an astounding six times in the game's first nine minutes, and they continued to build on their lead through the early part of the third, extending it to the aforementioned 20 points.  Then the game slowed down, and it was all Lakers — and by all Lakers, I mean 53-27.  Not surprisingly, Kobe Bryant posts and isolations (6-15, 20/7/8) proved to be more effective than Byron Mullens jumpers (8-18, 20/12/1) when the game slowed to a crawl.  Kemba Walker was able to make a couple of nice individual plays down the stretch, but Kobe elevated his play to another level of dominance.  He scored 14 fourth-quarter points, and when the Bobcats tried to double (or even triple) he passed out effectively, leading to open three-pointers for Steve Nash and Jodie Meeks.  The Lakers ended up taking it 100-93 after a 31-15 fourth quarter. Like the Bobcats, the Timberwolves blew a sizable lead against the Knicks.  Having been up by double digits as late as the 6:55 mark of the fourth quarter, the Wolves had their offense firing on all cylinders; Ricky Rubio was brilliant, scoring 18 points of his own and facilitating for teammates such as Derrick Williams and Nikola Pekovic, who combined for 35 points.  Pekovic was a dominant force in the third quarter, scoring nine points in approximately three minutes as the Wolves began to establish their advantage.  In the fourth quarter, however, Pekovic was a non-factor.  The Wolves went away from him completely, essentially reducing his role to screener (he didn't take a single shot in the period).  Meanwhile, Carmelo Anthony entered beast-mode.  He scored 12 of the Knicks' 21 in the last 6:26, and made it look awfully easy against an inexperienced defender in Derrick Williams (this would've been Andrei Kirilenko's assignment had he been playing).  As Melo put New York on his shoulders (36 points, 13-26), the Wolves struggled to locate good looks in the halfcourt.  Their last two possessions that mattered consisted of Ricky Rubio and Luke Ridnour putting their heads down and driving the ball into the teeth of the Knicks' defense.  Both attempts reeked of desperation and were erased quite effortlessly by Tyson Chandler.  The Knicks took the fourth quarter 30-18 and the W by a margin of 100-94. Jason Kidd's 12,000th career assist led to the JR Smith three that sparked New York's big fourth-quarter run.  Kidd also assisted on another key score by JR Smith, this one a transition layup that put the Knicks up three with 19 seconds to go.  Dante Cunningham made a terrible play, fouling JR with his body whilst allowing the layup to be finished up top.  The free throw pretty much iced the game. The Golden State Warriors are now 0-3 on their four-game road trip.  They lost a close one, 99-93, in Memphis on Friday, and they looked like the Warriors of old as they did so.  Though the larger Grizzlies only finished with a one-rebound edge on the offensive glass (nine-rebound advantage overall), their size and prowess in the paint and on the boards was the difference down the stretch.  Twelve of the Grizzlies 22 fourth-quarter points were scored by Zach Randolph or Marc Gasol, who secured three offensive rebounds in two Grizzly possessions between the 5:15 and 3:50 marks.  Gasol scored on the first possession, and then Randolph on the next, putting the Grizzlies up by four.  Never again were the Warriors able to close to within three points. How inconspicuously-smooth is Marc Gasol? He has the outward appearance of a lumbering stiff, but he's as nimble as any seven-footer in the league.  Look at him here as he runs the floor and finishes with a graceful reverse layup, and observe the fluidity of his sweeping hook shot.  I know it's old news, but the younger Gasol is such a well-rounded player.  His skill set is rivaled by few big men in the league today, and not really rivaled by anyone as large as he is (7'1", nearly 300 pounds).  He finished with 20/11/5 in this win over the Warriors. "Pft." Those were my complete thoughts on Al Jefferson scoring for a sixth consecutive time during an individual 12-6 run that bridged the third and fourth quarters of Utah's eventual loss to Chicago.  Jefferson was absolutely absurd during that stretch, raining jumper after jumper as the Jazz took the lead.  His last shot was the most ridiculous; it didn't even appear that he was trying to make it, but rather attempting to draw a foul on Taj Gibson.  As he leaned in and created a fair amount of contact with his shoulder, he somehow tossed it in from 18 feet.  Unfortunately for the Jazz, however, this would be Big Al's final field goal.  His 32 points and 13 boards were all for naught… …mostly because Carlos Boozer. The least-popular man in the building, who'd been thoroughly outplayed for three and a half quarters, went on to score 11 straight points of his own, and he scored them in the most timely of manners. As you can see, the Jazz had a fair bit of trouble containing the Booze-Belli pick-and-roll, terrible pun intended.  Boozer finished with 19 and 5.  Reigning Eastern Conference Player of the Week Nate Robinson (I freaking love saying this) was a non-factor in the fourth, but his 18 and 9 through 36 minutes helped the Bulls stay in the running.  Again, terrible pun intended. LeBron?  He was a'ight. Dropped 30 on 11 shots (half of them threes) as Miami won their fourth straight, this one over the healthy Clippers by a comfortable margin of 22.  In all seriousness, though, this has pretty much been the standard LeBron outing in the month of February.  He's averaging 31 PPG on SEVENTY-THREE percent (!!!) from the floor over his last four.  Can you say, "M-V-P?" On the subject of people playing out of their minds, how about James Harden?  He had 35/7/11 in a 118-103 victory over the Blazers.  This obviously comes in the wake of his 36/12/7 performance in a tough loss to LeBron and the Heat.  All of February's numbers belong to people named James, apparently.  Watch out for that Mike James 40-point explosion (he's still on the Mavericks, right?). The Nets continued their recent suckery in an 89-74 loss to the Wizards of Washington.  I didn't see any of the game, but I can tell you that the Brooklyn boys shot 33% from the floor and have now lost five of their last eight.  Rumor has it that the front office is none too pleased with the team's regression, and trade options are being explored.  The hottest rumor is Kris Humphries to Charlotte for Ben Gordon.  Humphries has played fewer than 10 minutes in four of the last five games (eight last night), indicating that he is in fact the odd man out. Michael Beasley points-to-shots watch: 509 points, 511 shots.  Latest outing: 25 points, 10-16 (L, 127-96). Box Score Observation, Kendrick Perkins Edition: Big Perk scored 17 points, his highest total as a member of the Thunder (and in over three calendar years), in a 31-point victory over the Suns.  Marcin Gortat and Jermaine O'Neal have reportedly been sent to the D-League (not really, but they probably should be). Box Score Observations: Kyle Korver made a three-pointer for the 43rd game in a row, breaking a Hawks franchise record previously held by Mookie Blaylock.  The Hawks lost to the Pelicans, though, 111-100.  Sir Charles Villanueva bopped five of nine three-point attempts on his way to 21 points as the Pistons defeated the Duncan-less Spurs 119-109, thus ending San Antonio's 11-game win streak.  Marreese Speights went 12-12 from the charity stripe in a 119-108 Cavalier victory over the Magic, who've lost 12 in a row and 23 of 25. Highlight Recap, I'm Ready To Be Done With This Edition:
Original Story:
http://nba247365.com/?p=10265
THE BACKYARD
BEST OF MAXIM
RELATED ARTICLES
Rudy Gay sures likes this thing called dunking. Gay went into flight Sunday against New Orleans, throwing down this sick slingshot dunk.The deal to acquire Gay from Memphis is paying off for Toronto. Gay has already set the Raptors franchise record for most points scored in first three games (74).  At the same time, Gay will fill the stands if he keeps producing these Air-Carter type dunks.
  Rudy Gay has been known to have the clutch gene, and he once again proved that last night against the Pacers. Check out the video below courtesy of The NBA Mistress
Tweet   After six and a half seasons with the Memphis Grizzlies it's going to take some time to get used to seeing Rudy Gay in a Toronto Raptors uniform. He's gotten off to a pretty decent start with his new team, averaging 24 points, six boards, and over three steals through the first four [...]
Episode 41 of RAPS TALK (02.11.13) -  Rudy, Rudy, Rudy!  This week we talk about the Toronto Raptors past week, Rudy Gay's game winner against the Pacers, #RossShallDunk, "Name That Boxscore", Bargnani for Boozer rumours and we also have our regular segments "Hoop Heads Humour of the Week" and "The Wenningtons of the Week."  If you're new...
Video: Vicious throw down 
About two weeks ago, Rudy Gay matched his worst shooting effort of the season against the New Orleans Hornets as part of a dismal slump for the Memphis Grizzlies. Now he's breathing new life into the Toronto Raptors. Gay leads the Raptors into Sunday night's home matchup against a Hornets team seeking a third straight victory behind strong play from emerging point guard...
Rudy Gay scored 17 of his 23 points in the fourth quarter and overtime Friday night, rallying the Toronto Raptors to a 100-98 victory over the weary Indiana Pacers. The game went into overtime after Amir Johnson's buzzer-beating tip-in stood following a replay review. The Raptors won it when Gay hit a 17-foot jumper with 1.7 seconds left and Paul George's 15-footer rimmed...
The Memphis Grizzlies have struggled since dealing Rudy Gay. Perhaps surprisingly, though, his absence has seemingly taken a bigger toll on defense. The Grizzlies' defensive woes, however, pale in comparison to what the Golden State Warriors are experiencing. Both will try to avoid three-game losing streaks Friday night when they meet in Memphis. The Grizzlies (30-18) have...
We're back again tonight for NBA FanDuel. We had a pretty solid night on Tuesday and we'll look to continue that streak tonight. There are a lot of games on the slate for tonight making for endless lineup combinations, but here is ours. Good luck tonight and if you're new to FanDuel, sign up for an account now! Lineup 1 (60K) PG Jeff Teague ($6,100) Tony Parker ($7,800) SG...
Photo Credit: Mark Runyon | Basketball Schedule Western Conference Targets Mike Conley's rolled ankle cracked opened the door for 5th year guard Jerryd Bayless, and Rudy Gay's departure cemented his extended playing time for the remainder of 2013. The Grizzlies are short on perimeter bodies, offensively capable ones in particular, making Bayless the ideal candidate for shot attempts...
After such a stellar stretch, the Indiana Pacers were due for a letdown game, and boy did they throw it away against the Toronto Raptors, losing 100-98 in overtime and snapping their 15-game home winning streak. And full credit to the Raptors too, for never giving up and fighting through till the end despite getting some pretty dubious calls against them. What happened was this...
NBA News

Delivered to your inbox

You'll also receive Yardbarker's daily Top 10, featuring the best sports stories from around the web. Customize your newsletter to get articles on your favorite sports and teams. And the best part? It's free!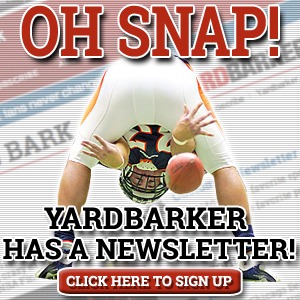 Latest Rumors
Best of Yardbarker

Today's Best Stuff

For Bloggers

Join the Yardbarker Network for more promotion, traffic, and money.

Company Info

Help

What is Yardbarker?

Yardbarker is the largest network of sports blogs and pro athlete blogs on the web. This site is the hub of the Yardbarker Network, where our editors and algorithms curate the best sports content from our network and beyond.