Found February 13, 2013 on Sportress of Blogitude:
Crazy stuff, height. You know, how it is all relative and stuff. Former Rockets center (and very tall man) Yao Ming met another tall Houston athlete on Tuesday: Texans linebacker J.J. Watt. Apparently, the two tall men, although one is taller than the other tallish guy, enjoyed a lunch together. Ming is in Houston this week to attend NBA All-Star Game festivities. Watt was probably up to other stuff besides making Yao Ming appear as freakishly tall as he really is… You see, Yao Ming is 7-foot-6 while J.J. Watt is 6-foot-5. While 6-foot-5 is indeed a tall height in the general population, it is shorter than 7-foot-6, which is the height of Yao Ming, which is very tall no matter the population. See for yourself: Ha. Would you look at that? Someone who is 7-foot-6 appears a lot taller than a person who is 6-foot-5. Who woulda thunk it? Watt tweeted that he had a "[g]reat lunch with @YaoMing today. Have a feeling he could knock down a pass or two…" Indeed, Mr. Watt, indeed. Because he...
Original Story:
http://www.sportressofblogitude.com/2...
THE BACKYARD
BEST OF MAXIM
RELATED ARTICLES
THE LONG AND SHORT OF IT
J.J. Watt is by no means a small man. In fact he is a very large fella and clocks in at a solid 6′ 5″, 295 lbs. However, perceptual contrast is everything especially when you take a photograph of him standing next to 7′ 6″ Yao Ming. This is a great photo but it doesn't compare to Yao's time in Africa or him playing golf. Great lunch with @yaoming today. Have a feeling...
What's bigger than a 6-foot-5, 295-pound defensive end? A 7-foot-6, 311-pound former NBA center, of course. Houston defensive star J.J. Watt was doing some sports cross-pollination on Tuesday, and his foil was none other than former Houston Rockets star Yao Ming. Watt suggested that Yao could help with what is considered Watt's specialty: swatting passes at the line of scrimmage...
As the top pick of the Houston Rockets in the 2002 NBA draft Yao Ming only played a total of nine years. While his stats may be impressive during his brief career his impact in the globalization of the NBA brand is unparalleled. Ming finished with career averages of 19.0 points and 9.2 rebounds, including two seasons when he averaged 20 points and 10 rebounds.... Read more
This video was made as a tribute to Mr. James Bucklin, whose valentine will always be Yao Ming.  Many people don't understand what Yao is or what he could have been had injuries stayed far away.  We miss the big fella and only hope he is doing well.  This is a bitter sweet video. PS. no one made this video for James, that was a joke.
How chubby did Yao Ming get? And why isn't he happy? He is jealous this Jeremy Lin kid who grew up in America is stealing his thunder as the Chinese Basketball player?  Dikembe Mutumbo is always happy. No matter where he is. via reddit
Under normal circumstances, Houston Texans defensive end J.J. Watt towers over most human beings at a 6'6 but it looks like J.J. finally met his match when he met former Rockets center Yao Ming for lunch on Tuesday.Check out the below photo that J.J. posted to his Twitter page:
What do you know about them Houston boys? Well I know that neither one of them are actually from Houston, however Yao Ming does have a pretty good Chinese restaurant in Houston that's affordable. JJ Watt, the 2012 Defensive Player of the Year and defensive end for the Houston Texans, had lunch with Yao Ming the former center for the Houston Rockets today, and tweeted the above...
Texans DE JJ Watt is a 6-foot-5, 295-pound beast of a man, but put him next to retired NBA star Yao Ming and his impressive 7-foot-6, 310-pound frame, and Watt goes from imposing hulk to, well, a normal sized human being. According to Watt's Twitter account the two had lunch together, but the 2012 NFL Defensive Player of the Year failed to mention whether the pair broke out in...
 Yea if you didn't know, Houston Texans defensive end J.J. Watt is pretty big.  He checks in at 6′ 5″, 295 lbs.  Yoa Ming is a different story though.  Yoa check in at a staggering 7′ 6″.  Nothing like making the best defensive end in the NFL look like a midget. Check out our Home Page for more stories and follow us on Twitter and Facebook
Rockets Dikembe Mutombo (7'2), Jeremy Lin (6'3) and Yao Ming (7'6), who're all in Houston for All-Star weekend, pose together for a photo: wow…i look like an infant #twintowersplusone twitter.com/JLin7/status/3… — Jeremy Lin (@JLin7) February 14, 2013  
JJ Watt is the reigning NFL Defensive Player of the Year. The Houston Texans defensive end is 6-foot-5, 298 pounds, and a monster on the field. One of Watt's specialties is his ability to bat passes. He was credited with 16 passes defended last season, which is an absurd amount for a defensive lineman. But as big and awesome as Watt is on the gridiron, he looks like a dwarf standing...
NBA News

Delivered to your inbox

You'll also receive Yardbarker's daily Top 10, featuring the best sports stories from around the web. Customize your newsletter to get articles on your favorite sports and teams. And the best part? It's free!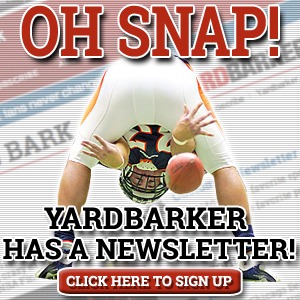 Latest Rumors
Best of Yardbarker

Today's Best Stuff

For Bloggers

Join the Yardbarker Network for more promotion, traffic, and money.

Company Info

Help

What is Yardbarker?

Yardbarker is the largest network of sports blogs and pro athlete blogs on the web. This site is the hub of the Yardbarker Network, where our editors and algorithms curate the best sports content from our network and beyond.