Found February 25, 2013 on BlackSportsOnline:
Footage is grainy, but it is still awesome beyond words. Russell gets the rebound, starts the fast break and from about a foot inside of the free throw line soars over his opponent and finishes with the finger roll. I have already watched the video provided by Red's Army about 17 times, because he looks like a Superhero among mortal men. Take a look, trust me you will be impressed.
Original Story:
http://blacksportsonline.com/home/201...
THE BACKYARD
BEST OF MAXIM
RELATED ARTICLES
RETROVISION
I have never seen this video of Bill Russell… which someone randomly posted in a Facebook group. Check out Bill in college grabbing the rebound, going coast-to-coast, and flat out jumping OVER a guy for the finish. If LeBron did this last night, ESPN would change the name of the show to "LeBron Center", and First Take would have debated whether this was the greatest play in...
Bill Russell was a lot better than a lot of fans realize, even if they are well aware of his 11 NBA championship rings. He changed the game from ground-bound to high-flying, and he just happened to have an enormous impact on society along the way. Contrary to popular belief, Russell was not just a defensive specialist who could block shots and grab rebounds. He was arguably the...
Never seen highlights from Bill Russell before, but apparently he played just like a ninja. Red's Army found a video of Russell grabbing a rebound, going it coast-to-coast and nearly taking off from the free-throw line. Russell's athleticism is incredible. Seems like he would have fit in perfectly with today's NBA game.
When people remember Bill Russell, it's more often for leading Boston to 11 championships in 13 years through his play on the defensive end. The fact that he's second all-time in both total rebounds and rebounds per game, and widely considered to be the greatest shot blocker of all time (blocks were not an official stat during Russell's career), overshadows any offensive numbers...
This video, which I had never seen before and just hit YouTube this week, shows one Bill Russell in his college days at the University of San Francisco jumping over a poor defender from near the free throw line on the fast break. It's unbelievable to see a guy with Russell's size (6'9 with a 7'4 wingspan) go coast-to-coast with such speed and showcase this kind of athletic...
Let's step into the Wednesday wayback machine to check out this sweet move to the basket by NBA Hall of Famer Bill Russell. Russell jumps from the freethrow line and over a defender: It's easy to forget the type of things guys like Russell were doing because we don't have to their highlight reels like today's modern athlete. The old guard wasn't just about tight little...
Before there as "Air" Jordan or "Air" Canada, it seems there was "Air" Russell. Celtics legend Bill Russell could not only rebound, score and anchor a defense which brought Boston many titles, it seems he was also just an athletic freak as well in college. And by "athletic freak" I mean jumping over another human being while going at...
I was not alive in 1956, nor have I seen much basketball footage from 1956. If you asked me to imagine what NCAA or NBA hoops looked like back then, I'd probably tell you about bounce passes and slow white guys with receding hairlines. That was until this morning. My notions about 1950 basketball are wrong, at least for these glorious 11 seconds. Click here to view the embedded...
'dantheman9758' has a YouTube channel, The Wilt Chamberlain Archive, that states, "This channel showcases rarely seen footage of Wilt Chamberlain and the era he played in. If you are a fan of... Full story at Bob's Blitz ~ http://www.bobsblitz.com
I'm sure you guys have seen this video by now, but it's too amazing to leave off this site! Many people think players in the 60′s were no where near as atheltic as the players today, but this is proof that they could hold their own in today's era!   IFRAME Embed for Youtube
This one's been going kind of viral, so you may have seen it already. Well, as viral as a ~60 year old video can get. Via Reddit Check out our Video Vault for more Celtics mixes, movies, and videos.
We all know about how Bill Russell is one of the greatest winners in all of sports with 11 championships during his 13 year career. Those 11 rings ties Henri Richard in the NHL for the most championships won by a single player in any North American sport. We also know how much of an undercover bad ass he was off the court considering the fact that he used to take Wilt Chamberlain...
NBA News

Delivered to your inbox

You'll also receive Yardbarker's daily Top 10, featuring the best sports stories from around the web. Customize your newsletter to get articles on your favorite sports and teams. And the best part? It's free!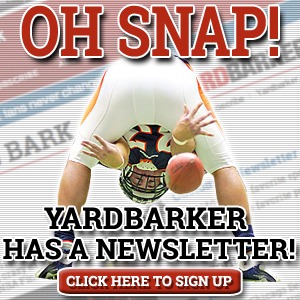 Latest Rumors
Best of Yardbarker

Today's Best Stuff

For Bloggers

Join the Yardbarker Network for more promotion, traffic, and money.

Company Info

Help

What is Yardbarker?

Yardbarker is the largest network of sports blogs and pro athlete blogs on the web. This site is the hub of the Yardbarker Network, where our editors and algorithms curate the best sports content from our network and beyond.