Found February 22, 2013 on Fox Sports Southwest:
PLAYERS:
Russell Westbrook
,
Kevin Durant
,
Alexey Shved
,
Andrei Kirilenko
,
Dante Cunningham
,
Nikola Pekovic
,
Kevin Martin
,
Scott Brooks
,
Kendrick Perkins
,
Luke Ridnour
,
Greg Stiemsma
,
Ricky Rubio
,
Reggie Jackson
,
Ronnie Brewer
TEAMS:
Oklahoma City Thunder
,
Minnesota Timberwolves
OKLAHOMA CITY (AP) -- With All-Stars Russell Westbrook and Kevin Durant leading the way, the Oklahoma City Thunder can outscore any team in the NBA on any given night. That still isn't good enough for a team with the highest of aspirations. Westbrook scored a season-high 37 points, Durant added 27 and Oklahoma City snapped a three-game losing streak Friday night with a 127-111 victory over the Minnesota Timberwolves that did little to fix what was wrong during the skid. "A baby, minor step" was how Westbrook described it. "I think we could have (done) a better job defensively, but we got a win. That's all we needed this time after losing three games in a row," he said. The Thunder avoided losing four in a row for the first time since April 2009, near the end of their first season in Oklahoma City, but were hardly better on defense after allowing 113.7 points per game during their longest losing streak of the season. Instead, they relied on an offense that regained the NBA lead in scoring average while shooting 58 percent. It was the Thunder's second-best shooting performance of the season, behind only a 60.6 percent effort in a win at Brooklyn in December. "That was good offensively. Offensively I don't think is our problem," said Westbrook, who had nine of Oklahoma City's 28 assists. "We've just got to find a way to continue to get stops." Alexey Shved led Minnesota with 17 points, and Andrei Kirilenko and Dante Cunningham had 15 points apiece. The Timberwolves shot 53 percent in the first half but couldn't keep up that pace and wound up hitting on 43 percent after halftime. Seven Timberwolves reached double figures in points, and leading scorer Nikola Pekovic wasn't one of them. "Tonight we moved the ball better, we attacked better. I think we were a little more aggressive," said J.J. Barea, who had 12 of his 14 points in the first half. "We just couldn't stop them." Kevin Martin had 19 points off the bench for the Thunder, who went 9 for 14 from 3-point range and hit all 22 of their free throws. Oklahoma City came in first in the league in foul shooting and second in 3-point accuracy. "We made a lot of shots and shot a good percentage," coach Scott Brooks said. "I'm not thrilled with our defense." The Thunder doubled their lead by scoring the first six points of the second half and then used a couple more bursts during the third quarter to start opening the gap. Kendrick Perkins hit a jumper in the lane to finish a string of seven straight Oklahoma City points, making it 87-70 midway through the third. Then, after an immediate 9-0 response by Minnesota, Westbrook had three buckets during an 8-0 flurry by Oklahoma City to push the lead right back to 16. The Timberwolves never got closer than nine after that, cutting it to 120-111 on Luke Ridnour's two free throws with 1:40 remaining. It was just the fifth time all season that Minnesota eclipsed 110 points, and one of those came in overtime. Greg Stiemsma and Ricky Rubio had 13 points apiece, and Ridnour chipped in 10. Rubio also had nine assists and five steals. "If we play on offense like that every night, we're going to have better chances to win games. So hopefully we carry this on to the next game," Barea said. Oklahoma City's midseason swoon had come on suddenly after a run of four straight wins by at least 20 points that matched a franchise record. "It was good to get a win. We had a tough little stretch there. It happens, though, so I'm glad we were able to get out of that little funk we were in and get a W," Durant said. "We still can be a lot better." Neither team put up much resistance in the first half, with both teams shooting over 60 percent through the first 21 minutes before a stretch when Minnesota missed six out of seven shots to allow Oklahoma City to expand its lead to 66-58 at halftime. The Thunder led by as many as 13 midway through the second quarter, but the Timberwolves were able to trim the deficit to 57-54 after making 10 of 11 attempts from the field. In the first half, Minnesota's reserves were a combined 16 for 18 from the field and the team overall was 23 for 43. Oklahoma City clamped down a bit to start to create some breathing room, and Minnesota went just 12 of 30 to start the second half while falling further behind. "We know we have 27 games to figure it out, so we just have to keep taking steps in those kind of situations and just get better," Martin said. "We have to get better. We know that," he added. "But we will." NOTES: After trading away Eric Maynor, Oklahoma City is down to only two point guards on the roster. If Westbrook and backup Reggie Jackson both get into foul trouble, Brooks said he likes the option of putting Durant at the point. "He's actually handled the ball more this year, bringing the ball up. As his career continues to evolve, he's going to be a point forward," Brooks said. "And I think this year -- even a little bit last year, but this year more -- hopefully next year it's going to be even more. It just helps all of us. It takes the pressure off our ball-handlers when he's able to bring up the ball." ... Brooks said new addition Ronnie Brewer should get in a film session during practice Saturday. ... Oklahoma City, which lost its last game at Chesapeake Energy Arena to Miami, hasn't lost consecutive home games since dropping two of the first three games of the 2010-11 season.
Original Story:
http://www.foxsportssouthwest.com/02/...
THE BACKYARD
BEST OF MAXIM
RELATED ARTICLES
Robert Swift no longer owns his house, but that doesn't mean he's moving out. The Seattle Sonics draft bust lost his house to foreclosure last summer, and refuses to leave, according to KOMO News. The bank has sold the house to a new owner, who can't get Swift out. Swift was the No. 12 overall pick in 2004 out of high school. He spent four seasons in the league with the Sonics...
Oklahoma City Thunder star, Kevin Durant, was recently tapped by GQ magazine to act as a "Style Correspondent" throughout NBA All-Star Weekend. He offered style advice, critiqued players' sartorial statements and selected the weekend's most stylish ballers. Although men aren't the only ones seeking Durant's fashion expertise. The Thunder small forward schooled a very...
After being taken 12th overall by the Seattle SuperSonics in 2004, the promising career of Robert Swift didn't pan out in the NBA. He played sparingly in parts of four seasons with the franchise before bailing on an NBDL assignment with the Bakersfield Jam in 2009. He then spent one year with the Tokyo Apache in Japan before finally brushing his professional basketball exploits...
OKLAHOMA CITY When is Ronnie Brewer supposed to get here, anyway? It's kind of hard to wrap your mind around the fact there may not be a more-pressing question for this Oklahoma City team. But maybe that's where we are as March approaches and the Thunder defense becomes more invisible than the lenses in Russell Westbrook's glasses. Because if Oklahoma City can'...
The great city of Seattle misses its Supersonics. Seattle, and the state of Washington itself is a great location for basketball. Everyone knows the stereotype that Seattle rains every day non stop. While this is not true, on winter days when the temperature is 40 degrees with hard rain coming down, no one wants to be outside. And if you're an athlete and you want to be playing...
OKLAHOMA CITY If you were waiting, hoping and anticipating Oklahoma City would make a last-minute deadline deal that would put it a step closer to a parade down the streets of the city, well, it didn't happen. Yes, the Thunder are still a championship contender, but are they better than they were 24 hours ago? Also a yes. The Thunder are in need of a third scorer behind Kevin...
OKLAHOMA CITY (AP) -- The Oklahoma City Thunder unloaded free-agent-to-be Eric Maynor in a trade deadline deal with Portland on Thursday, picking up a trade exception and the rights to Greek forward Georgios Printezis. Maynor had been a reliable backup for All-Star point guard Russell Westbrook over his first two seasons in Oklahoma City, ranking among the top 10 in the league in...
Kevin Durant's Progressive fashion sense has caught the attention of the youth, as Teen Vogue features the NBA scoring machine in a one-on-one interview with Fashion director Jane Keltner de Valle strictly talking..umm.. fashion, duh,leaving the basketball chat to ESPN. Kevin discusses his infamous backpack trend,his geek-chic eyewear, favorite designers, and also gave fashion...
The Oklahoma City Thunder have traded Eric Maynor to the Trail Blazers in return for a trade exception.  Returning this season from an ACL injury, Maynor fell out of the Thunder's rotation early in the season (averages 2.7 points), replaced by Reggie Jackson. According to ESPN: The Oklahoma City Thunder have traded backup point guard Eric Maynor to the Portland Trail Blazers...
Kevin Martin and Nick Collison have been effective playing the two-man game together.
NEW YORK (AP) -- The New York Knicks traded swingman Ronnie Brewer to the Oklahoma City Thunder on Thursday, opening up a roster spot that will be used to sign veteran forward Kenyon Martin. Team president Glen Grunwald said Martin will be signed to a 10-day contract with the hopes that he could remain for the remainder of the season. Grunwald said Martin will be insurance for...
NBA News

Delivered to your inbox

You'll also receive Yardbarker's daily Top 10, featuring the best sports stories from around the web. Customize your newsletter to get articles on your favorite sports and teams. And the best part? It's free!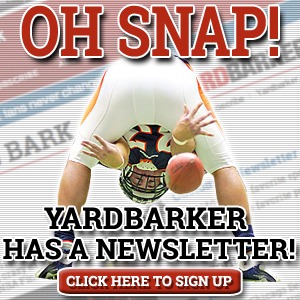 Latest Rumors
The Backyard

Today's Best Stuff

For Bloggers

Join the Yardbarker Network for more promotion, traffic, and money.

Company Info

Help

What is Yardbarker?

Yardbarker is the largest network of sports blogs and pro athlete blogs on the web. This site is the hub of the Yardbarker Network, where our editors and algorithms curate the best sports content from our network and beyond.