Found October 04, 2012 on Celtics Green ...a boston celtics blog.:
PLAYERS:
Doc Rivers
,
Ray Allen
,
Jared Sullinger
,
Kevin Garnett
,
Darko Milicic
,
Courtney Lee
,
Avery Bradley
,
Jason Terry
,
Bob Cousy
,
Paul Pierce
,
Russell Westbrook
,
Brian Scalabrine
,
Dwight Howard
,
Glen Davis
,
Jeff Green
,
Brandon Bass
,
LeBron James
,
Delonte West
,
Danny Ainge
,
Chris Wilcox
,
Rasheed Wallace
TEAMS:
Boston Celtics
,
Miami Heat
,
Oklahoma City Thunder
,
Chicago Bulls
,
Los Angeles Lakers
,
Orlando Magic
,
Dallas Mavericks
THE BACKYARD
BEST OF MAXIM
RELATED ARTICLES
After a disappointing debut for the Celtics at the end of the 2010-2011 season, many were critical of the rather large contract the Celtics signed Jeff Green to this offseason. However, Doc Rivers remained confident in Jeff Green despite his struggles during his brief time with the Celtics:"Trying to do that on the run, with 25 games left, is nearly impossible," Rivers said...
These Turkish teams are not to be taken lightly. Despite a warning from Dionte Christmas, an alumnus of the Turkish Basketball League, that Fenerbahce Ulker would be no pushover, the Celtics never seemed able to get in rhythm on Friday. Boston's first exhibition foe of the 2012-13 season controlled the pace of the game, got to the free throw line more effectively and protected...
 We read previously that Rajon Rondo organized practices for the Celtics in LA and the guys played some football. Looks like some of that is carrying over to Turkey now. Check out the video above of Rondo throwing a touchdown pass to Jeff Green. Hopefully we will see some crazy court-long alley oops from Rondo to Green this season. Thanks to ThunWest from the shoutbox for sharing the video
In the above video we find out that there were a couple of fiery exchanges at the end of a very good practice today. That tells me that they are really competing in practice and that it will be a relief when they finally get a chance to play against another team. We also learn that Jeff Green is playing very well and gives the team a lot of versatility. The point guard for the...
at     Boston Celtics at Fenerbahce UlkerFriday, October 5, 20122:00 PM ET 9:00 PM Istanbul Time TV:  NBA-TV, CSNNE  Pregame on CSNNE  1:30 PM ETUlker Sports Arena Istanbul, Turkey   After 6 days of practice and very competitive scrimmaging between green and white teams, the Celtics finally get to play against some new blood.  Fenerbahce is a tough team and should...
The Boston Celtics lost the first game of the NBA's preseason Friday, 97-91 to Turkish team Fenerbahce Ulker. First-round draft pick Jared Sullinger and Jeff Green scored 16 points each, but the Celtics paid the price for a weak second quarter, getting outscored 29-18. Rajon Rondo had 13 points and nine assists, while Jason Terry, one of a handful of new players on the roster...
After several days of drilling reminiscent of Hoosiers, Celtics.Com is reporting today that the Boston Celtics scrimmaged. All reports indicate that Doc Rivers allowed the players to run the show, as he sat back and enjoyed the beauty that is the 2012-13 Boston Celtics. Paul Pierce was excited to run a few plays that had not [...]
Austin Rivers is 20 years old. He's a rookie. He's ready to lead. "It doesn't matter what age, in my opinion," Rivers said. "I think it all starts with showing by example. You can be 17, 18, 26, 30, if you show by example and you go out there and give effort and work hard and you lead, I think naturally you'll be a leader. "That's one thing...
The name alone is enough to give you chills: Darko. Even for me, when I heard the Celtics signed him, I skipped the analysis for a little bit and just sat to let the anguish of the moment wash over me. We signed Darko. Of course, when you look at it objectively, veteran minimum deals are inherently no risk because the league pays a good portion of the salary and you can just cut...
Herald  Young guys give veterans a good runThe Celtics investigate antiquity; Pierce tweets for a mealDoc Rivers helps forge flopping rule Rookies attend KG school abroad Globe   Roster focus: Jason Terry Celtics complete final day of practice before Turkish matchup Roster focus: Darko MilicicWatch the Celtics in Turkey Friday afternoonDoc Rivers hopes Rasheed Wallace is in...
Darko painting other players shows team first attitude? A stretch-- I just could not pass up using this picture.Darko Milicic has bounced around quite a bit in the NBA, with each team taking on his talents perhaps hopelessly believing it has what it takes to turn this seven-footer into a legitimate NBA center.  As much documented, the talent is probably there but we will never...
NBA News

Delivered to your inbox

You'll also receive Yardbarker's daily Top 10, featuring the best sports stories from around the web. Customize your newsletter to get articles on your favorite sports and teams. And the best part? It's free!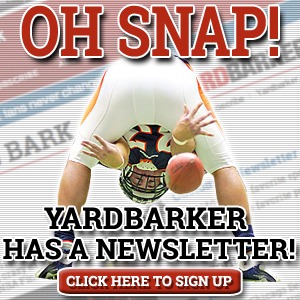 Latest Rumors
Best of Yardbarker

Today's Best Stuff

For Bloggers

Join the Yardbarker Network for more promotion, traffic, and money.

Company Info

Help

What is Yardbarker?

Yardbarker is the largest network of sports blogs and pro athlete blogs on the web. This site is the hub of the Yardbarker Network, where our editors and algorithms curate the best sports content from our network and beyond.