Found March 20, 2013 on Laker Nation:
The NBA world isn't just about what you do on the court. We scoured the web for Lakers-related quotations to provide you with the 10 best quotes from the past seven days:   #10: He's a competitor. That's really what you've got to judge players by. A lot of times, we get caught up in their numbers and what their statistics are, but really you've got to look at the core of a player. He hates to lose. He loves competition. Kobe Bryant on Steve Blake, via the L.A. Times #9: We just hit the wall – ninth game in 14 days in seven cities. You could just kind of see the wheels fall off, specially lately. With some guys being injured, we've been playing a seven-man rotation, and I think it caught up with us a little bit. Our legs just came undone. Steve Nash, on the seven-man rotation used by Mike D'Antoni, following the Lakers' loss to the Suns, via the OC Register #8: I don't know what happened earlier in the season. If I knew I'd tell you. Every excuse in the book. Antawn Jamison on the Lakers' turnaround, via ESPN's Dave McMenamin #7: It's O.K. You've just got to make sure he tells them the right things because he could be giving them different directions than I am. That's not good — a little bit of a loose cannon. Obviously, he knows what's going on, and he sees things, but it's a little scary sometimes. Mike D'Antoni on "Coach Kobe", via the New York Times #6: He Jalen Rose'd me. Kobe Bryant, on Hawks' Danthay Jones' foul that cost him a sprained ankle, via the OC Register #5: Before, as an opponent, it used to just kill me to know (the Lakers) would come in and it'd be almost 50-50. That's one thing I learned this year is that we do have our fair share of Laker fans and it helps us out a lot because not too many situations are hostile. No matter where we go, where we at, we have our fair share of Laker fans and as a player, it's just great to have that feeling knowing that it can be a little lighter on the road and you have that support of fans pulling for you. Antawn Jamison, via ESPN's Dave McMenamin #4: It sucks. It was 70 (Lakers fans) – 30 (Pacers fans) out there. These are the same people that wants autographs after the game. It shouldn't feel like an away game, especially with an important one like this. Tonight, that's what it felt like. They always say your fans are your sixth man and you feed off that energy. Energy is down and we turn the ball over and we're hearing cheers. We're missing shots and we're hearing cheers. That kind of brings your head down cause you know you're at home. Pacers' George Hill following the Lakers win at Indiana, via the Indianapolis Star #3: I hate it for the fans. They can come to practice for free and watch them shoot 40-50 foul shots. They don't even have to pay for tickets. I'll invite them all. Mike D'Antoni on the "Hack-a-Howard", via ESPN #2: I don't know how much I have, but whatever I have, I'm going to give you. Kobe Bryant's message to the Lakers team prior to the game versus the Pacers, when he played only in the first quarter due to a severely sprained ankle, via ESPN #1: I was happy I was able to face my fears at the free-throw line and knock 'em down. I thought that was the best thing for me. To come in here and really learn how to block a lot of stuff out and play — and not allow it to affect me. That's been big all season to where I would hear the crowd, and I would get up there and … brick. So I think it was good for me. You saw me mature as a player and as a person. And I'm happy. Dwight Howard, following the Lakers win over the Magic in Orlando, via the OC Register What is your favorite one? Do you think any quotations got snubbed? Let us know in the comment section below! The post Top 10 Lakers Quotes of the Week appeared first on Laker Nation.
Original Story:
http://lakernation.com/top-10-lakers-...
THE BACKYARD
BEST OF MAXIM
RELATED ARTICLES
Kobe Bryant has now missed back-to-back game, a rare occurrence for the superstar.  His severely sprained ankle kept him out of the Lakers' matchup with the Suns last night.  It was the second of two games in a row for the Lakers, and as they have done all season, they dropped the second game.The Lakers lost to the Suns, a team that is 22 games under .500, 99-76 yesterday...
The Los Angeles Lakers will be without Kobe Bryant for the second game in a row when they face the Phoenix Suns on Monday night. Bryant missed a game for the first time this season when he sat out the Lakers' victory over Sacramento on Sunday night because of a sprained left ankle. He was injured last week in the waning seconds of a loss to Atlanta. Bryant, the fifth-leading...
Click on the photo for 40 tips on having a better life Everyone has troubles in life.  We all deal with life in our own ways.  Some of us are happy.  Some of us are sad.  Some make money.  Some don't.   But there are certain tenets that if we live by them, we just might [...]
KING POWER BLACK MAMBA
Swiss luxury watch brand, Hublot, has named Los Angeles Lakers' star shooting guard, Kobe Bryant, is its newest ambassador. To celebrate the new partnership, Hublot released Kobe's signature timepiece, the limited edition "King Power Black Mamba." "Bryant was the perfect choice for Hublot—a brand known for its precision and excellence, traits that have characterized...
Photo Credit: Getty Images Kobe Bryant is doubtful for tonight's game against the Phoenix Suns. After sustaining his ankle injury in the last seconds of the Atlanta Hawks game he played for only a quarter of the win against the Indiana Pacers and did not dress Sunday in the win versus the Sacramento Kings. Via Twitter, Kobe announced he has the #flu alongside his ankle injury...
Good news, Lakers fans... According to ESPN LA's Dave McMenamin's Twitter handle, Lakers head coach Mike D'Antoni "expects" to see both Kobe Bryant and Pau Gasol back in action Friday when the team hosts the Washington Wizards. D'Antoni says he "expects" both Kobe and Pau in the lineup Friday vs. Washington — Dave McMenamin (@mcten...
Cleveland Browns defensive tackle Desmond Bryant is never going to hear the end of his Feb. 24 arrest, and deservedly so. Bryant, who police described as "extremely intoxicated" at the time, attempted to force his way into a stranger's home in North Miami Beach after a night of partying in South Beach. He has already been charged with criminal mischief and given us one of the...
Los Angeles Lakers coach Mike D'Antoni is hopeful Kobe Bryant and Pau Gasol will return Friday for the Lakers' game against the Washington Wizards. "Hopefully Kobe and Pau w
The Los Angeles Lakers appear close to having their four stars together on the floor again. Kobe Bryant and Pau Gasol could both return from injuries as the Lakers try for an eighth straight home win Friday night against the Washington Wizards. Los Angeles coach Mike D'Antoni said Wednesday he hopes his two injured stars could play Friday. Bryant missed the last two games and...
For years now people have tried to dissect and analyze what exactly is going on in Kobe Bryant's head. However as with many super star athletes, as years progress you start to adhere to the fact that there isn't a formula to their masterminds, unless you're Dr. Mbogo. So if you can't understand their madness, you might as well embrace it with storytelling from teammates who...
When Dahntay Jones slid under Kobe Bryant, that brought the whole NBA fan base into the discussion and made it a hot topic for days. The discussion of "should a foul have been called?" and "was it a dirty play?" were the main themes in the debate and ESPN's First Take wasn't a stranger to it either. In fact, they asked one of the most popular San Antonio...
Photo courtesy of Christian Petersen, Getty Images. The Lakers have yet to win the second game of a back-to-back this season. Earlier in the year, the reasons for this failure were quite simple in that, the Lakers didn't need back-to-back games to lose. They could have 2-3 days off in between and still couldn't figure out how to win. The solutions back then were to get injured...
NBA News

Delivered to your inbox

You'll also receive Yardbarker's daily Top 10, featuring the best sports stories from around the web. Customize your newsletter to get articles on your favorite sports and teams. And the best part? It's free!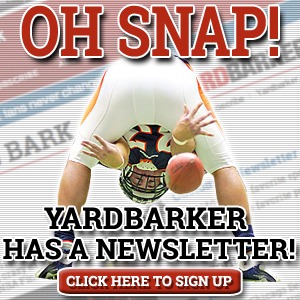 Latest Rumors
Best of Yardbarker

Today's Best Stuff

For Bloggers

Join the Yardbarker Network for more promotion, traffic, and money.

Company Info

Help

What is Yardbarker?

Yardbarker is the largest network of sports blogs and pro athlete blogs on the web. This site is the hub of the Yardbarker Network, where our editors and algorithms curate the best sports content from our network and beyond.