Found December 10, 2012 on NorthWest Sports Beat:
Easy part of the schedule? The Portland Trail Blazers opened the 2012-13 season against playoff hopefuls and perennial contenders in their first six games. This was supposed to the easy part of their schedule, yet they're just 4-6 since that "easy" part of their schedule began Nov. 12. Matchup: Portland (8-12) vs. Toronto Raptors (4-16) Venue: Rose Garden Arena Time: 7:00 PM PT Date: Monday, Dec. 10, 2012 Portland will play host to the Toronto Raptors Monday night, and while you like their chances against a 4-12 Eastern Conference opponent, nothing is a guarantee for this young Blazers squad at this point in the season. Game Notes/How They Match Up If you like offense, Portland versus Toronto is going to be the game for you Monday night. Kyle Lowry was one of the player the Portland Trail Blazer targeted during the 2012 offseason. (Photo: US PRESSWIRE) Neither team should be considered elite on the offensive end of the floor—they are 14th and 16th in points per game—but they both have a tendency to give up a ton of points to their opponents. One area where both teams struggle defensively is in transition. They are ranked 25th and 26th in opponent fast break points per game, and both have had trouble stopping teams that play at a frantic pace this season. Defense isn't the only area, though, where these teams struggle in transition. Despite each squad having the talent to get out and run, they are 27th and 28th in transition points per game. Both teams are going to get open looks in this one, which means it will likely come down to which group is taking advantage of their opponent's poor defense. What to Watch: Portland The Raptors are the third-worst team in the league when it comes to defending the three-point line. Deep-range shooting has been an area where Portland has found success this year, so they'll look to take advantage of any open opportunities. The Blazers have a handful of decent shooters. Damian Lillard has proven that his jump shot can translate the NBA game, as he's shooting 38.2 percent from the three-point line. Wesley Matthews is leading the starters in three-point percentage, and Nicolas Batum have also been reliable this year. One play to watch out for in this game is Luke Babbitt. He's earned more minutes the past four games than any other stretch this season, and a big reason for that is his shot from long range. If he gets the same kind of minutes against Toronto, he could be one player who takes full advantage of their poor defense. What to Watch: Toronto Like the Trail Blazers, an area to watch for the Toronto Raptors is the three-point shot. Their star player DeMar DeRozan won't threaten the Blazers much from behind the arc. However, newcomer Mickael Pietrus, Jose CCalderon and Kyle Lowry have a tendency to kill teams from deep range. Lillard will match up against a point guard who was on Portland's radar this past summer. (Photo: Ned Dishman/Getty Images) The Raptors are only shooting 34.5 percent from behind the three-point line this season, but they have the talent to make the Blazers pay if their defense isn't locking down Monday night. Key Matchup Heading into the 2012 NBA offseason, it was no secret that the Trail Blazers needed a point guard. They were coming off one of their worst point guard experiments in team history in Raymond Felton, and the only question was, where do they target their next floor general? Portland opted to draft Damian Lillard with sixth pick in the draft, and it's safe to say he's lived up to the hype. However, another target that the Blazers had their eye on was Kyle Lowry, who is playing at a very high level for the Raptors this season. The two floor generals will face off Monday night, and it should be one of the more entertaining matchups from start to finish. Both players like to push the tempo, but it's the younger Lillard who has shown he can stay in control better this year. The two of them are very good athletes, and while Lowry is the better defender at this point, the two will challenge one another in both fast-break and half-court sets. Injury Report Portland: DAY-TO-DAY—Wesley Matthews, DOUBTFUL—Nicolas Batum Toronto: N/A Prediction The Trail Blazers dropped their first game at home following the seven-game win streak, but a matchup against the Toronto Raptors should help boost their confidence. Blazers 104 – Toronto 91 CLICK HERE TO CHECK OUT THE BLAZERS BLOG IN OUR CLUBHOUSE TODAY AT NWSB!
Original Story:
http://www.nwsportsbeat.com/trailblaz...
THE BACKYARD
BEST OF MAXIM
RELATED ARTICLES
Top Blazers After a two week hiatus of Rick's Picks, we're back to recognizing notable Portland Trail Blazers performances (question is, were there actually any to write of?). Jokes aside, the Blazers have played less than stellar basketball over the last few weeks, and their record over that time (3-7 over the last 3 weeks) is telling of their struggles. Poor bench play, a...
Every student dreads the word test. Some people thrive under pressure, some people shrink. But in school when all is said and done, if you fail the test, you fail the class. Test time is here for the Portland Trail Blazers. Expectations were extremely tempered when it came to the 7 game road trip this team came home from. After winning two overtime games against subpar...
Toronto's Amir Johnson has been ejected from a game against the Portland Trail Blazers for arguing with an official. Johnson had words with referee David Jones while trying to take the ball from him following a Portland free throw. After Johnson was ejected, he threw his mouthpiece at Jones. Fellow players had to restrain Johnson before he was escorted from the floor on Monday...
The Portland Trail Blazers' lack of depth has been one of their major downfalls this season, which doesn't bode well with Nicolas Batum and Wesley Matthews nursing injuries. There's a possibility neither will play Monday night as Portland seeks an eighth straight victory over the visiting Toronto Raptors, who have lost an NBA-high 13 road games. After a 2-5 road trip...
 Not sure what it is about the Toronto Raptors, but when players go there, they go there to die.  Nothing good comes out of that place.  They really need to move that squad back to the USA.  Check out this weird ejection of power forward Amir Johnson last night.  The Raptors were taking on the Portland Trail Blazers and J.J. Hickson was on the free throw line.  After his first...
Everyone has already seen the video of Toronto Raptors' forward, Amir Johnson not sharing the ball with a referee and throwing a temper tantrum like a kid at Toys R Us. What was he thinking? If there is one rule in sports, it is that you do not tough the refs. It does not matter if he makes a bad call, says something annoying or refuses to give back your ball. Seriously this was...
Andrea Bargnani has spent his whole career with the Toronto Raptors. Since being selected with the first overall pick in the 2006 draft, he's continued to improve year after year. He's had his injury issues, but the fact that his stats kept getting up had to be encouraging. But his scoring numbers peaked in the 2010-11 season where he averaged 21.4 points per game. This season...
Not much for choices from Sunday's six-game slate, but Blake Griffin did scale the back of Linas Kleiza for a pretty nasty follow jam off of a Chris Paul miss.  The fact that Kleiza wasn't looking takes away from the play as a posterization, but with no other nominees, Griffin wins by default. It's a shame Blake didn't convert on his left-handed attempt over Jonas Valanciunas...
I've seen some pretty strange ejections in the NBA over the years but this one from Monday night's Toronto Raptors/Portland Trail Blazers game is an all-timer.In the third quarter of play, Trail Blazers forward J.J. Hickson was at the free throw line and made his first attempt.As the ball landed in the hands of referee David Jones, Amir Johnson attempted to take it from him...
Episode 34 of RAPS TALK (12.10.12) -Ok, this is getting bad.  The Toronto Raptors are stuck on four wins and can't seem to get another one.  On this week's podcast we break down some of the ugly losses on this West Coast road swing, talk Bargnani/Gasol rumours, discuss the current NBA standings and we also have our regular segments "Hoop Heads Humour of the Week...
The Big Leagues If a mouthpiece gets tossed during a forgettable game between the Toronto Raptors and the Portland Trail Blazers, does anyone notice?
On the season Andrea Bargnani has given you this so far: 16 ppg/4.3 rpg/1.4 apg/.398 FG/.828 FT/.7 bpg/.6 spg/1.4 3pm and a few kicks in your ass. Wait, what? I didn't mean to say that last part, I blame my fingers, they are out of control. Honestly, I really can't control my fingers sometimes, it's anarchy! Last night our buddy Andrea went down and out with a left belbow injury...
NBA News

Delivered to your inbox

You'll also receive Yardbarker's daily Top 10, featuring the best sports stories from around the web. Customize your newsletter to get articles on your favorite sports and teams. And the best part? It's free!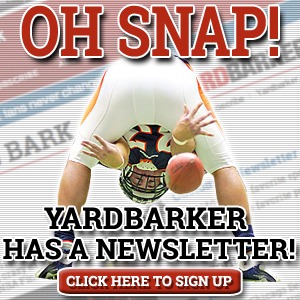 Latest Rumors
Best of Yardbarker

Today's Best Stuff

For Bloggers

Join the Yardbarker Network for more promotion, traffic, and money.

Company Info

Help

What is Yardbarker?

Yardbarker is the largest network of sports blogs and pro athlete blogs on the web. This site is the hub of the Yardbarker Network, where our editors and algorithms curate the best sports content from our network and beyond.