Posted July 10, 2013 on AP on Fox
PLAYERS:
Dwight Howard
,
Paul Millsap
,
Andrew Bynum
,
Andre Iguodala
,
Chris Paul
,
Darren Collison
,
J.J. Redick
,
Matt Barnes
,
Ryan Hollins
,
Donnie Nelson
,
Josh Smith
,
Richard Jefferson
,
Andris Biedrins
,
Brandon Rush
,
Randy Foye
,
Chris Andersen
,
David West
,
C.J. Watson
,
Andrea Bargnani
,
Steve Novak
,
Quentin Richardson
,
Marcus Camby
,
Kevin Garnett
,
Paul Pierce
TEAMS:
Los Angeles Lakers
,
Houston Rockets
,
Utah Jazz
,
Dallas Mavericks
,
Philadelphia 76ers
,
Golden State Warriors
,
Denver Nuggets
,
Los Angeles Clippers
,
Milwaukee Bucks
,
Cleveland Cavaliers
,
Atlanta Hawks
,
Miami Heat
,
Indiana Pacers
,
Brooklyn Nets
,
Chicago Bulls
,
Toronto Raptors
,
New York Knicks
,
Boston Celtics
Just about every NBA team would like Dwight Howard. Only the Houston Rockets could get him, and on Wednesday some of his other suitors either announced their backup plans or were still working on them. Paul Millsap is headed to Atlanta. The Dallas Mavericks are considering Andrew Bynum. The Golden State Warriors have acquired Andre Iguodala. The Los Angeles Clippers never had to look beyond their top target, with Chris Paul committing to stay on the first day of free agency. They also added Darren Collison, Jared Dudley and J.J. Redick to a team that won the Pacific Division last season, surpassing the Lakers as the best team in Los Angeles. It's hard to see that changing after Howard passed on re-signing with the Lakers and instead opted for the Rockets in a deal that still hadn't become official as of Wednesday night. That was the first day transactions could be completed and contacts signed following the completion of the NBA's moratorium period. The Rockets couldn't wait to talk about their All-Star center, getting fined $150,000 by the league on Tuesday for premature comments about Howard on TV and in social media. The rest of the league waited until rules allowed Wednesday. The Clippers held a press conference for Paul, the three new players and the re-signed Matt Barnes and Ryan Hollins on what Paul called ''one of the biggest days in franchise history.'' While they were celebrating, Bynum was meeting with Dallas, another team that wanted Howard. Bynum was part of the four-team trade that sent Howard from Orlando to Los Angeles last summer, but never played a game for Philadelphia because of knee problems. The Cleveland Cavaliers have already offered him a contract, and the Mavericks are weighing the risk. ''At this point, we're having medical discussions and we'll have the opportunity to get with him and his agent and better understand the risks involved and make a good decision for our franchise,'' said Donnie Nelson, the team's president of basketball operations. ''Currently, we still need help and support in our front court and we're going to turn over every stone.'' Charlotte got bigger by adding former Utah center Al Jefferson, while his former Jazz teammate Millsap is also bound for the Southeast Division with the Hawks. Atlanta missed out on Howard, and forward Josh Smith left for a $54 million, four-year deal with Detroit, but the Hawks bounced back by giving Millsap a two-year, $19 million contract. The Jazz also got involved in the deal that landed Iguodala with the Warriors, who gave him a four-year, $48 million deal last week. Golden State cleared more than $24 million by sending Richard Jefferson, Andris Biedrins and Brandon Rush to the Jazz along with four draft picks and cash. Denver received guard Randy Foye from the Jazz. Chris Andersen signed a $1.7 million, one-year deal to stay with the Miami Heat, who will have to hold off some stronger challengers next season in the Eastern Conference. Indiana re-signed power forward David West and added C.J. Watson as a backup point guard, while the Chicago Bulls improved their outside shooting by signing Mike Dunleavy. The New York Knicks hope they did, too, with the acquisition of Andrea Bargnani. However, the former No. 1 overall pick from Italy struggled during an injury-plagued 2012-13 season for the Toronto Raptors, who shipped him to New York for Steve Novak, Quentin Richardson, Marcus Camby and three future draft picks. The NBA's other big deal of the offseason, the trade sending Kevin Garnett and Paul Pierce from Boston to Brooklyn, will be completed Friday. The Nets could pay more than $70 million in taxes in the first season of the NBA's harsher penalties for teams who exceed the limit.
Original Story:
http://msn.foxsports.com/nba/story/Tr...
THE BACKYARD
BEST OF MAXIM
RELATED ARTICLES
Houston Rockets: Dwight Howard Contract Grade By Mike Elworth: Owner and Publisher/Hoopstuff… Contract 4 years, 88 million - Well the Dwight Drama is finally over, as Dwight Howard, after almost three years, has chosen his long term destination, Houston. I am not going to talk about his immature actions, or him hurting the Magic and Laker franchises and all of the annoyances he...
Never give the photoshoppers and gif-masters any ideas. Stone Cold Steve Austin just told me the athlete he would most like to hit with the Stunner is Dwight Howard. Oh. My. God. — Chris Mannix (@ChrisMannixSI) July 12, 2013 Because when you do, things like this happen. Stone Cold Steve Austin delivers stunner to Dwight Howard H/T Bleacher Report
ANTISOCIAL MEDIA
Now that Kobe and Dwight Howard are no longer teammates, the Mamba took some time to explain why he unfollowed Howard.
Thanks to the fine folks over at TMZ, we might have gotten to see the moment that Los Angeles Lakers forward Metta World Peace signed with the Houston Rockets. Check it out in the below video: Metta World Peace — Wait, Dwight Howard's Going to Houston??? - Watch More Celebrity Videos or Subscribe *** Metta learns of D-12 signing with Rockets [TMZ]
With the departure of Eric Bledsoe, the Los Angeles Clippers were faced with a dilemma requiring them to find a replacement for one of the most explosive players in the league at the point guard position, one of the most vital roles on an NBA roster. A team facing this ordeal usually searches for a "serviceable" guy who can give you good enough minutes to get by and hold the...
Surprisingly, the jovial Ice Cube, star of such hit films and TV shows as Are We There Yet? and 'Are We There Yet?', had some mean things to say about new Houston Rocket Dwight Howard. They are of the *********** and "Dwight Coward" variety. Viewer discretion advised, but not really, because f**k Dwight Howard. (video h/t to Bob's Blitz, photo below via Getty Image)-...
ON A WING AND A PRAYER
Royce White, who has a fear of flying and is awaiting his trade from the Rockets to the 76ers, said, "Hell no" to the idea of taking 100 flights during a season.
In the aftermath of Dwight Howard's decision to sign with the Houston Rockets, word began to spread that Rockets center Omer Asik had no interest in playing with or behind Howard and he wanted to be traded.Since then, Brian Windhorst of ESPN has verified that Asik has formally asked the Rockets to trade him. And it was at that moment that Asik found out just how much pull and influence...
  Well... that didn't quite work out the way we all expected.  Dwight Howard turns out to be a 1 year rental, and the Lakers serve as a placeholder for him whilst he recuperates from back surgery.  Now, I realise that's to paint the scenario in pretty much what amounts to the worst possible light, but what there is incorrect?     So... Dwight Howard...
With all the salary cap space the Los Angeles Lakers are expected to have in 2014 after losing Dwight Howard to the Houston Rockets, there has been some speculation that they could make a run at a big name free agent like Carmelo Anthony. Anthony and Bryant have a close relationship, and there have been [...]
The NBA's free agency moratorium ended Tuesday night, allowing teams to officially make the transactions and free agent signings they have talked about since Draft night and July 1. The NBA has set the salary cap at $58.679 million and the luxury tax at $71.748 million. Action happened immediately Tuesday night as Chris Paul and J.J. Redick inked their deals with the...
NBA News

Delivered to your inbox

You'll also receive Yardbarker's daily Top 10, featuring the best sports stories from around the web. Customize your newsletter to get articles on your favorite sports and teams. And the best part? It's free!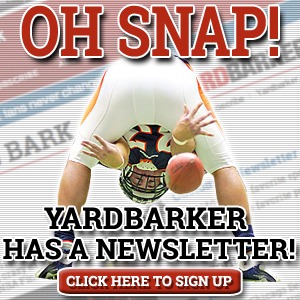 Latest Rumors
The Backyard

Today's Best Stuff

For Bloggers

Join the Yardbarker Network for more promotion, traffic, and money.

Company Info

Help

What is Yardbarker?

Yardbarker is the largest network of sports blogs and pro athlete blogs on the web. This site is the hub of the Yardbarker Network, where our editors and algorithms curate the best sports content from our network and beyond.