Posted November 25, 2012 on AP on Fox
The Detroit Pistons have lost 12 straight to Western Conference opponents, but could be catching a break in their bid to end that skid. The Portland Trail Blazers may be without All-Star forward LaMarcus Aldridge as they visit the Pistons on Monday night. Aldridge, averaging 19.7 points and 5.8 rebounds, missed his first game Sunday when he sat out a 98-85 loss at Brooklyn with a stiff back. Portland (6-7) was competitive throughout a contest that was tied after three quarters before falling to 2-4 on the road. "To be without our best player and come to Brooklyn and then have a chance down the stretch. Just to be in that position without LaMarcus says a lot about our team,'' rookie guard Damian Lillard said. There is no word on Aldridge's status for Monday. He received pre-game treatment from the training staff and was in uniform, but rookie Meyers Leonard received his second start. The big man averaged 24.8 points and 7.7 rebounds during a six-game win streak over the Pistons (3-11), who snapped that slide in the series with a 94-91 win Jan. 21 in the lone matchup last season. Aldridge led Portland with 25 points while Rodney Stuckey scored a game-high 28 for Detroit. That was a rare victory for the Pistons over a West foe. Detroit went 5-13 against Western opponents in 2011-12 before losing their first eight to the other conference this season. While Portland took positives from its Sunday defeat in the New York area, that wasn't the case for the Pistons in their 121-100 road loss the Knicks on Sunday. Detroit fell behind 64-44 at halftime and finished with 19 turnovers. "How many minutes of defense did we play? I don't know, but I know it's not nearly good enough to do and we've got to take care of the ball,'' coach Lawrence Frank said. Brandon Knight, who made the winning layup in Friday's 91-90 victory over Toronto, matched a season high with 21 points and Charlie Villanueva added a season-best 17. None of that mattered as the Pistons allowed the Knicks to make 17 3-pointers - the second-highest total yielded by the club over the last 26 seasons. "We have to give a better effort as far as not giving up those 3s,'' Knight said. ''That's what they do best, that's what we came into the game trying to do. We did a poor job defensively.'' Knight will get his first chance to match up with Lillard, who leads all rookies in scoring at 19.6 points per game. Lillard, thrust into a leadership role for Portland, had a poor effort Sunday with 13 points on 4-of-12 shooting. "I think we have multiple leaders on the team," Lillard said. "I wouldn't say that I am the leader of the team. There are times when something needs to be said and I will say it, but we have multiple guys on our team that lead." Wesley Matthews scored 20 points and J.J. Hickson had 19 and 10 rebounds for the Trail Blazers, who were outrebounded 48-34 without Aldridge.
Original Story:
http://msn.foxsports.com/nba/story/Tr...
THE BACKYARD
BEST OF MAXIM
RELATED ARTICLES
Blazers drop close one The Headline: despite a nagging back injury, LaMarcus Aldridge comes alive for Portland; unfortunately, it's not enough to hold off the Pistons in this 101-108 loss. Lets review the game, Love'em & Hate'em style. Portland Trail Blazers vs. Detroit Pistons When: 7:30 ET, Monday, November 26, 2012 Where: The Palace of Auburn Hills (Detroit) Officials...
Huge night for the rookie The Headline: Damian Lillard scores a season high 28 points in this big Portland win. Minnesota Timberwolves vs. Portland Trail Blazers When: 10:00 ET, Friday, November 23, 2012 Where: Rose Garden (Portland) Officials: Joe Crawford, Tre Maddox, Derrick Collins Attendance: 20,555 Love 'em 1. Lillard leads the way Damian Lillard had the best night of his...
Kyle Singler of the Detroit Pistons has made two trick-shot videos before, but this is his first  one while being a part of the Pistons. He performed several trick-shots in different areas around Detroit including outside of The Palace of Auburn Hills and Ford Field. One of my favorite shots in this video is on [...]The post Kyle Singler-Detroit Pistons' Trick-Shot Video appeared...
Forward Kyle Singler has been one of few bright spots in a relatively disappointing season thus far for the Pistons this season. The second year pro from Duke is also pretty accomplished at executing some pretty remarkable trick shots. Here's Singler sinking many different tricks shots around Detroit including one off a moving car. h/t: HoopsHype
Brandon Knight scored 16 of his 26 points in the first half, outplaying Damian Lillard in a matchup of young guards and leading the Detroit Pistons to a 108-101 victory over the Portland Trail Blazers on Monday night. Lillard entered the day as the NBA's top rookie scorer, averaging 19.6 points per game. He missed his first 12 shots from the field against the Pistons. Detroit...
AUBURN HILLS, Mich. -- Brandon Knight scored a season-high 26 points Monday, but his defense was even more impressive. Knight held Portland's standout rookie point guard, Damian Lillard, to 12 points, tying his season low, and the Detroit Pistons defeated the Trail Blazers 108-101 at The Palace. The Pistons (4-11) won their third straight home game. The Blazers (6-8) have...
After getting their first two wins of the season last week, this was a so-so week for the Pistons, now 3-11. After a couple of days of practice, the Pistons traveled to Orlando and promptly laid an egg. The first half was actually pretty good as they held a 48-45 lead over the Magic. But it was a completely different story in the second half, particularly the third quarter. The...
1. Portland Trail Blazers point guard Damian LillardStats: 47.3% FG, 40.5% 3PT, 20.2 points, 3.0 rebounds, 6.0 assists, 1.3 steals, 3.3 turnoversLillard has made an amazingly smooth transition from mid-major Weber State to the NBA, and leads all rookies in points, assists and three-pointers made. He's also leading the Blazers in scoring, ahead of All-Star LaMarcus Aldridge.2...
AUBURN HILLS, Mich. (AP) -- Brandon Knight scored 16 of his 26 points in the first half, outplaying Damian Lillard in a matchup of young guards and leading the Detroit Pistons to a 108-101 victory over the Portland Trail Blazers on Monday night. Lillard entered the day as the NBA's top rookie scorer, averaging 19.6 points per game. He missed his first 12 shots from the field...
AUBURN HILLS, Mich. Kyle Singler is one of the more intriguing young players the Pistons have. At 6-8, 230 pounds, Singler is a pretty big shooting guard. But really, that's just where he is listed in the starting lineup. With that size, he can play more than one position. That versatility was on full display Monday night at the Palace against the Portland Trail Blazers. ...
Line of the Night: I guess LaMarcus Aldridge's (2.56) back is doing just fine, thank you very much. A night after sitting out with a sore back, Aldridge returned to the lineup against the Pistons and had his best game of the season, scoring 32 points, and adding 10 rebounds, 3 steals and 3 blocks in 41 minutes on the court. Word is that the Pistons focused their defensive efforts...
The NBA season is here. With that in mind, it is time to flip through the book on the 2012-13 season and to take a look at what the season might have in store -- especially when it comes to the Magic. Be sure to look out for more of these team capsules and to check out all the blogs taking part in this year's NBA Blog Preview (don't worry, I will be linking to all of them...
NBA News

Delivered to your inbox

You'll also receive Yardbarker's daily Top 10, featuring the best sports stories from around the web. Customize your newsletter to get articles on your favorite sports and teams. And the best part? It's free!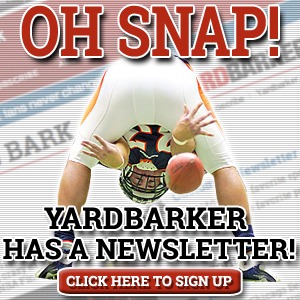 Latest Rumors
The Backyard

Today's Best Stuff

For Bloggers

Join the Yardbarker Network for more promotion, traffic, and money.

Company Info

Help

What is Yardbarker?

Yardbarker is the largest network of sports blogs and pro athlete blogs on the web. This site is the hub of the Yardbarker Network, where our editors and algorithms curate the best sports content from our network and beyond.