Found April 27, 2012 on NorthWest Sports Beat:
Blazers Season in the Books
After last night's 96-94 loss at Utah, the Portland Trail Blazers 2011-2012 NBA season is now in the books. Portland finished with a record of 28-38.
BOXSCORE | RECAP
Utah 96, Portland 94
When: 8:00 PM ET, Thursday, April 26, 2012
Where: EnergySolutions Arena, Salt Lake City, Utah
Officials: #56 Mark Ayotte, #12 Violet Palmer, #57 Greg Willard
Attendance: 19554
The Blazers started the season hot, but it didn't last long. There were team chemistry issues in the middle of the season, and Nate McMillan was let go around this time. Kaleb Canales took over, but the team could never really get it going again near the end of the season.
All in all, it has to be considered a disappointing season for the Blazers.
Last night's game didn't mean much to either team, but the Jazz came from behind to win with a 10-0 run in the fourth quarter.
Portland had a shot to win it with one second left, but Wesley Matthews' three-pointer was off target.
Love 'Em
1. J.J. Hickson
The best move the Blazers made all year was to pick up J.J. Hickson. Hickson was let go by the Kings, but he has been the Blazers best player over the last few weeks.
He went 10 for 13 from the floor last night. He led the team with 20 points and 9 rebounds.
Portland needs to find a way to keep him around for next season.
2. Jonny Flynn
Jonny Flynn has had a chance to show his stuff over the last few games, and overall he has looked good. Last night was probably his best game as a Portland Blazer. Flynn scored 18 points and racked up 11 assists.
Blazers vs. Jazz; Love 'em & Hate 'em (Photo Courtesy Craig Mitchelldyer-US PRESSWIRE)
Hate 'Em
1. Wesley Matthews
Wesley Matthews simply didn't have his shot last night. He finished 4 for 18 from the floor. He scored 14 points, but when you put up 18 shots to score 14 points you are hurting the team.
2. Rebounding
The Jazz dominated the boards through the entire game last night. Portland had just six offensive rebounds compared to Utah's 13. Overall, the Jazz had 48 rebounds to just 36 for the Blazers.
3. Luke Babbitt
Luke Babbitt didn't have a ton of chances to play this year, and he ended with his worst effort of the year. He went 3 for 11 from the floor, and 1 for 8 from beyond the arc in this game.
Despite playing 38 minutes he also had zero assists.
Let's hope the Blazers put together a good offseason and come back a much stronger team next season!
CLICK HERE TO CHECK OUT THE BLAZERS BLOG IN OUR CLUBHOUSE TODAY AT NWSB!
© NWSports "Q" for North West Sports Beat, 2012. | Permalink | No comment |
Follow NWSB on Twitter or join US on Facebook for real-time updates OR... | Share This on Twitter | Share NWSportsBeat.com on Facebook
Post tags:
2012
,
Blazers Blog
,
Blazers vs. Jazz
,
Jazz
,
JJ Hickson
,
Jonny Flynn
,
Kaleb Canales
,
Love Em Hate Em
,
Luke Babbitt
,
portland
,
Portland Trailblazers Blog
,
Portland vs. Utah recap
,
RIP City
,
trailblazers
,
Trailblazers blog
,
Trailblazers blogs
,
Utah
,
utah jazz
,
Wesley Matthews
Original Story:
http://www.nwsportsbeat.com/trailblaz...
THE BACKYARD
BEST OF MAXIM
RELATED ARTICLES
With the dreadful 2011-12 NBA season officially over for the Portland Trail Blazers, it's time to focus on rebuilding the roster in what should be one of the busiest offseasons in franchise history. The Blazers are no strangers to rebuilding. Just six years ago the team began a new era by drafting Brandon Roy and LaMarcus Aldridge, selecting Greg Oden No. 1 overall and shipping...
NBA Matchup Insight The Portland TrailBlazers season is finally coming to an end and it cannot come too soon since they have sputtered after the All Star break, lost their best player for the year, and they have dropped 6 in a row. CLICK HERE TO CHECK OUT THE BLAZERS BLOG IN OUR CLUBHOUSE TODAY AT NWSB! Portland Blazers (28-37) at Utah Jazz (35-30) When: 8 PM ET, Thursday, April...
'GO JAZZ, BABY!'
The Utah Jazz had their rookie Enes Kanter give the end of the year speech to Jazz fans and it didn't disappoint. The speech was to the point, motivational, and featured the best mic drop we have since Beyonce announced her pregnancy at last year's MTV Music Awards. The Utaz Jazz players' reactions were priceless. H/T The Big Lead Article found on: Cosby Sweaters
How Portland's year led to Crawford's infidelity During last Fall's frenzied NBA free agency period, former 6th man of the year, Jamal Crawford, was narrowing down a few teams he'd like to play for. The Portland TrailBlazers, one of Crawford's top choices, had just come off yet another first round exit in the playoffs, this time at the hands of the eventual champion Dallas...
If Enes Kanter wasn't a Jazz fan favorite before, he is now. The 19-year-old Turkish rookie has only played limited minutes this season, but the dude is hardcore. Oh yes. Kanter seemed to be pushed by his teammates to deliver a pregame speech to Jazz fans prior to the team's game against Portland on Thursday, and he knocked it out of the park. Kanter straight up grabbed the...
Jamal Crawford will opt-out of his contract for 12-13 that would pay him $5.25 million.
This is more than he did during his tenure at Kentucky. The Utah Jazz rookie finished with 12 points, 10 rebounds and 2 blocked shots. It was his most impressive performance of the season.
There might not be a more snake-bitten franchise in the NBA than the Portland Trail Blazers and some fans have through around the idea that the team is "cursed".ESPN's Marc Stein recently talked to former Blazer center Marcus Camby about the media/players talking about a possible curse and this is what he told him:They might not want to admit it, but when I was there...
Rookie Alec Burks scored 18 points and NBA Slam Dunk champ Jeremy Evans led a 10-0 fourth-quarter run as the playoff-bound Utah Jazz beat the Portland Trail Blazers 96-94 Thursday night. Utah finished the season on a five-game winning streak and will face top-seeded San Antonio in a first-round Western Conference matchup starting Sunday. J.J. Hickson scored 20 points and Jonny...
The Jazz have great depth in the frontcourt with Al Jefferson, Paul Millsap, Derrick Favors and Enes Kanter.
Mark Eaton still holds the NBA's single-season shot-blocking record and he had powerful dunks to match. Yet, there are times the retired Jazz defender sits in awe watching Utah second-year pro Derrick Favors. ''I did that once, but it was only a dream,'' Eaton said after seeing Favors' reverse jam in traffic against Orlando last week. ''He's still...
NBA News

Delivered to your inbox

You'll also receive Yardbarker's daily Top 10, featuring the best sports stories from around the web. Customize your newsletter to get articles on your favorite sports and teams. And the best part? It's free!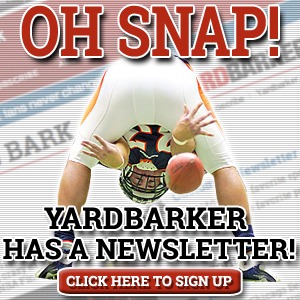 Latest Rumors
Best of Yardbarker

Today's Best Stuff

For Bloggers

Join the Yardbarker Network for more promotion, traffic, and money.

Company Info

Help

What is Yardbarker?

Yardbarker is the largest network of sports blogs and pro athlete blogs on the web. This site is the hub of the Yardbarker Network, where our editors and algorithms curate the best sports content from our network and beyond.