Found January 18, 2012 on Cuzoogle:
When you are about to be 1-12, not much will get the fans out of the seats. But this dunk by JaVale McGee was a good attempt. You can just hear the roar of the crowd? No, not really.
Apparently the the Wizards as a team did not appreciate the dunk.
But McGee's coach, Flip Saunders, believes some plays are best saved for those type of competitions, not an actual, competitive NBA game. So, he was understandably disappointed on Monday, when McGee was alone on a fast break and decided to provide a dunk that will surely make the top 10 list of most highlight shows. Saunders called it "unacceptable."
Reminds me of a time when Gary Payton and Shawn Kemp did a crazy off the backboard attempt at a dunk and even though it was maybe the greatest missed dunk ever, George Karl benched them both.
I think it was a wicked dunk but so over the top for the situation. His days are numbered in D.C. if he does not shape up. But then again, where would he go? Maybe the Globetrotters?
addthis_url = 'http%3A%2F%2Fcuzoogle.com%2F2012%2F01%2F18%2Fvideo-javale-mcgees-self-oop-against-houston%2F'; addthis_title = 'Video%3A+JaVale+McGee%26%238217%3Bs+Self-oop+against+Houston'; addthis_pub = '';
Original Story:
http://feedproxy.google.com/~r/Cuzoog...
THE BACKYARD
BEST OF MAXIM
RELATED ARTICLES
Wizards big man JaVale McGee was benched Monday for throwing himself an alley-oop in the third quarter of his team's loss to the Rockets. I'm not sure why it's so hard for McGee to understand that showboating on a 1-12 team is a bad idea, but he doesn't seem to get it. "Apparently, if you get a fastbreak & throw it off backboard in the 3rdQ & you're 1...
SOAR SUBJECT
Chandler Parsons not only dunked on top of JaVale McGee, but he finished the dunk by literally sitting on McGee's shoulders. This is not the first poster today, but by far one of the nastiest. JaVale McGee is usually the one doing the dunking, but Chandler made sure that JaVale won't forget what it felt like to have the shoe on the other foot anytime soon. Click here...
  The Washington Bullets Wizards scored 106 points in their loss Monday to the Rockets, but coach Flip Saunders did not like how his team got two of those points. In the third quarter, JaVale McGee was all alone with the ball on a breakaway, so he did what isn't too surprising from a former runner-up in the slam dunk contest: threw himself the ball off the glass and jammed it...
Wizards center JaVale McGee has been a walking highlight reel from the moment he came into the league; an incredible athlete with superior speed and leaping ability that makes him a terror in the open floor. He showed off his gifts while finishing second to Los Angeles Clippers forward Blake Griffin in the slam dunk contest – in all seriousness, he really won – last year in...
For what it's worth, I thought this play was pretty sweet at the time, squinting at the court from my seat a thousand rows above. Still, JaVale McGee made an oops when he threw himself an alley-oop off the backboard during yesterday's Wizards-Rockets game. McGee's play was definitely out of line, but the reprimand he's receiving for this is largely...
As you can see above, in the third quarter of the Wizards latest loss Monday, JaVale McGee decided to showboat a little with the self ally-oop. It pretty much summed up the Wizards — impressive but unnecessarily showy and self-serving, all while the team was losing. Actually, what would have made it the perfect Wizards…
In the first quarter of Monday's NBA game in Washington, Houston Rockets forward Chandler Parsons ran from the three-point line, grabbed an offensive rebound in mid-air and dunked all over Wizards center JaVale McGee. To top things off, after Parsons hung onto the rim to gain his balance, he landed on McGee's shoulders, leaving McGee with a face full of Parsons' crotch...
Make no mistake, the Wizards are terrible, but they still have a couple guys who can make the losing entertaining (at least for a while). One is the guy who should have won the dunk contest last year, JaVale McGee, who had the monster slam you can see above. John Wall also put on a…
We admit that when it comes to encouraging JaVale McGee's "look at me" habits, we're just as guilty as anyone. But when the Wizards are 1-11, those habits are incredibly ill-advised. During Monday's 114-106 loss to Houston, JaVale found himself with a wide-open court. Instead of a simple dunk, JaVale tossed the ball off the backboard to himself and then followed it...
Last night as the Los Angeles Clippers played host to New Jersey Nets; Kris Humphries rough couple of months just got worst. Humphries has Blake Griffin to thank. In the second quarter, Clippers guard Randy Foye drives the lane and when he gets cut off; he decides to pass the ball to Griffin who is coming down the lane. Griffin receives the pass and dunks with his left...
With their record at 1-11 (by far the worst in the League), and trailing the Houston Rockets by six points yesterday, JaVale McGee (naturally) thought it would be a great time to throw down an unecessary showtime dunk. This did not sit well with teammate John Wall and head coach Flip Saunders, who addressed the silly play following the Wizards' 12th loss of the season. From SB...
Dan Steinberg , LaVar Arrington and Jason Reid joined Jonathan Forsythe on this week's webcast. Among other topics, the crew discussed JaVale McGee and the Wizards' most recent act of "tomfoolery." They also debated the effect the team's overall dysfunction is having on point guard John Wall's development. Read full article >>
Wizards News

Delivered to your inbox

You'll also receive Yardbarker's daily Top 10, featuring the best sports stories from around the web. Customize your newsletter to get articles on your favorite sports and teams. And the best part? It's free!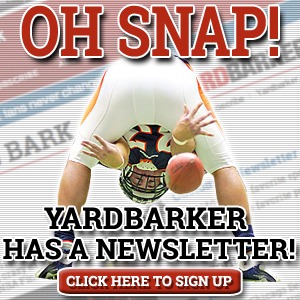 Latest Rumors
Best of Yardbarker

Today's Best Stuff

For Bloggers

Join the Yardbarker Network for more promotion, traffic, and money.

Company Info

Help

What is Yardbarker?

Yardbarker is the largest network of sports blogs and pro athlete blogs on the web. This site is the hub of the Yardbarker Network, where our editors and algorithms curate the best sports content from our network and beyond.