Found June 10, 2013 on Knickswag:
Tyson Chandler and a 1st rounder for David Lee? This time of the year the trade rumors swirl and the Knicks are no exception to the constant rumors. New York finds itself in a quagmire of sorts. With no financial flexibility and "slim to none" trade possibilities, thinking outside the box and going for broke is in my mind. Is it a possibility the Golden State Warriors, fresh off a great playoff run, would want to partner up with the Knicks to help each team get better for next year? Maybe this transaction could work for both sides. Tyson Chandler and the 24th pick for David Lee: First Reaction:  Everyone's first reaction would be, why would the Warriors and the Knicks do this? Here is the breakdown for both teams, and why this could benefit both sides. Warriors Point of View: G.S. tried to land Tyson Chandler and struck out in 2011. Then they tried to land DeAndre Jordan and struck out again the same year. They eventually landed the often-injured Andrew Bogut in a trade, who surprisingly inspired the team in the playoffs after coming in and out of the lineup all year. However, G.S. is looking for a defensive presence at the center position for the next 2-3 years. Is Bogut the answer? Absolutely not Warriors fans, he clearly is a stopgap until his salary comes off the books or they can find a potential upgrade. David Lee, a one-time Knick, has been in a Warriors uniform since 2010. He is a complete player on the offense; he can post up, drive and finish with both hands, as well as stick the mid-range and deep jumper all day. The Warriors had a great run in the playoffs without David who was nursing a hip injury. With the emergence of Carl Landry at power forward, the Warriors can spell David with Carl and a little bit of Draymond Green, as well as the 24th pick to select whomever they like. They clearly do not need David to advance in the playoffs, as they proved this year. Picking up Tyson Chandler for David Lee will give Golden State the center they have coveted for years, solidifying their defense for the next 2 years at least. They can then trade Andrew Bogut for some PF help or use him off the bench in limited minutes to keep his body rested, while giving the Warriors a 1,2 punch that most teams would die for. In order for you to get better you have to give up something of value. With a core of Jack, Curry, Tyson, and Thompson, along with the return of Brandon Rush, the Golden State Warriors can afford to give up D-Lee in order to add the defensive stalwart they crave. Knicks Point of View: New York's lack of inside presence was exposed in the playoffs. With the injuries to Amar'e and no other offensive power forward on the team, David Lee would be a great addition to the roster.  He can start at PF, with STAT coming off the bench, giving New York balance on the floor for the first time in the "Melo" era. Who will be the Knicks starting center? With the taxpayer mini mid available to them, they could sign a player like Samuel Dalembert along with retaining Earl Barron. They could also look at Henry Sims and have a platoon at the center position. We all saw how Tyson stunk up the joint in the playoffs. Adding a PF, with the offensive skills of D-Lee, is worth the departure of Tyson Chandler in my humbled opinion. Giving up Tyson would hurt, don't get me wrong, but with Camby on the roster and a chance for him to prove to the Knicks brass and fans that his signing was not a mistake, the Knicks have their back-up center at the least. You are banking on a platoon of Dalembert, Camby, Barron and Sims. If 2 of those guys can't give you solid minutes then the Knicks have deeper issues than we thought. In Summary: This trade works for both sides. The Warriors get their defensive center that they have coveted for years, and the Knicks reunite with David Lee, get the offensive presence at the power forward position that they desperately need. I like this trade for both teams, so help me unite the Warriors and Knicks brass to come to the table and get this deal done. The post Warriors and Knicks Trade That Makes Sense appeared first on Knickswag - A New York Knicks Blog - News, Rumors, and more!.
Original Story:
http://knickswag.com/warriors-and-kni...
THE BACKYARD
BEST OF MAXIM
RELATED ARTICLES
An important thing to understand about the New York Knicks and JR Smith this off-season is that he is getting their 4.9 million Early Bird exception or nobody is. The money cannot be allocated elsewhere. There isn't a "let JR walk and put that 4.9 million elsewhere" option. Considering Smith was second on the team in scoring, third in rebounding, fourth in assists and played...
I don't really want to mention Linsanity at this point, but it's kind of hard not to when I'm going to talk about Raymond Felton's 2012-13 season. If you remember, this time last year we were wondering how the Knicks were going to develop Jeremy Lin, their unquestioned point guard of the present and future. If I would have told you on June 11, 2012 that Lin would be a Rocket...
The New York Knicks overachieved in the 2012-2013 NBA regular season. Unfortunately, by most people's standards they underachieved in the post-season. New York Knicks Head Coach Mike Woodson has a proven record of regular season production and steady improvement but has consistently hit a hard ceiling in the second round of the NBA Playoffs. Can the New York Knicks ever seriously...
Fresh off retiring from the NBA as a player, Jason Kidd must've come to the conclusion that he was getting very bored very quickly after just a few days at home.The now former Knicks' guard is wasting no time looking for his next job, gunning for the Nets' vacant head coaching position.There are plenty of things farfetched with such a development. Just weeks after last...
Kenny Kadji from the U, is a 6'11" 242 pounder with some offensive skills that would make you giggle with joy if you drafted him. From Cameroon, and already at the age of 25 years old, Kenny is projected to go in the 2nd round of this years NBA draft. Why so late in the draft? Probably because Kenny is already in his mid 20's and he is not known as a banger in the paint eating...
Jason Kidd could be reunited with the Nets franchise by the end of the week as Kidd emerges as the top candidate to take over as Brooklyn's new head coach, according to multiple reports. Contract talks are under way and Kidd is working to put together a coaching staff, according to Yahoo Sports! To hire Kidd, the Nets are reportedly looking to also add one or two assistant coaches...
Follow Ralph Guerrero on Twitter @ralphguerrero Former New York Knicks star, Patrick Ewing, has been hired by longtime friend, Michael Jordan, as "Associate Head Coach" of the Charlotte Bobcats. The Bobcats recently hired Steve Clifford as head coach and Ewing will apparently be second in command. The news was first reported by Yahoo! Sports Adrian Wojnarowsk. Ewing has...
Much was made of Dwight Howard including the Golden State Warriors on his list of five teams that are on his wishlist to sign with in free agency. It's a major step forward for the Warriors just to be considered by Howard, one of the league's best centers. A surprisingly successful season and a trip to the second-round of the NBA Playoffs has changed the landscape a bit and turned...
Golden State Warriors star Steph Curry took over the @SportsCenter Twitter account to share his thoughts on Game 3 of the 2013 NBA Finals with more than 5,000,000 people.
Golden State Warriors guard Stephen Curry may be watching the playoffs from his living room, but that won't stop him from getting a couple of shots in at the NBA Finals. At halftime of the Miami Heat's Game 3 loss to the San Antonio Spurs in the NBA Finals, LeBron James had just four points in the game. Curry put James' point total into perspective when he helped...
1. Ken 2. Curt 3. Charles 4. Cal 5. Kyle 6. Cam 7. Kanye 8. Kevin 9. Carlos 10. Steve [photo via @warriors]
NBA News

Delivered to your inbox

You'll also receive Yardbarker's daily Top 10, featuring the best sports stories from around the web. Customize your newsletter to get articles on your favorite sports and teams. And the best part? It's free!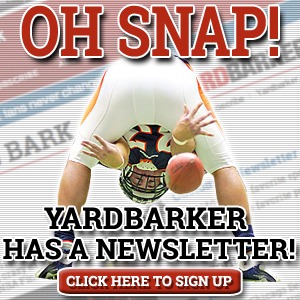 Latest Rumors
Best of Yardbarker

Today's Best Stuff

For Bloggers

Join the Yardbarker Network for more promotion, traffic, and money.

Company Info

Help

What is Yardbarker?

Yardbarker is the largest network of sports blogs and pro athlete blogs on the web. This site is the hub of the Yardbarker Network, where our editors and algorithms curate the best sports content from our network and beyond.