Found January 31, 2013 on Waiting For Next Year:
PLAYERS:
LeBron James
TEAMS:
Cleveland Cavaliers
,
Atlanta Hawks
,
Chicago Bulls
,
Memphis Grizzlies
,
Boston Celtics
,
Minnesota Timberwolves
,
Portland Trail Blazers
,
Sacramento Kings
,
Denver Nuggets
,
Miami Heat
,
Oklahoma City Thunder
,
New Orleans Pelicans
Everyone knows that the 2012-13 version of the Cleveland Cavaliers is quite young. Four recent draft picks (who all are heading to Houston) all are regulars, which means the average age of the team has to be one of the youngest in the NBA. In fact, that's true. According to Basketball-Reference.com's age statistic, which averages the age of players for a team and factors in minute distribution, the Cavaliers are the youngest team in the NBA right now with an average age of 24.0 years. But how young really is that in context? Let's take a look at all 19 teams in the last 20 years to finish with an average age of 24.1 years or younger. Team Age W L Pct Eff Diff Year Atlanta Hawks 22.7 26 56 0.317 -5.2 2005-06 Oklahoma City Thunder* 23.2 50 32 0.610 3.7 2009-10 Chicago Bulls 23.2 15 67 0.183 -10.1 2000-01 Memphis Grizzlies 23.3 24 58 0.293 -6 2008-09 Boston Celtics 23.5 24 58 0.293 -3.7 2006-07 Cleveland Cavaliers 23.5 17 65 0.207 -10.2 2002-03 Oklahoma City Thunder* 23.7 55 27 0.671 4 2010-11 Minnesota Timberwolves 23.8 17 65 0.207 -6.9 2010-11 Boston Celtics 23.9 36 46 0.439 -2.8 1997-98 Cleveland Cavaliers 24 13 33 0.283 -5.5 2012-13 Portland Trail Blazers* 24 54 28 0.659 6.1 2008-09 New Orleans Hornets 24.1 15 31 0.326 -4.3 2012-13 Minnesota Timberwolves 24.1 15 67 0.183 -9.9 2009-10 Sacramento Kings 24.1 25 57 0.305 -4.6 2009-10 Memphis Grizzlies 24.1 40 42 0.488 -1.6 2009-10 Portland Trail Blazers 24.1 41 41 0.500 -1.1 2007-08 Atlanta Hawks 24.1 30 52 0.366 -5.3 2006-07 Chicago Bulls* 24.1 41 41 0.500 0.6 2005-06 Denver Nuggets 24.1 17 65 0.207 -9.1 2002-03   As you can see, the 2012-13 New Orleans Hornets also make this list, along with the Cavaliers in their last dreadful year before drafting LeBron James. A notable caveat: Many more teams recently have made this list, as high school and one-and-done jumps to the NBA became more popular. Then some notable averages: .370 winning percentage and -3.8 efficiency differential (this is the difference between a team's points scored per 100 possessions and points allowed per 100 possessions). The Cavs are worse than both those averages, but not that tremendously bad compared to some of the other teams on this list. Yes, there also are examples of really good teams led by the Portland Trail Blazers and Oklahoma City Thunder. Overall, it's just another fun way to compare this year's Cleveland unit to some other similar franchises in recent history. [Related: The Diff: Franchise comparisons for the Cavaliers]
Original Story:
http://www.waitingfornextyear.com/201...
THE BACKYARD
BEST OF MAXIM
RELATED ARTICLES
The 13-33 Cleveland Cavaliers will have plenty of representation on All-Star weekend as four members of the Wine and Gold will be part of the 2013 Rising Stars challenge. Reigning Rising Stars MVP Kyrie Irving will be joined by Tristan Thompson, Dion Waiters and Tyler Zeller as the league's best freshmen and sophomores square off. Irving, already selected by the Eastern Conference...
Kyrie Irving, the MVP of last year's Rising Stars Challenge, will return to the game featuring top rookies and second-year players. The Cleveland All-Star was one of 18 players chosen Wednesday for the Feb. 15 game in Houston. Charles Barkley and Shaquille O'Neal will again serve as general managers and draft teams during TNT's pregame show Feb. 7. Rookie stars Damian...
One week ago, I was in awe of Kyrie Irving's All-Star week. This week, he may not speak of the pompatus of love, and Steve Miller Band may have spelled it a little different, but we're going to take a look at how Marreese Speights is giving the Cavaliers elements of something they haven't had since Shaquille O'Neal walked out the door following the 2010 season: a bruising...
Kyrie Irving won't be going to All-Star weekend alone. The Cavaliers point guard was selected along with teammates Tristan Thompson and rookies Dion Waiters and Tyler Zeller to play in next month's Rising Stars Challenge during All-Star activities in Houston. Irving has already been picked as an All-Star reserve, and he could start for the Eastern Conference because of a...
The Cleveland Cavaliers sent forward Kevin Jones to Canton of the NBA Development League on Wednesday. Jones, a rookie from West Virginia, has played in six games for the Charge this season and averaged 23.8 points and 12.3 rebounds, posting five double-doubles. In 15 games with the Cavs this season, Jones is averaging 1.9 points and 1.5 rebounds.
The Cleveland Cavaliers have recalled forward Kevin Jones from their Development League team, the Canton Charge, general manager Chris Grant announced Thursday. Jones appeared in Wednesday's Charge game against Erie, and recorded 18 points and 14 rebounds in 34 minutes for his sixth double-double this season. He has averaged 23.0 points and 12.6 rebounds in 39.8 minutes over seven games.
LeBron James' decision to return to the Cleveland Cavaliers in 2014 could hinge on Dwyane Wade and Kyrie Irving. Yahoo Sports' Adrian Wojnarowski reported that as "Dwyane Wade pushes into his 30s, past his prime, Cleveland's Kyrie Irving will emerge as the planet's preeminent point guard in two years." And the thought of teaming with Uncle Drew could...
James' agent and childhood friend, Rich Paul, born and raised and still living in Cleveland, has been privately telling people for two years of his intrigue with bringing the prodigal son back as the conquering hero in Cleveland. James will ultimately make the call to return – just like he made it to leave – rest assured that the most important voices in his ear will be partial...
FOX SportsOhio enjoys bringing the Cleveland Cavaliers into the homes of thousands of Cavsfans through television. Now, the network is excited to be able to bring fans tosee the Cavs in action at The Q on the CavsFan Express.With the FOXSports Ohio Cavs Fan Express, groups of fans can now ride in style to watchtheir favorite team play at Quicken Loans Arena. Fans cant miss the giant...
As we covered here a couple weeks ago, the Miami Heat have shown interest in signing the rehabbing Greg Oden.  Now, it seems the Cleveland Cavaliers could be the frontrunners to land the former number one overall pick.  Oden is working on a comeback and numerous teams have showed interest.According to an Associated Press report (via NBA.com), the Cavaliers are doing their research...
While We're Waiting serves as the early morning gathering of WFNY-esque information for your viewing pleasure. Have something you think we should see? Send it to our tips email at tips@waitingfornextyear.com. "About a month ago, I was chatting with two NBA officials at a Knicks game a few days after Irving had come to New York and put up 41 points in a ludicrous near-comeback...
NBA News

Delivered to your inbox

You'll also receive Yardbarker's daily Top 10, featuring the best sports stories from around the web. Customize your newsletter to get articles on your favorite sports and teams. And the best part? It's free!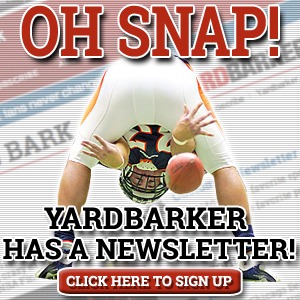 Latest Rumors
Best of Yardbarker

Today's Best Stuff

For Bloggers

Join the Yardbarker Network for more promotion, traffic, and money.

Company Info

Help

What is Yardbarker?

Yardbarker is the largest network of sports blogs and pro athlete blogs on the web. This site is the hub of the Yardbarker Network, where our editors and algorithms curate the best sports content from our network and beyond.