Found April 09, 2012 on SportyFemale:
Lamar Odom and the Dallas Mavericks have decided to part ways.
Lamar Odom, who has suffered a downward spiral since joining the Dallas Mavericks, has severed ties with the team. On Easter Sunday, the Mavericks allowed Odom to part ways with the team where he is able to leave immediately without actually being released.
The Mavericks will list Lamar Odom as inactive for the remainder of the season. Any team that has Odom on its roster as of June 29 must buy him out by that date for $2.4 million or otherwise accept responsibility for the full $8.2 million that Odom is scheduled to earn in 2012-13.
"The Mavericks and I have mutually agreed that it's in the best interest of both parties for me to step away from the team," Odom said in a statement to ESPN.com.
"I'm sorry that things didn't work out better for both of us, but I wish the Mavs' organization, my teammates and Dallas fans nothing but continued success in the defense of their championship."
It's really unfortunate to see Lamar go out of Dallas in this fashion. Just this past season, he was given the 6th Man of the Year award from the Los Angeles Lakers. From the moment the Lakers traded Odom to the Mavs it was obvious that isn't where he wanted to be. There may have been one game where he gave max effort, but even then it was lackluster. We've all seen Odom perform at a very high level when coming off the bench for the Lakers, so to see him like we have recently, it was almost unacceptable. When you know a player is capable of more and they put out the weakest of effort there is no point of having them on your team.
We all knew it was a matter of time before Mark Cuban became frustrated with Odom's antics. At one point this season, he volunteered to go down to the D-league in hopes that he would be able to get his mojo back. That, again, obviously didn't work. It's almost as if Lamar left his heart in L.A. where his friends and family reside. While with Dallas he posted career lows in just about every category possible.
Most know that Odom and his wife, Khloe Kardashian, have a show on E! which draws a lot of attention. Some people say that Lamar has gone 'Hollywood' and lost his passion for basketball. It's really hard to believe that considering how long Odom has been in the league.
The big question is, where does Lamar Odom go now?? The Mavs still have the ability to trade him after the season since they put him on injured reserve. If it's not L.A., will Odom give his all for that team? He's faced a few tragedies in the past year and maybe that's something he hasn't been able to completely overcome. If another team decided to pick him up, I can guarantee they are going to want max effort from Odom. You just have to wonder if that's something he's willing to give.
Original Story:
http://sportyfemale.com/what-has-beco...
THE BACKYARD
BEST OF MAXIM
RELATED ARTICLES
TOTAL BURN
Mavericks president of basketball operations Donnie Nelson, summarizing Lamar Odom's tenure in Dallas: "It's like going to war with wet gunpowder."
Now that Lamar Odom has finally cut ties with the Mavericks but will still be paid for the remainder of the season, he's pretty much free to do whatever he wants. What would you do for the next few months if your boss paid you to stay away? Would you go on a long vacation? Sit around and do nothing? Get another job and double up on the money? Metta World Peace has an idea for Odom...
A person familiar with the decision says Lamar Odom will not play the rest of the season with the Dallas Mavericks. Odom will not be waived though he will not play anymore this season for the defending NBA champions, according to the person who spoke Monday on condition of anonymity to The Associated Press because an official announcement had not been made by the team. Odom told...
MAVERICK ATTITUDE
More details regarding Lamar Odom's untimely exit from Dallas are emerging, and it would seem that an argument with team owner Mark Cuban was the final straw.
Lamar Odom asked for a buyout from the Mavericks not long ago, but owner Mark Cuban refused to grant him that request. Now, Odom finally got his way. The Mavs and Odom severed ties on Sunday, working out an agreement where the versatile forward will not be on the team's roster but will still be paid for the rest of the season (sweet gig, huh?). Odom will not be waived so that he...
Less than one year after being named the NBA Sixth Man Of The Year, veteran forward Lamar Odom's basketball career is in limbo as "ESPN.com" reported on Monday that the Dallas Mavericks have deactivated the player for the rest of the season. Odom will ride the rest of the campaign at home while the club will still have him under contract; thus ending a season that was a nightmare...
Lamar Odom's reign (of disinterest?) in Dallas came to a screeching halt today as it was announced this morning that the forward came to an agreement with the Dallas Mavericks to step away from the team for the rest of the season. "The Mavericks and I have mutually agreed that it's in the best interest of both parties for me to step away from the team," Odom said in a statement...
DALLAS (AP) -- Mark Cuban says Lamar Odom wasn't committed to the Dallas Mavericks. In his first public comments since Odom and the team parted ways, the Mavericks owner said Tuesday night that it was time to move on. Cuban acknowledged the end came after Odom's four uninspired minutes Saturday night at Memphis. At halftime, Cuban asked Odom like he had several times previously...
Standing in what appeared to be an "Apocalypse Now" scene Sunday at Augusta National, Phil Mickelson looked exactly as one might expect after landing knee deep into avoidable trouble of his own making. A little flustered, and a lot determined. "I'm going to fix this," he seemed to be thinking to himself as he lined up to play it as it lay. What happened...
The Dallas Mavericks finally got back on track following a rough start, but now there's real concern they won't even get the chance to defend their NBA title. If Dallas does make another playoff push, first-year Mav Lamar Odom won't be along for the ride. The Mavericks go for a 16th consecutive home win over the Sacramento Kings on Tuesday night, a day after announcing...
Lamar Odom had an exchange with Mark Cuban during halftime of Saturday's game against Memphis.
NBA News

Delivered to your inbox

You'll also receive Yardbarker's daily Top 10, featuring the best sports stories from around the web. Customize your newsletter to get articles on your favorite sports and teams. And the best part? It's free!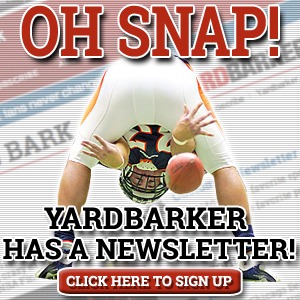 Latest Rumors
Best of Yardbarker

Today's Best Stuff

For Bloggers

Join the Yardbarker Network for more promotion, traffic, and money.

Company Info

Help

What is Yardbarker?

Yardbarker is the largest network of sports blogs and pro athlete blogs on the web. This site is the hub of the Yardbarker Network, where our editors and algorithms curate the best sports content from our network and beyond.