Found February 25, 2013 on Oregon Sports News:
This was supposed to be a rebuilding year.  A year to build some cap space, let Damian Lillard and Meyers Leonard learn, and try and compete next year.  Then the wins started rolling in, and as late as February 4th, the Blazers were two games over .500 and in eighth place in the Western Conference as they started a five game road trip. Sometime along that trip, the wheels came off the bus.  Seven straight losses, five of them to teams under .500, punctuated by a 36 point blowout disaster February 13th against the 20-37 New Orleans Hornets.  The skid mercifully ended upon Sunday in Portland, where they held off the Rondo-less Boston Celtics, 92-86.  So what went wrong?  Was it that opposing teams finally figured out Damian Lillard?  The rookie had been an efficient scorer all season to this point, even if his passing skills were not quite at an NBA level yet.  During the seven games, Lillard shot 38 percent, not an altogether bad performance, but was wildly inconsistent...
Original Story:
http://www.oregonsportsnews.com/team-...
THE BACKYARD
BEST OF MAXIM
RELATED ARTICLES
Silent but deadly The Portland Trail Blazers have been known to make a splash at the NBA trade deadline. In 2010, they acquired Marcus Camby, in 2011, they complete a lopsided trade for Gerald Wallace and in 2012, they started from scratch, ridding themselves of Wallace, Camby, Greg Oden and then-head coach Nate McMillan. This time around, the team stayed relatively quiet, yet...
  The Portland Trailblazers brought local hero and former Gonzaga star, Adam Morrison to training camp, but he was cut before the season. Morrison stated that if he did not make the team he would retire, but the Trailblazers would be smart to sign him to a ten day contract. Not only would bringing him in bring interest and intrigue to the team, but he could actually help the team...
The 2013 NBA trade deadline came and went last Thursday. It was a day when a ham sandwich would have dominated the headlines had it gotten traded. Instead, the biggest names to be moved were perennial bench players JJ Redick and Jordan Crawford.  The Portland Trail Blazers made one move; Neil Olshey turned an obscure Greek player and a trade exemption into serviceable but limited...
Williams should be counting his lucky stars. In December, Shawne Williams was arrested after a cop caught him smoking a marijuana blunt in his car. He also informed the officer he had codeine in the car on that famous day. "Officer I ain't gonna lie to you, there's a blunt in the car and some syrup." Williams pled guilty to possession of a controlled substance (marijuana...
Another big-picture game The Portland Trail Blazers got a much-needed win against the Boston Celtics Sunday night, but they'll need to keep momentum going with the Denver Nuggets coming to town Wednesday night. Matchup: Portland (26-30) vs. Denver Nuggets (36-22) Venue: Rose Garden Arena Time: 7:30 PM PT Date: Wednesday, Feb. 26, 2013 The team is in the midst of a four-game home...
I'm a diehard Trail Blazers fan and have been for quite some time. I actually started off as a Shaquille O'Neal fan when I was younger, especially through his Orlando Magic days. I'm sure my obsession of him must have started because of his fantastic showing in the hit film "Kazaam" but either way, I was fan of the dominant center. As I grew older, I moved onto bigger...
Not getting easier The Portland Trail Blazers have lost seven straight games, and while the Boston Celtics aren't what they used to be, they're still a tough opponent for a young Rip City squad. Matchup: Portland (25-30) vs. Boston Celtics (29-26) Venue: Rose Garden  Time: 6:00 PM PT Date: Sunday, Feb. 24, 2013 The playoffs are becoming less and less likely with each grueling...
We've talked about preseason expectations for the Portland Trail Blazers and we know they're a hard working team. I think everyone has come to the conclusion that as long as they continue to work hard, they will meet expectations. They may win the majority of their games to end the season, but they could also miss the playoffs entirely. The fact remains that the end of the season...
Former Nets forward, Shawne Williams, was arrested in December for possession of weed and codeine (cough syrup). The former NBA star was charged with possession of a controlled substance (weed) and possession with intent to sell (codeine) following the arrest, and Monday pled guilty to possession of a controlled substance, Luckily for Williams, a passenger in the car took the...
The Celtics have lost, again. Tonight's 92-86 loss I Portland wasn't too hard to watch, but there were times that I got frustrated. Going into this one I kinda knew that they were gonna lose, but I still had to watch the game. They went down with a fight. But tonight, things just didn't work out. Tonight's USOTN goes to the performance of Brandon Bass. This season...
8:03: Tonight, the Celtics will conclude their time in the Pacific Timezone when they visit the Portland Trail Blazers. The Blazers, who are just 25-30, are a great 17-9 at home while they are just 8-21 on the road. Tonight will be a really tough one. In my opinion, it will be the hardest game to win of this whole road trip. They will have to start good and end good if they want to end up on top.
NBA News

Delivered to your inbox

You'll also receive Yardbarker's daily Top 10, featuring the best sports stories from around the web. Customize your newsletter to get articles on your favorite sports and teams. And the best part? It's free!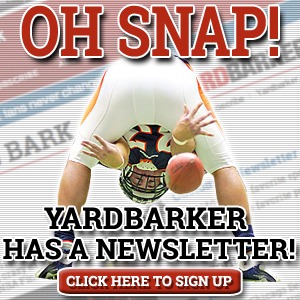 Latest Rumors
Best of Yardbarker

Today's Best Stuff

For Bloggers

Join the Yardbarker Network for more promotion, traffic, and money.

Company Info

Help

What is Yardbarker?

Yardbarker is the largest network of sports blogs and pro athlete blogs on the web. This site is the hub of the Yardbarker Network, where our editors and algorithms curate the best sports content from our network and beyond.