Found January 15, 2013 on Waiting For Next Year:
"It was much pleasanter at home, when one wasn't always growing larger and smaller, and being ordered about by mice and rabbits. I almost wish I hadn't gone down the rabbit-hole – and yet – and yet – it's rather curious, you know, this sort of life!" – Lewis Carroll, Alice in Wonderland Following NBA trade rumors often feels like a journey down Alice's infamous rabbit-hole. We talk about this every season, but rumors are ubiquitous to NBA life. Agents and GMs leak information to trusted sources, often with an agenda in mind. What this means to the casual NBA fan sitting at home is that they are usually reading half truths that border on propaganda. Well intentioned beat writers and national scribes are frequently used as a medium to send a message to the other party in negotiations as well as to try to control the message that is being sent to the fans. This isn't to say NBA writers do a bad job or are somehow unaware of the game that's being played. Far from it. It's a give and take relationship in which a lot of good, solid, quality information is given to reporters to build rapport and trust. It's just that every now and then a slight half truth might get slipped in there and nobody knows the difference. It's a curious sort of life, indeed. But it's one that I can't get enough of. I love NBA rumors, even when they make me mad, seem like nonsense, and/or seem too good to be true. But sometimes I find others' reactions to rumors to be, well, curious. About a week ago we posted a link to Peter Vescey's tweet saying the Cavaliers asked for DeAndre Jordan and Eric Bledsoe in exchange for Anderson Varejao. Now, Vescey tweeted this on January 9th, and we posted a link to his tweet giving him full credit for the rumor on the 10th. On January 12th, in an article about Anderson Varejao's trade value now that he's injured, Jodie Valade of the Plain Dealer mentioned the rumor of the Cavaliers asking for Jordan and Bledsoe. Strangely, the rumor goes unattributed to anyone whatsoever: To be fair, the Cavaliers were not believed to be actively seeking a trade. Varejao's 14.4 rebounds per game led the league before his injury. They would demand much in return, as evidenced in the most recent trade rumor — that Cleveland was demanding Clippers guard Eric Bledsoe to be thrown into a proposed DeAndre Jordan for Varejao swap. Typically such wording would be attributed to the ever famous and anonymous "league sources" at the very least. But it's not a big deal. That rumor wasn't even the point of the article. It just seems strange to see a major publication run a rumor with no attribution to any source at all. As we journey further down the rabbit-hole, though, things pick up steam. On January 14th Matt Moore from CBS Sports' Eye On Basketball site linked to the Plain Dealer's article, only with the headline now being that the Cavaliers wanted Bledsoe and Jordan for Varejao. Later on that day, Kurt Helin from NBC Sports' ProBasketballTalk also linked to the Plain Dealer article via Matt Moore's link. Once again, the headline focused on what the Cavaliers are asking for in return for Anderson Varejao. Helin takes exception to the Cavaliers' asking price, writing: Are you nuts? Why not ask for Blake Griffin while you're at it. And one of Donald Sterling's homes. (By the way, there is going to be a lot of Bledsoe buzz but Clippers are not going to trade him until this summer at the earliest because they want him as insurance in case they can't re-sign Chris Paul.) Two questions come to mind about Varejao. First, will the Cavaliers come to their senses on what they are willing to take back? My answer is "Dan Gilbert owns the team, who knows?" The other is how much is the market for Varejao going to change with him injured? Varejao is out until late February or early March, some teams will still have interest because he's the kind of hustling front line player who can make a difference in the playoffs. But their offers are not going up because of this. And the old offers weren't cutting it. In part because apparently the Cavaliers were already asking for the moon. And more. Gratuitous and unneeded Dan Gilbert slam aside 1 , I found Helin's reaction interesting. For two reasons. First, I don't see that return as something blowing me away as a Cavs fan. Eric Bledsoe is actually pretty superfluous for the Cavaliers. A nice bonus as a phenomenal backup PG, but not a player who would be on the court in end game scenarios. And DeAndre Jordan is certainly a really solid player and would help the Cavaliers' frontcourt defense a bit, but really he's kind of a duplication of Tristan Thompson's skill set. Jordan is bigger, more athletic, and more exciting with his dunks, but his offensive skill set is limited overall. He's shown much improvement on defense this year, and he's a decent enough rebounder. But at the end of the day, in his 5th season now, Jordan is averaging 13.6 points and 10.3 rebounds per 36 minutes. Thompson is at 11.6 points and 10.6 rebounds per 36 minutes. Now, I realize Jordan is a center and Thompson is a PF. But Varejao is putting up 14.1 points and 14.4 rebounds per 36, so my point is the Cavaliers are giving up a lot, and DeAndre Jordan would be a better duplication of Tristan Thompson at the center position, meaning Thompson and Jordan would be playing at the same time. It's a weird mix, in my opinion. Second, I found Helin's reaction interesting because all the rumor says is that this is what the Cavaliers asked for. It doesn't mean it's what they expected to get. In negotiations, you typically ask for more than you expect so you have room to negotiate down. There's nothing unreasonable about what the Cavaliers asked for because the only thing that matters is what you actually get in return. Look, I like Kurt Helin and Matt Moore. I read them both every day. I just think it's strange to have such strong reactions to unattributed rumors (that we know actually started with notorious rumormonger Peter Vescey). If the Cavaliers are really going to trade Varejao, something I am still mostly opposed to anyway, I hope they do ask for the moon. It better be worth it in the end. At the end of the day, the only thing that matters is that there's no way of knowing how truthful this rumor even is, so blasting Dan Gilbert (who's not even the GM making these trade requests) and the Cavaliers for a high asking price is probably a bit much. I want the Cavaliers to throw out some strong asking prices for Varejao and see what sticks. There's no pressure whatsoever on the Cavaliers to make a deal. The pressure is on the buyer. If the Cavaliers don't trade Andy and he spends the rest of his career as a Cavalier, then so be it. There have been worse fates than that for the Cavaliers. ___________________________________ see what I did there?
Original Story:
http://www.waitingfornextyear.com/201...
THE BACKYARD
BEST OF MAXIM
RELATED ARTICLES
George Gund III, the former owner of the Cleveland Cavaliers and Cleveland Barons, died on Tuesday night after succumbing to a battle with cancer. He was 75. He was born in Cleveland on May 7, 1937 and once considered to be one of the most powerful bankers in Cleveland, Ohio. The long-time philanthropist and business man had reportedly been undergoing treatments for cancer over...
The whispers surrounding the worst kept secret amongst NBA circles are growing increasingly louder. While many fans wonder when the Cleveland Cavaliers will make a move to help win basketball games, it appears that the answer is the summer of 2014 when LeBron James can opt out of his contract with the Miami Heat. In his piece which was filed for the Sunday morning paper, Jason Lloyd...
They shared the ball well. They were able to make shots — they made a lot of shots tonight. We contested them. I think we did a pretty good job on the defensive end. – Cleveland Cavaliers Dion Waiters, Tuesday night, after his team gave up a season-worst 124 points (on 51.2 percent shooting) in a loss to the Sacramento Kings. The Kings (14-24) score an average of 97.7 points...
When Dion Waiters has a night like this, it gives you hope. Yes, the Cavaliers dumped a 124-118 decision to the host Sacramento Kings on Monday night. Yes, they treated defense like some sort of nasty shellfish allergy. And yes, the Cavs were swept by a team that has one eye on the door, as the franchise gears for a move out of town. But Waiters, man, that was something else. ...
GEE WHIZ!
Video: Gee rocks the Staples Center rim
Yeah, not sure what the Cavaliers are thinking on this one. Get this, they want DeAndre Jordan AND Eric Beldsoe….for Anderson Varejao. Smh. This is insane, and I like Varejao but super over the top. Try again, Cleveland.
http://www.youtube.com/embed/9nFvLWGpQco3 If you did not stay up to see the Cavaliers take on the Los Angeles Lakers, we have you covered with the lone highlight. Cleveland Cavaliers high-flying forward Alonzo Gee provided Staples Center fans a put-back dunk against the hometown Lakers.  Gee finished with 14 points, four rebounds, and three steals, but the Cavaliers would...
LeBron James is set to be a free agent in 2014, and there's talk of the Cleveland Cavaliers making cap room available to pursue him. The Decision 2.0 maybe?The post LeBron James, Kyrie Irving And The Potential Of The 2014-15 Cleveland Cavaliers appeared first on The Sports Fan Journal.
A winnable game Tough game Tuesday night vs. Denver. Here's the Boxscore & Recap. The Portland Trail Blazers are fighting for a playoff spot in a tough Western Conference, and when winnable games present themselves, Rip City has to take full advantage. Matchup: Portland (20-18) vs. Cleveland Cavaliers (9-31) Venue: Rose Garden Arena Time: 7:00 PM PT Date: Wednesday, Jan....
OPENING TIP As far as this season goes, the Cavaliers are a mystery from night to night and not a team you can pick to win. When they put four quarters together, theyre actually pretty enjoyable and have a chance against anyone. But that happens about twice a month. Otherwise, they need to rely on their opponent not playing well. Tonight, theyre playing a similar team in the Kings...
We here at Outside the Boxscore love big blocks and earlier tonight, Los Angeles Clippers DeAndre Jordan had a pretty good one against Houston's Patrick Patterson. Watch as DeAndre gets up pretty high to swat the ball towards the Houston bench:
As we have previously noted on That NBA Lottery Pick, when the Los Angeles Clippers play a basketball game...there will at least be one high-flying dunk.In the first half against the Houston Rockets, Clippers guard Eric Bledsoe came up with a turnover that turned into points after an alley-oop to DeAndre Jordan:
NBA News

Delivered to your inbox

You'll also receive Yardbarker's daily Top 10, featuring the best sports stories from around the web. Customize your newsletter to get articles on your favorite sports and teams. And the best part? It's free!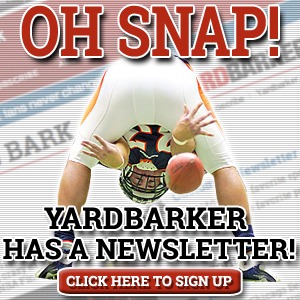 Latest Rumors
Best of Yardbarker

Today's Best Stuff

For Bloggers

Join the Yardbarker Network for more promotion, traffic, and money.

Company Info

Help

What is Yardbarker?

Yardbarker is the largest network of sports blogs and pro athlete blogs on the web. This site is the hub of the Yardbarker Network, where our editors and algorithms curate the best sports content from our network and beyond.