Found November 22, 2012 on Waiting For Next Year:
Today, as a special version of While We're Waiting, I wanted to go team-by-team as I share what I'm thankful for here in November 2012. For more WFNY thanks, stay tuned at 10 a.m. Cleveland Cavaliers I'm thankful for a very pleasant Thanksgiving Eve surprise in new Cavs point guard Jeremy Pargo: "Pargo's 28 points was surprising enough, but it was doubly impressive considering that he was matched up against Jrue Holiday, who is one of the better point guard defenders in the NBA. Pargo had no trouble getting his shot, though, as he shot 11-19 from the field and 4-8 from three. He also added four assists and five rebounds." [Jordan Sargent/SB Nation Cleveland] I'm thankful for some relative optimism regarding the 2-8 start to the Cavs season:: "But the real subject of this has to be advanced stats' utter and complete devotion to the games of Alonzo Gee and Tristan Thompson. Yes I just gave an inanimate object, statistics, human traits. I'm actually about to do it again. Thompson and Gee don't have the prettiest of games, but advanced stats don't care. They are blind. They only want results." [David Zavac/Fear The Sword] I'm thankful for a really great Cleveland basketball site going deep on the 'waiting' period without Kyrie: "Cavs fans are like the drunk, ornery crowd at a concert where the headliner is late. I wasn't of the mind that this team could or should compete for a playoff spot, but, even with my low expectations, I was looking forward to watching the Cavs play some intermittently exciting basketball this season." [Colin McGowan/Cavs: The Blog] Cleveland Browns I'm thankful for fans and writers arriving at the common sense evaluation of the Browns' stupid Steelers giveaway: "Perhaps this is what happens when a team loses 16 of 17 to its "rival," including the past four in a row. It has reached the point that the Steelers admitted that they have stopped looking on the Browns as a rival; former Steelers linebacker Joey Porter said that several years ago. … Now comes the white flag." [Pat McManamon/Fox Sports Ohio] I'm thankful for amusing innuendos emerging from Browns press conferences: "[Richardson's] style contrasts with that of backup Montario Hardesty, who shot through holes to gain 23 yards on four carries in Dallas. Offensive coordinator Brad Childress defended Richardson, saying the rookie's more cautious approach has benefits in the zone-run blocking scheme because it gives the offensive linemen more time to attack the linebackers." [Marty Gitlin/CBSSports.com] I'm thankful for hopefully not seeing anymore of these crazy anti-Shurmur posts in 2013: "There's nothing more to gain from analyzing and criticizing Pat Shurmur for what's happening with the Browns. Twenty-six games have painted the picture pretty well, and there's nothing more to be said; he isn't the guy. He's a poor leader, a poor mentor, a poor strategist, and a poor ambassador for this Cleveland Browns brand." [Jeff Rich/River Burn] Ohio State Buckeyes I'm thankful for wild and crazy traditions: The clear-cut best Buckeyes site made its way to Mirror Lake. Here's the video they captured. [Johnny Ginter/Eleven Warriors] I'm thankful for lovely sites thinking our inconsistent QB has a chance at the Heisman: "Miller is one of only two players on this list currently playing for undefeated teams. The difference between Miller and Te'o is that Te'o is playing for a national title while Miller is done after this weekend. The Big Ten has been down, which is why Miller isn't getting nearly as much Heisman love as he was before, but his strong play this season should earn him an invite to New York." [Graham Watson/Dr. Saturday] I'm thankful for amazing three-part series breaking down the greatest rivalry in sports: "There is no doubt that Woody Hayes knew the score when it came to Ohio State football. Hayes knew you had to win enough to bring home Big Ten and national championships, and he knew that you had to beat Michigan." [John Porentas/The Ozone]
Original Story:
http://www.waitingfornextyear.com/201...
THE BACKYARD
BEST OF MAXIM
RELATED ARTICLES
"Tonight, we talk about opportunities, and he took advantage of it." That was Cavaliers coach Byron Scott, talking about his point guard, his recently third-string point guard Jeremy Pargo, he of eight total points over three games this season. Pargo got the start tonight, and 39 minutes later, Jeremy had turned in a career-high 28 points on 11-of-19 shooting, 5 rebounds, and...
#Pargonanza, #Pargosanity, #Pargomania, or whatever else you want to call it. Jeremy Pargo took over this game and Twitter a la Jeremy Lin or Lester Hudson as the Cavaliers fended off a few late Philadelphia rallies for their third win of the season, 92-83. Pargo scored 28, Dion Waiters had 16, Alonzo Gee added 14 and C.J. Miles poured in 13, as the four combined to shoot 13-for...
CLEVELAND -- If the Cavaliers have to play without Kyrie Irving for a month, well, this is probably the way to go. Defend, hustle your buns off, and get some scoring from unlikely sources. And not just scoring. This was a once-in-a-lifetime show for Jeremy Pargo, who started at point guard in Irvings place. Pargo scored 28 points. He made 11 of 19 shots. He buried some threes from...
Yesterday, we received word that Jeremy Pargo will be the new starter at the point for the Cleveland Cavaliers in the absence of star Kyrie Irving. Today, we're learning more about how exactly Byron Scott plans to manage Irving's lost minutes. Scott said that rookie guard Dion Waiters, who already has averaged 29.2 minutes per night in the first 10 games, will probably receive...
The Cavaliers are faced with a cold reality as they get prepared to take on the Sixers tonight at home after two days off. They're a 2-8 basketball team on a six-game losing streak that just got considerably worse for the foreseeable future. With Kyrie Irving sidelined for the next four weeks, the Cavaliers lose not only their most important offensive player, but their only consistent...
CLEVELAND – Point guard Jeremy Pargo turned the ball over so much in the preseason, he almost found himself on the unemployment line. Eleven games into the regular season, however, he found himself in the Cavaliers' starting lineup. Pargo responded with a career-high 28 points in the Cavs' 92-83 victory over the Philadelphia 76ers on Wednesday at Quicken Loans Arena....
OPENING TIP Without Kyrie Irving, the Cavaliers will have to well, theres no easy answer that to that one. Truth is, without Irving, we have no idea what the Cavs can do. With Irving, they won just two of their first 10 games. Some of that has to do with their brutal schedule, in which the Cavs played just three home games (and even that was a followed by a game the next night...
INDEPENDENCE, Ohio -- Kyrie Irving has a broken finger, but could probably play. Like everyone else in the NBA, he really wants to play. So why dont let the Cavaliers just let him do it? After all, its only a hairline fracture in his left index finger. Thats not even on his shooting hand. Right? "Yeah, but if he gets this thing hit again, then it requires surgery and then...
Jeremy Pargo, filling in for the injured Kyrie Irving, scored a career-high 28 points and the Cleveland Cavaliers broke a six-game losing streak with a 92-83 win over the Philadelphia 76ers on Wednesday night. The Cavaliers came into the game with a 2-8 record, but stopped the Sixers' three-game winning streak despite not having Irving. The NBA's reigning rookie of the year...
Game time: Friday at 7 p.m. ET TV: FOX Sports Florida However unlikely, Jeremy Pargo is trying to continue softening the blow of a major absence for the Cleveland Cavaliers. The Orlando Magic are just looking for some consistency. Pargo looks to build on the best performance of his career and help the visiting Cavaliers beat the Magic for the first time in 10 tries Friday night...
The Canton Charge, the exclusively owned and operated D-League affiliate of the Cavaliers, begin their season tonight at home at the Memorial Civic Center. With opening-day on the mind, the Charge and the Cavaliers officially announced the team's initial roster with a few last-minute changes. Here's a look at the team as listed by position, name, age and university: G Kevin Anderson...
NBA News

Delivered to your inbox

You'll also receive Yardbarker's daily Top 10, featuring the best sports stories from around the web. Customize your newsletter to get articles on your favorite sports and teams. And the best part? It's free!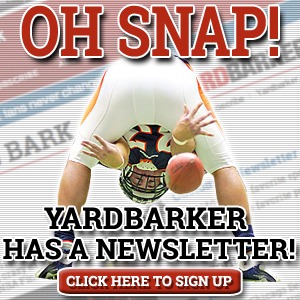 Latest Rumors
Best of Yardbarker

Today's Best Stuff

For Bloggers

Join the Yardbarker Network for more promotion, traffic, and money.

Company Info

Help

What is Yardbarker?

Yardbarker is the largest network of sports blogs and pro athlete blogs on the web. This site is the hub of the Yardbarker Network, where our editors and algorithms curate the best sports content from our network and beyond.