Found November 26, 2012 on Fox Sports Florida:
MIAMI -- The NBA must have gotten bored with naming LeBron James Eastern Conference Player of the Week. The Miami Heat star had won it the two previous times, and averaged 29.0 points, 8.0 rebounds and 6.5 assists in two wins last week. But he lost out Monday to Atlanta center Al Horford, who averaged 16.5 points, 9.8 rebounds and 4.5 assists in a 4-0 week. "The game has so many great players, the award shouldn't be named for me," the forward said with a laugh when it was suggested it should be renamed in his honor. After all, James has won it 39 times in his 10 seasons. And it's gotten to the point one has to wonder if this guy ever will have a bad night, let alone a bad week. In Miami's first 13, James hasn't had an off game yet. He's reached 20 or more points in all of them, the first time he's started out a season with such a stretch. The only night James has shot below 47 percent was an 8-of-20 showing Nov. 17 at Phoenix. But we'll give him a break considering James missed the morning shootaround due to the flu and got sick during the game but still managed 21 points. James did have seven turnovers last Saturday against Cleveland. But he more than made up for it with 30 points, six rebounds and five assists while shooting 10-of-16 from the field and 8-of-9 from the line. "His bad games are still better than most of the basketball world's better games," Miami forward Shane Battier said of James, averaging 25.2 points, 8.8 rebounds and 6.5 assists while shooting 53.1 percent for the 10-3 Heat. "It's tough to throw perfect games every night (But James this season) has been pretty steady and pretty excellent." So the question was posed to James: Could he go 82 games this season without ever having a bad one? "I'm going to have one or two or three or four," James said. "I'm going to have a few, a couple of bad games. But we'll see. Hopefully, the games that I don't shoot the ball well, I can do other things. I can rebound. I can pass the ball. I can put our team in position to win." James, the early leader to win his fourth MVP in five years, has become clearly the best player in the NBA. What makes him so great is his all-around game and his consistency. "One of the most consistent players to ever play," said Heat guard Dwyane Wade. "He's a stat stuffer. He seems effortless on some nights. That's what you become accustomed to. That's why he's one of the greatest." What James provides every night conjures up memories of New York Yankees Hall of Famer Joe DiMaggio once being asked why he plays so hard. "Because there is always some kid who may be seeing me for the first time," DiMaggio responded. "I owe him my best." James has the same credo. That's why he strives to put on a top-notch performance whether he's in a dead arena at midseason in Charlotte or in the NBA Finals. "I agree to that," James said when asked about what DiMaggio once said. "I say that a lot, too. I never heard that from Joe. But I feel like when I go out there, it's someone's first game they've ever seen me play. I want them to remember and say, That was a great game where he played this type of way and with a lot of passion.' And I feel like I have that responsibility." Nobody doubts James will play with passion every game this season. But will he ever have an off night? Much of it is relative. When Wilt Chamberlain averaged 50.4 points in 1961-62, his bad games were showings of 26 and 28 points. But even Michael Jordan had two real clunkers when he averaged a career-high 37.1 points in 1986-87. He had a night in which he shot 3-of-17 for 11 points and another in which he went 5-of-20 for 13 points. During last year's MVP campaign, James didn't have a shaky outing in 23 playoff games and never had a real stinker during the regular season. He did shoot 4-of-14 for 14 points in a March game against Orlando but made up for it with 12 rebounds, seven assists and five steals. That was a lockout-shortened 66-game season. Now, James will try to show off continued excellence during a standard 82-game one. Part of striving for perfection is never being satisfied. For that reason, James did admitted to some faults when it was suggested he hasn't had an off night yet this season. "I still got room for improvement. I'm not shooting the ball from the free-throw line like I want to," said James, shooting 67.1 percent, which would be a career-low. "So I'm still getting better with that. I'm continuing to get better with my game. But I think I've been pretty good at sustaining my game throughout the year." James shot just 59.1 percent from the foul line in the two weeks prior to last. But that didn't keep him from twice winning the LeBron James, er, Eastern Conference Player of the Week award. Chris Tomasson can be reached at christomasson@hotmail.com or on Twitter @christomasson
Original Story:
http://www.foxsportsflorida.com/11/26...
THE BACKYARD
BEST OF MAXIM
RELATED ARTICLES
There are so many trick shot videos floating around the internet these days that it's only natural to be a bit skeptical every time you see one. Considering the star of this one is only 8 years old, we're willing to forget all the things we've heard about people faking it and give him the benefit of the doubt. The video you see above, which was recently posted on LeBronJames...
MIAMI (AP) -- LeBron James is atop the NBA's jersey sales list again. The Miami Heat star has the league's hottest-selling jersey, marking the third time the NBA's reigning MVP and Finals MVP has held that distinction. James was No. 4 in the most recent rankings, released in April. Since then, all he's done is win his third league MVP award, a second Olympic gold...
So it looks like it is OK to like LeBron James again. After spending the better part of two years in just about everybody's doghouse, the reigning NBA Most Valuable Player and now-defending NBA champion was back at the top of the list of top-selling jerseys, signaling that the league's best player apparently is popular again. James replaced Bulls point guard Derrick Rose, who...
LeBron James has the top-selling NBA jersey for the first time since April 2011.
MIAMI LeBron James scores, passes, rebounds and plays defense. Apparently, he also breaks news. The Miami Heat offered no timetable Monday on how long forward Shane Battier might be out due to a knee injury. Then James stepped up to talk with the media. Unfortunately, were not going to have him for the next few games, James said of Battier. James later backtracked a bit. But...
Skip Bayless writing lead columns for ESPN.com, sadly, is becoming a trend that looks like it's here to stay. Yay. For reasons unbeknownst to anyone outside the Bristol bubble, ESPN has once again chosen Skip Bayless to talk about an important sports topic outside of Tim Tebow and LeBron James.  This time, it's a column on this year's Heisman race arguing...
North Carolina State landed a talented post in Kyle Washington. Here's a highlight reel of Washington from LeBron James Skills Academy.
Last year, Nike released a surprising Christmas pack which featured three eye-catching sneakers from their most coveted athletes in Kobe Bryant, Lebron James, and Kevin Durant. This pack sold-out instantly and left those sneakerheads who missed out wondering if they could redeem themselves next year. The answer to that question is an emphatic yes! Images of this year's "Christmas"...
Horray! Basketball is BACK in New York!  Below is the official press release from the NBA: NEW YORK, Nov 28, 2012 – Reigning NBA Finals MVP LeBron James of the Miami Heat reclaims the No.1 spot on the NBA top-selling jerseys list and the New York Knicks are the top-selling team for the first time since December 2004. The list is based on sales at the NBA Store on Fifth...
Jack Taylor's encore for his record-setting performance was OK, just nowhere near his previous game. Taylor scored 21 points, but Grinnell College lost 131-116 to William Penn on Sunday night. He was 6 for 21 from the field, making 3 of 13 attempts from 3-point range, in the first loss of the season for the Pioneers (3-1). Everyone from LeBron James to Carmelo Anthony was talking...
LeBron James Jr. or "Bronie" obviously has some of daddy's skills. Check him out hitting this shot from the balcony. Awww that's cute. More NBA junior cuteness, Chris Paul's son, lil chris had him working on his game when the Clippers returned from their road trip the other night.   Smart move. Clippers are currently [...]
Ray Allen took a pass from LeBron James and made a 3-pointer with 18.2 seconds left, and the Miami Heat rallied from a seven-point deficit in the final 1:52 to beat the Cleveland Cavaliers 110-108 on Saturday night. James finished with 30 points for the Heat, who remained perfect at home despite leading for only 2 minutes, 29 seconds. Chris Bosh scored 23 points, Dwyane Wade added...
NBA News

Delivered to your inbox

You'll also receive Yardbarker's daily Top 10, featuring the best sports stories from around the web. Customize your newsletter to get articles on your favorite sports and teams. And the best part? It's free!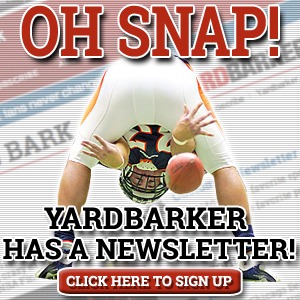 Latest Rumors
The Backyard

Today's Best Stuff

For Bloggers

Join the Yardbarker Network for more promotion, traffic, and money.

Company Info

Help

What is Yardbarker?

Yardbarker is the largest network of sports blogs and pro athlete blogs on the web. This site is the hub of the Yardbarker Network, where our editors and algorithms curate the best sports content from our network and beyond.