Found January 30, 2013 on NBA 24/7 365:
PLAYERS:
Rudy Gay
,
Joe Dumars
,
Bryan Colangelo
,
Ed Davis
,
Jose Calderon
,
Tayshaun Prince
,
Austin Daye
,
Marc Gasol
,
Zach Randolph
,
Darrell Arthur
,
Brandon Knight
,
Lawrence Frank
,
Kyle Lowry
,
Andrea Bargnani
,
Paul Millsap
,
Nikola Pekovic
,
DeMar DeRozan
,
Landry Fields
,
Terrence Ross
,
Quincy Acy
,
Aaron Gray
TEAMS:
Memphis Grizzlies
,
Toronto Raptors
,
Detroit Pistons
,
Utah Jazz
,
Minnesota Timberwolves
Turns out there was some merit to the trade rumors involving the Memphis Grizzlies and Toronto Raptors.  With the help of Joe Dumars and the Pistons, Chris Wallace and Bryan Colangelo closed the deal sending Rudy Gay to Canada in exchange for Ed Davis and Jose Calderon, who will land in Detroit (just Calderon, not Davis; he's a Grizzly).  Tayshaun Prince and Austin Daye will be headed to Memphis, and such minor pieces as Hamed Hadaddi and a second-round draft pick are also involved.  You can read the full report on Yahoo Sports, and you can read my complete breakdown right here! Winner — Memphis Grizzlies: On the first ever NBA247365.COM video podcast I suggested that the Grizzlies simply keep Rudy Gay for the remainder of the season.  I said that because it seemed unlikely that they'd be able to dump his salary and improve their team simultaneously.  The recent deal they made with the Cavaliers allowed them to keep Gay and stay under the luxury tax threshold for another year, so it no longer made sense that they'd still be willing to do something detrimental to their potential playoff success in order to rid themselves of Gay's contract right this instant. So, the reason that the Grizzlies are winners here is not because they shed the $35+ million owed to Gay over the next two seasons.  They're winners because they saved that money and arguably made themselves a better team in the process.  Now, make no mistake about it, Rudy Gay is the best player involved in this deal.  Of the three major pieces, he's also the only one of the right side of 30.  That being said, Tayshaun Prince and Ed Davis figure to strengthen the Grizzlies in some ways that Gay could not.  First and foremost, Prince shoots 37% from distance for his career and 43% this season.  Gay, on the other hand, has only been a 34% long-distance shooter for his career (and he's really struggled recently — just 31% over the last two seasons).  Three-point shooting has long been one of the Grizzlies' foremost weaknesses.  They rank just 23rd in the league at the time of the deal, but the addition of Prince ought to help.  His shooting is especially valuable, too, because he's a fantastic defender.  This means he can and will be left on the floor down the stretch, when the Grizzlies might be most in need of a three-point make. Additionally, the Grizzlies get a stellar value in Ed Davis, who has the remainder of this year plus '13/14 remaining on his rookie contract.  Davis has been excellent for the Raptors recently, averaging 14 points and 8 rebounds in the month of January.  He's young, athletic, and reasonably talented — a better (even if slightly smaller) Mo Speights, if you will.  Davis adds much-needed depth to the Memphis frontcourt, which had essentially been reduced to Marc Gasol, Zach Randolph, and Darrell Arthur. As for Austin Daye… well, he probably won't be a major factor.  I suppose the one thing he does do reasonably well is shoot threes, so if nothing else his strength does meet a need of his new team. Winner — Detroit Pistons: As much as it sucks to see the Pistons part with Tayshaun Prince, I think we all understand why it was the right decision.  It's nothing against Prince — just that he's nearly 33 years old and makes $9 million per season.  The rebuilding Pistons are no longer a team that suits him; he belongs on a contender, and a trade to the Grizzlies is a step in the right direction.  In Jose Calderon, the Pistons get more than a $10 million expiring contract (which will put them $25 million under the cap for this summer's free agency period).  In the meantime, the Pistons receive the services of a quality starting point guard.  While Brandon Knight has had his moments, he's looked like a combo guard in most of them.  The addition of Calderon allows Lawrence Frank to try Knight at the two, where he might excel. Loser — Toronto Raptors: The Raptors got the best player involved in this deal, and they'll probably be a better team for it.  Hell, they could even make the playoffs.  Problem is, that puts them at risk of suddenly becoming precisely what no franchise should aspire to be: a perennial eighth seed.  In the NBA, it pays to be good, and it can even pay to be bad.  However, it does not pay to be mediocre.  Rudy Gay's Toronto Raptors have mediocre written all over them. As I said, the Raptors acquired the best player involved in this deal.  Not surprisingly, the best player is also the most generously compensated.  Rudy Gay is owed approximately $18 million next season, and $19 million the season after that.  Even with Calderon's expiring contract coming off the books the Raptors had committed about $58 million in salary for next season, according to ShamSports.com.  Now they're on the hook for upwards of $67 million ($73 million if they don't waive Kyle Lowry by July 15th, when his $6 million becomes fully guaranteed).  I believe they can still use their amnesty clause, and they will surely aim to rid themselves of Andrea Bargnani via trade… but it no longer appears as though they'll be any sort of player in free agency this summer, when quality pieces like Paul Millsap, Al Jefferson, and Nikola Pekovic will be available.  To sacrifice every last ounce of financial flexibility (along with lottery selections, potentially) in order to add an overpriced wing who can only masquerade as a franchise player is impatient and irresponsible as far as I'm concerned. It's also worthy of repeating that Rudy Gay is in fact a wing.  The Raptors just gave DeMaR DeRoZaN, a wing, and Landry Fields, also a wing, a combined $60 million.  They also drafted Terrence Ross, another wing, eighth overall in last summer's draft.  They now have over $100 million in payroll allocated to four non-franchise players who play two positions.  It's a hundred-million-dollar logjam, if you will. My final issue with this deal from Toronto's perspective is the inclusion of Ed Davis (and a second-round pick, for that matter).  As I mentioned before, Davis has been playing great ball lately, averaging 14 points and 8 rebounds in January.  Considering the reasonable size of his contract, which will pay him just $3 million next season, he's precisely the type of value that could help to offset some of the Raptors' albatross contracts.  It certainly seemed to me as though the Grizzlies were the most highly motivated traders of the three teams involved in this deal, so… why did the Raptors get the shaft?  This would've been a solid deal for Memphis even if a lesser Raptor (maybe Quincy Acy or Aaron Gray) had been included.  Ed Davis was essentially gifted to the Grizzlies.
Original Story:
http://nba247365.com/?p=10044
THE BACKYARD
BEST OF MAXIM
RELATED ARTICLES
There are good problems to have as a head coach and one of those is trying to incorporate a player like Rudy Gay into the mix. However, as a great of a player as Gay is for Casey to utilize, the reality is he's trying to do that midseason while losing a valued floor general in Jose Calderon. Still, the Raptors head coach has a great player to throw in the mix in Gay and Casey...
In a deal that I honestly thought would never happen after the Grizzlies front office managed to get under the luxury tax threshold by dealing Marreese Speights, Rudy Gay has been traded.The Raptors will send out Jose Calderon and Ed Davis for Gay and Hamed Haddadi.The Pistons will acquire Calderon, with the Grizzlies receiving Tayshaun Prince and Austin Daye.The Grizzlies...
The Memphis Grizzlies, Toronto Raptors, and Detroit Pistons made some noise around the NBA Wednesday night as they all agreed on a blockbuster trade that will clearly effect these franchises going forward, not to mention the rest of your fantasy season!The Grizzlies, Raptors and Pistons agreed to a six-player trade Wednesday that sent star swingman Rudy Gay to Toronto.The Grizzlies...
The Raptors could have drafted Rudy Gay in 2006 with the first overall selection.
Rudy Gay has struggled at times this season, but could be rejuvenated by the new situation with the Raptors.
The first domino before the February 21 trade deadline fell Wednesday when the Grizzlies traded Rudy Gay to the Raptors for Jose Calderon and Ed Davis and then sent Calderon to the Pistons for Tayshaun Prince and Austin Daye. It was not quite the deal everyone expected for Gay, but it was not totally unexpected that Gay would get moved. Memphis is desperate to get under the tax...
The Memphis Grizzlies, playing for the first time after trading away Rudy Gay, get set to face the Thunder in Oklahoma City tonight. While the Gay swap for Ed Davis, Tayshaun Prince, and Austin Daye saves the tea money and improves depth in the long-run, they'll be fairly depleted in tonight's match-up. AccuScore has the Thunder as heavy favorites with 87.3 percent chance at...
The Pistons will acquire Jose Calderon, with the Grizzlies receiving Tayshaun Prince and Austin Daye in addition to Ed Davis in the Rudy Gay trade that sends him to the Raptors.
According to Marc Stein, ESPN: ESPN sources say Grizzlies and Raps have deal in place to swap Rudy Gay and Hamed Haddadi for Ed Davis and Jose Calderon. Sources say deal will morph to include third team to take Calderon, with Detroit at the front of the line to land the Spaniard after chasing him all season. Third team not yet in stone but Pistons have had interest in Calderon all...
Despite a hefty contract, the Toronto Raptors hope the addition of Rudy Gay will help them turn around their season and make a serious push for the playoffs. The veteran small forward could debut with his new team Friday night when the Raptors look to avoid a fourth straight loss while trying to continue their recent home success against the Los Angeles Clippers. Toronto (16-30...
The Grizzlies' new owner is defending the trade of his team's leading scorer and other moves to dump salary, saying he believes they can do some ''serious damage'' in the playoffs with the changes. Robert Pera took part in a web chat Friday with Memphis' season ticket holders along with chief executive officer Jason Levien, and Pera's first question...
Hey, did you hear there was a big basketball trade last night? Yes, yes, Rudy Gay was traded! Ed Davis was traded! Jose Calderon, too! If you want to read all about the fantasy basketball implications of the deal you can click right on this here little link. You'll be magically transported to fantasy basketball trade analysis nirvana. Or Nirvana if you're a music fan. Well, now...
NBA News

Delivered to your inbox

You'll also receive Yardbarker's daily Top 10, featuring the best sports stories from around the web. Customize your newsletter to get articles on your favorite sports and teams. And the best part? It's free!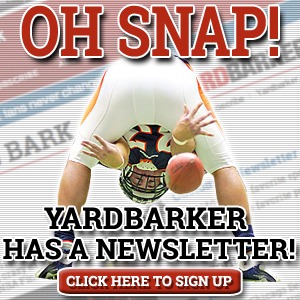 Latest Rumors
Best of Yardbarker

Today's Best Stuff

For Bloggers

Join the Yardbarker Network for more promotion, traffic, and money.

Company Info

Help

What is Yardbarker?

Yardbarker is the largest network of sports blogs and pro athlete blogs on the web. This site is the hub of the Yardbarker Network, where our editors and algorithms curate the best sports content from our network and beyond.