Found February 20, 2013 on Blog So Hard Sports:
Wednesday Wizards Report   After a six game lay off the Wizards returned to action last night against the Toronto Raptors and man was it ugly. No one on the team outside of Bradley Beal and Martell Webster looked ready to play and the end result showed just that in a 96-88 defeat. Beal and Martell combined for 41 of the 88 Wizard points. The third pick in this year's draft tallied 25 points after going 3 of 6 from 3-point land and Martell poured in 16 points while shooting 3 of 5 from downtown. Outside of those two the Wiz shot 16 of 50 from the field, which translates to 32%, which also translates to a loss. And to top it off we got to witness what is surely to be the last time Steez wears a Wizards jersey.  After pouting on the end of the bench the entire game with a towel over his head, Jordan Crawford threw his jersey in the crowd on his walk off the court. If that's not a signal for the end, I don't know what is. John Wall had his toughest night of the year, finishing with nine points, six assists, and seven turnovers going a dismal 1 for 12 from the field. It was ugly plain and simple, but don't put too much stock into this game Wiz fans. He's played a total of 19 games with this squad after coming back from a several month injury and coming off a six day layoff. Yes he played bad, but I highly doubt this will continue. The real issue to take from this game is the horrid coaching and what to do with Jordan Crawford. Randy Wittman's fourth consecutive DNP for Crawford was the final straw that broke the Steez's back. He finally showed how disgruntled he is with the current situation and it pretty much sealed his fate in Washington. The bad part about last night's shenanigans is that it certainly did not help Crawford's trade value. What team is going to give away something of value for a player who if he doesn't have his way pouts on the bench and throws his jersey in the stands? Let's see what Ernie can pull out of his bag of tricks this time. Hopefully not Brian Cook. Wittman also had a terrible night, as he sat Bradley Beal, our leading scorer, for the first seven minutes of the fourth quarter. Pretty smart move heading in the final period down by eight points. I mean at this point none of us know what runs through Randy's head, but it definitely isn't intelligent basketball rotations. Yes a majority of the team played bad, but with some different rotations and coaching, one would think the Wizards would have had a better chance to win last night. With the trade deadline less then 48 hours away, let's hope it's a for sure thing that we make at least one move. I'll be back Thursday to give you all a Wizards wrap-up of our trade deadline moves. Hopefully it will be positive things to write about. In what will probably be the last time I can use this tag line, Stay Steezy my friends. Related posts: The Wiz Kids Heading Into The All-Star Break Martell Webster Signs with the Washington Wizards Are More Wins Headed the Wizards Way?
Original Story:
http://blogsohardsports.com/wizards-2...
THE BACKYARD
BEST OF MAXIM
RELATED ARTICLES
Rackin up DNPs   Well technically not nothing, they will get back Leandro Barbosa's expiring contract as well as his torn ACL. According to Adrian Wojnarowski of Yahoo! Sports, the Washington Wizards have dealt shooting guard and kind-of Wiz fan favorite Jordan Crawford to the Boston Celtics for the expiring deal of Leandro Barbosa. What the Wizards get back in return is a player...
The trade deadline has come and gone and yet again the Wizard's fan base is left shaking their heads with disappointed. The Wizards made one move before the 3:00pm EST Trade Deadline. They sent disgruntled SG Jordan Crawford to the Boston Celtics for injured for the season guard Leandro Barbosa and Jason Collins. This move was made to clear roughly $2.1 million of cap space for...
GETTING SERIOUS
The Washington Wizards hosted the Toronto Raptors Tuesday where D.C. native, and rapper, Wale started a mini-drama with Rudy Gay, and Raptors play-by-play announcer, Matt Devlin. It started when Wale was reportedly talking trash to Raptors forward, Rudy Gay, from his court side seat at the Verizon Center. Gay responded by motioning for Wale to call him (seen in video below) which...
The Celtics added some much needed depth to their depleted backcourt prior to Thursday's trade deadline when they acquired guard Jordan Crawford from the Washington Wizards in exchange for Leandro Barbosa. Barbosa, who signed a one-year deal with the Celts before the season, has an expiring contract and will not play for the remainder of this season due to a torn ACL he suffered...
The Washington Wizards were looking for a clean slate to the second half of the season on Tuesday night as the Raptors paid the Nation's Capital a visit. The clean slate was necessary due to a very poor 15- 36 start, unfortunately the basketball gods had something else in mind and treated the Wiz kids to clocks malfunctioning and having to set a 24 second clock on floor near the...
Welp. Houston was fun. A lotta fun. And now I'm finally dwindling back to reality. Back to business. Back to my Washington Wizards, who have plenty to address as we head into the latter portion of the season. So without any further ad-lib, here is the pre-game buzz: Josh Smith and Jordan Crawford own the water-cooler topics after All-Star Weekend: The Hawks want to rid...
When I think "Washington Wizards" the first thing that comes to mind is a terrible squad full of young guys who all try to pad their own stats.  Good team basketball is hardly their forte.  Whether it be the culture of the organization, or the fault of the individual, Jordan Crawford has fit right into this mold during his time in D.C.  The guy loves to shoot. Before...
Will Jordan Crawford be able to fill the void? Minutes before the trade deadline hit the NBA, The Boston Celtics sent injured guard Leandro Barbosa to the Washington Wizards in exchange for shooing guard Jordan Crawford. This trade comes on the heels of reports that the Celtics were exploring the idea that rookie Fab Melo would be the one headed to Washington, not Barbosa. With Barbosa...
Source: Wizards guard Jordan Crawford will be traded to the Celtics. — David Aldridge (@daldridgetnt) February 21, 2013 I know, right?? It's EXACTLY the big splash you've been waiting for. The Celtics are reportedly going to acquire Jordan Crawford from the Washington Wizards, in exchange for Leandro Barbosa Celtics will send the Leandro Barbosa expiring contract to the Wizards...
The Washington Wizards will trade Jordan Crawford to the Boston Celtics, according to NBA insider David Aldridge. And the deal is not for Fab Melo, Aldridge noted. Crawford, an explosive scorer, had fallen out of the Wizards' rotation. His fantasy value can only increase. In 43 games, he's averaging 13.2 points, 1.37 3-pointers, 3.1 rebounds, 3.7 assists and .6 steals...
Wizards News

Delivered to your inbox

You'll also receive Yardbarker's daily Top 10, featuring the best sports stories from around the web. Customize your newsletter to get articles on your favorite sports and teams. And the best part? It's free!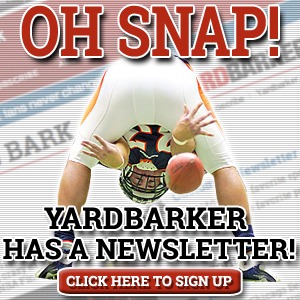 Latest Rumors
Best of Yardbarker

Today's Best Stuff

For Bloggers

Join the Yardbarker Network for more promotion, traffic, and money.

Company Info

Help

What is Yardbarker?

Yardbarker is the largest network of sports blogs and pro athlete blogs on the web. This site is the hub of the Yardbarker Network, where our editors and algorithms curate the best sports content from our network and beyond.