Found November 03, 2012 on Fox Sports North:
MINNEAPOLIS Rick Adelman told Brandon Roy not to worry about the missed shots. Dont worry about the 10 field goals, the five three-pointers, the two free throws. Theyll come. My, what a positive after a 92-80 win that came in spite of the Timberwolves offense, in spite of Roys shooting, in spite of so much. But Adelman isnt delusional. Hes been doing this too long to be. Hes had too much success. Hes too patient to worry about that last step just yet, not when the rest of the process is going so well and his players are embracing the roles theyve been given. So maybe Adelman isnt worried. Maybe Roy isnt either. But that doesnt take away from what Friday nights game was offensively. It was messy, luckless, a thing of air balls and angles too far off for success. If youd told me there was a force field around the Timberwolves basket, there were far too many moments when I might just have believe it. Roy went 4-for-14 from the floor, good for 28.6 percent field-goal shooting. That was worse than his teams overall 36.8 percent mark, but not by much. Chase Budinger struggled as well, missing all five three-pointers he attempted and nine of 12 field goals. Nikola Pekovic went 2-for-8 from the field, Derrick Williams 3-for-12. Nothing was hitting. Nothing. If it hadnt been for the teams solid defense, that lack of offense could have been cause for disaster. But by limiting the Kings to shooting just as poorly as they, the Timberwolves held on, and in doing so they earned themselves a one-time pass. This shouldnt happen again, not when for the first time since Adelman arrived a system seems to be in place and players are committed to playing the roles that will best serve their team. Theres that team defense, first of all, which could have been one of those things that sounds so good in theory but collapses in practice. It hasnt collapsed, and by limiting the Kings to 80 points, the Timberwolves continued the trend they began in preseason, when their opponents logged an average of just 80.9 points per game. Theres no lockdown defender, no star of the defense, no fail-safe body to protect the rim. Yet somehow, the coordination and philosophy is working, and defense is no longer a word that incites Adelman to cringe. "Its just one game, but weve got to have that same effort, that same team effort if we want to be good," Roy said. Roy and Budinger may have been missing, but they were missing from the right places, on the wings where they belong. Budinger has earned a reputation as an ace 3-point shooter he showed it in preseason and Roy should be able to contribute from long range as well. Thats what Adelman has asked of them, and the system worked on Friday to the point where they were in position and got the ball where they needed to be. This wasnt a case of players taking bad shots but rather one of poor shooting. Its hard to say empirically which scenario is worse, but for the Timberwolves right now, its better to avoid the former, which they did in their first game. "Offensively weve got a long ways to go," Adelman said. "We missed so many shots, but we stayed with it in the fourth quarter." And then there was Pekovic, his big body lodged in the paint as hes been training to do for months. Maybe the shots and putbacks werent falling, but he was where he needed to be, and he was getting the ball. At point guard, J.J. Barea took over the game, scoring 21 points and directing traffic as well as he has in a Timberwolves uniform. He saw the floor, saw his teammates, and got them the ball when and where they needed it, even if they couldnt take the next step and actually score. The roles are there. This thing is beginning to flow, at least up to a certain point, the crucial one where ball leaves hands and swishes through net, in theory. But players are getting to the positions they need to, and they seem to have adjusted to the tendencies and habits of their new teammates. No one is worried about doing more than he needs to do or forcing himself into roles that dont make sense. When a team has some notion of depth and this level of versatility, such a scheme can work, and its yet another intangible reason this years team should be better than last years. Last season, roles were a shakier concept. Its hard to imagine that Darko Milicic knew his; in fact, his descriptions of what hed been tasked with differed largely from what Adelman explained. The same could be said for Michael Beasley, Anthony Randolph, even Wes Johnson at times. There was no sense of organization to the group, and injuries forced players into roles bigger than they could handle. Now, even with the injuries to Kevin Love and Ricky Rubio, theres a clearly defined order. Even if theres little designation between the two forward positions, each player knows what he must do depending on the matchups he faces. Theres no need to overstep boundaries, to doom the team by trying to do too much. It might not be a roster full of All-Stars, but the group was put together thoughtfully, with an eye for specific needs and how certain players would address them. After Fridays game, Cunningham tried to put the whole thing into words, how his team had won despite its shooting struggles and offensive inefficiency. It took players picking up when others were struggling, shifting the shooting from the wings and tightening on defense. "Regardless of the lineup, this team is deep," Cunningham said. "We have a lot of guys that are just raring to go at any minute " Roy interrupted him. "A lot of guys ready to do what?" he asked, laughing. "Raring to go" was not going to cut it, apparently. So Cunningham clarified: "Weve just got a lot of guys that are ready and just willing to give whatever it takes to get the W out there." But theres a difference between Cunninghams notion of whatever it takes and chaos. With these Timberwolves, whatever it takes needs to be organized and defined from player to player, not some mad rush to compensate for what theyre missing. So far, so good, as long as next time they re-learn how to shoot. Follow Joan Niesen on Twitter.
Original Story:
http://www.foxsportsnorth.com/11/03/1...
THE BACKYARD
BEST OF MAXIM
RELATED ARTICLES
Anyone who knows Brandon Roy can attest to that fact that Roy is a real calm and cool cat both on and off of the floor. But come Friday evening in Sacramento, the Minnesota Timberwolves guard will likely be a ball of nerves as his NBA comeback tour kicks off in Minnesota's regular season opener. It has been a very long and very interesting 19 months since Roy last played in...
Brandon Roy dealt with a swarm of media tonight wanting to talk about his return to the NBA. Some of the topics he addressed include his time away from the game, how his time playing ball with friends got him feeling like he could return and how his body is reacting to playing against NBA competition.
The story every basketball fan will be talking about around the water cooler this season is Brandon Roy's return to the NBA.
MINNEAPOLIS With 67 seconds remaining in the Timberwolves' 2012 home opener, the sold-out Target Center crowd at once took its feet. It was uncanny, almost, the unity with which an entire arena rose and realized that the season it had been dreaming of since long before the last one ever ended would begin with a win. The fans got just a minute to revel in it. They should have...
MINNEAPOLIS It isn't every day Kevin Love is mistaken for a senior citizen.That's what happened, though, in August, when the Timberwolves star and Kyrie Irving took the court for a staged pickup basketball game in Los Angeles. They were there for the second installment of Irving's "Uncle Drew" Pepsi commercials, and for the Cavaliers' point guard, the jig...
The T'Wolves are an interesting team, a nice young core with little experience, but tons of talent. However, they are starting the season facing injuries to major contributors on the team. Kevin Love and Ricky Rubio won't be back for a while out with a broken hand and recovering from ACL surgery respectively. They did add Andrei Kirilenko and Chase Bundinger which should be able...
MINNEAPOLIS You'll have to wait a little longer to find out who's going to start tonight for the Timberwolves against the Kings. With Kevin Love out, the power forward position is up for grabs, and it'll likely be Dante Cunningham or Derrick Williams out there to begin the game. There won't be confirmation of the decision until about 6 p.m. tonight, after coach Rick...
Ricky Rehabbing Knee So, I had planned on doing a little blurb about every team in the NBA leading up to a grand Timberwolves finale today.  I made it through the Eastern Conference and I'm freaking exhausted.  So, today I'm doing the Wolves season preview as planned, and maybe I'll haiku the crap out of the rest of the conference early next week. Chance for the playoffs...
J.J. Barea had 21 points and five assists in 28 minutes for Minnesota, helping the Timberwolves overcome a weak shooting performance in their season opener and beat the Sacramento Kings 92-80 on Friday night. Brandon Roy pitched in 10 points, six assists and five rebounds and Andrei Kirilenko added 10 points, seven rebounds and five assists as both players returned to NBA action...
The Minnesota Timberwolves may be in position to gain a rare win over the Toronto Raptors. The Timberwolves have lost 14 of their last 15 in this series and eight straight in Toronto heading into Sunday night's matchup with the 0-2 Raptors. Minnesota (1-0) hasn't won in Toronto since Jan. 21, 2004. But the Timberwolves, who visit Brooklyn on Monday, start their first set...
MINNEAPOLIS -- If you hung around Target Center enough last year, you heard, over and over, Minnesota Timberwolves coach Rick Adelman despairing over his lack of depth, pleading for more playmakers, dissing his defense. What a difference an off-season makes. A re-tooled Wolves roster that was playing Friday without stars Kevin Love (broken hand) and Rickey Rubio (knee surgery...
                        The above human is an actual NBA player Sorry, not much time for a preview today. A few quick bullets. -Take Care of the Ball. Last night was an outlier in every sense of the word in terms of turnovers (and the dreadful transition D after said turnovers). 24 total. Let's hope the Wolves can take care of the ball a bit more tonight...
NBA News

Delivered to your inbox

You'll also receive Yardbarker's daily Top 10, featuring the best sports stories from around the web. Customize your newsletter to get articles on your favorite sports and teams. And the best part? It's free!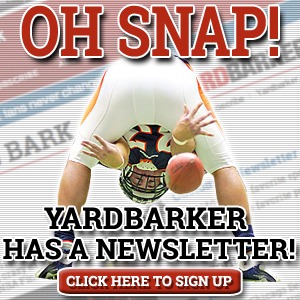 Latest Rumors
The Backyard

Today's Best Stuff

For Bloggers

Join the Yardbarker Network for more promotion, traffic, and money.

Company Info

Help

What is Yardbarker?

Yardbarker is the largest network of sports blogs and pro athlete blogs on the web. This site is the hub of the Yardbarker Network, where our editors and algorithms curate the best sports content from our network and beyond.