Found May 03, 2013 on Fox Sports North:
MINNEAPOLIS Flip Saunders said it himself: Coaches always coach. Now that Saunders has replaced David Kahn as the Minnesota Timberwolves' president of basketball operations, can the 16-year NBA coach put away his clipboard and successfully transition to a front office job? As recently as last month, Saunders was interviewed to become the next head coach at his alma mater, the University of Minnesota. The Gophers offered Saunders the job after Tubby Smith was fired, but the former U of M point guard turned it down. At his introductory press conference Friday at Target Center, Saunders said he's always considered himself an NBA guy, which was one reason why he turned down the Gophers' offer. Even after leaving the coaching ranks, he was involved with the NBA as an analyst for ESPN. But talking with the Gophers about their head coaching vacancy showed that he still may have that itch to get back on the sideline. He spent 16 seasons as a coach in the NBA, most recently during the 2011-12 season with the Washington Wizards. He now comes back to a franchise where he was the head coach for 10 seasons from 1995-2005. But the Timberwolves already have an established coach at the helm in Rick Adelman, who recently joined the highly exclusive 1,000-win club. The question now is whether two longtime, successful NBA coaches can coexist peacefully together in Minnesota. When pressed on the matter of whether he'd be open to coaching again someday, Saunders, 58, didn't exactly slam the door shut on that notion. "Right now, Rick's our coach," Saunders said Friday. "I am thrilled at the opportunity to work with him. Right now, my main job as we get out of here is get an office, get a phone and start getting players and calling the players that we have on our roster and talk to them." Can two men with coaching in their blood working in such close proximity be a good thing? Saunders definitely thinks so. Combined, the two have 1,640 wins and 38 years of NBA head coaching experience. Owner Glen Taylor said he approached Adelman to get his thoughts on having another coach on board. If not for Adelman's approval, Saunders might not have been given this opportunity. "He was very supportive if I was going to go in that (direction)," Taylor said. "He said, 'I think that would be great.' I said, 'Well, but do you want a coach looking over your (shoulder)?' You know what Rick said? He said, 'I have enough confidence in myself. I'm not scared of that. Plus I know Flip Saunders, and Flip is not like that.'" Ironically, Saunders said his most memorable experience as a head coach was back in 2004 when his Timberwolves topped Adelman's Sacramento Kings in Game 7 of a playoff series to advance to the first Western Conference finals in team history. Now here they are, working side by side to try to get back to that pinnacle. "We talked about it being a positive having two guys that are into coaching; we can bounce things off each other," Saunders said. "I know what he's going through as a coach. That will be very beneficial for both myself and for Rick. We're a team moving forward. I don't think my view is going to change." Even with his coaching acumen, there's the question of how Saunders will fare when it comes to the draft. That was one of Kahn's downfalls, particularly the 2009 draft when he took three point guards in the first round. Saunders has certainly been around some talented teams during his time as a coach and has developed a reputation as a talent evaluator. He also kept a close eye on the entire league during his year at ESPN. When the draft takes place late next month, though, will Saunders' lack of experience in a front office position be evident? He said Friday those types of personnel decisions will be a collective effort between him, owner Glen Taylor and Adelman. "The biggest thing in decisions that I've always said is your evaluation," Saunders said. "I believe that's one of my strengths, whether it was a coach or whatever, was my ability to evaluate players. And not only evaluate players but how they will fit into the system. There are some players that can play extremely well in some coach's system, and some can't. I think that'll be the big key." Saunders will also have to learn the ins and outs of other things that come along with his new title that he didn't have to worry about as a coach, such as the salary cap, collective bargaining agreements and dealing with agents. "It's a different position," Taylor said. "Now instead of being the coach, you're working with a coach in a different direction." Saunders spoke with both optimism and realism on Friday, acknowledging that the Timberwolves have some solid pieces in place yet they have work to do to become a playoff-caliber team next season. He knows that as a coach, the focus is on the short term. Now that he's in Minnesota's front office, his goals and visions have to be geared toward both the immediate and distant future. Saunders will no doubt be seeing things through a different lens than he did as a coach. Because though he may not have completely closed the door on returning to coaching someday, it won't be any time soon with the Wolves. "Rick is my coach," Taylor said. "Flip is not my coach, and I wanted that very clear. I'm not hiring Flip to be the coach." Follow Tyler Mason on Twitter.
Original Story:
http://www.foxsportsnorth.com/nba/min...
THE BACKYARD
BEST OF MAXIM
RELATED ARTICLES
MINNEAPOLIS For a decade, Flip Saunders called Target Center home. He led the Minnesota Timberwolves to eight straight playoff appearances and helped the franchise reach the Western Conference finals for the first time. Back in that same building where he once had much success as a head coach, Saunders was introduced Friday as Minnesota's president of basketball operations as...
KAAAAHNNNN!!!
On Thursday, the Minnesota Timberwolves fired David Kahn and announced that the team hired former coach Flip Saunders to replace him.
Welcome back, Flip. The Minnesota Timberwolves hired Flip Saunders as the team's new president of basketball operations on Friday, bringing him back eight years after he was fired as the head coach. Saunders replaces David Kahn, who was fired on Thursday after four seasons on the job, and he will have a minority stake in the franchise. Bringing Saunders back into the fold marks...
Flip Saunders, the Minnesota Timberwolves' new president for basketball operations, has maintained contact with Rick Adelman and believes the coach will return for a third year next season. "I don't think there are many organizations that can say they have two people associated that have combined for 1,600 wins," Saunders said. "I know what he's going through as a...
MINNEAPOLIS It turns out the reason Flip Saunders reportedly turned down a coaching job at his alma mater may have been that had his sights set on bigger things. The Associated Press is reporting that Saunders will be named the Minnesota Timberwolves' next president of basketball operations but that the deal is not yet signed. He would replace former president David Kahn, whose...
A pair of TSN "SportsCentre" anchors are heading to the U.S., and all indications are that they will join Fox Sports. In other news, ESPN NBA analyst Flip Saunders is headed back to the league, [...]
  A few months ago we reported that the Minnesota Timberwolves owner Glen Taylor was leaning towards replacing president of basketball of operations David Kahn with former coach coach Flip Saunders, well that day has come. According to NBA.com, after firing Kahn, the Timberwolves installed Flip Saunders as the president of basketball operations with the added responsibility of...
Flip Saunders has signed a deal to become president of basketball operations of the Minnesota Timberwolves. Saunders will replace David Kahn, who was fired on Thursday. Saunders, who formerly was head coach of the Wolves, will also have an ownership stake.
The Timberwolves have reportedly fired general manager, David Kahn. In four seasons as the GM, Kahn's teams had a losing record of 89-223 and failed to make the playoffs in every season. He will be replaced with former Timberwolves coach (1995-2005), Flip Saunders. According to Associated Press: David Kahn is out as president of basketball operations for the Minnesota Timberwolves...
David Kahn is out as Minnesota Timberwolves president of basketball operations. Timberwolves owner Glen Taylor opted not to pick up the option for next season on Kahn's contract. ''We want to thank David for all of his efforts the past four years with our basketball team,'' Taylor said in a statement issued by the team. ''These are always difficult decisions...
NBA News

Delivered to your inbox

You'll also receive Yardbarker's daily Top 10, featuring the best sports stories from around the web. Customize your newsletter to get articles on your favorite sports and teams. And the best part? It's free!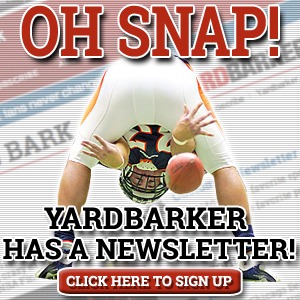 Latest Rumors
The Backyard

Today's Best Stuff

For Bloggers

Join the Yardbarker Network for more promotion, traffic, and money.

Company Info

Help

What is Yardbarker?

Yardbarker is the largest network of sports blogs and pro athlete blogs on the web. This site is the hub of the Yardbarker Network, where our editors and algorithms curate the best sports content from our network and beyond.