Found October 23, 2012 on Fox Sports North:
MINNEAPOLIS Tomorrow marks a week, and we're still talking about it. Kevin's points. Kevin's rebounds. Replacing Kevin. We'll probably be talking about it for the next five to seven weeks, until Kevin Love returns. The Timberwolves aren't going to replace Love, not in a true sense. They're going to compensate as best they can without their star player, and that will mean continued adjustments and most likely some disappointments, too. That's why this conversation won't end. The hottest topic right now is the way the team will use small forward Andrei Kirilenko at power forward, a move Rick Adelman won't hesitate to make in Love's absence. Kirilenko is smaller, an inch shorter than Love, and he weighs in at about 20 pounds less. That'll mean adjustments, especially on defense, where Kirilenko will have to use his length and quickness to make up for whatever lack of size he brings. He can post up, Adelman said, but only really against small forwards, which will likely give Derrick Williams more of a chance to play in the post when on the court with Kirilenko. But after a decade in the NBA, the Russian star is hardly worried about this temporary move. When asked about rebounding, Kirilenko suggested that everyone look at the stats. He corrected the notion that he'd averaged four or five rebounds per game in his career he says six, a quick fact check reveals 5.63 and said that he's aiming to get closer to eight per game in Love's absence. And in terms of his size? "I am lifting weights," Kirilenko said. "Want me to lift more? I'll try." Adelman said that the team's offense doesn't change when Kirilenko is playing power forward rather than Williams or Dante Cunningham. Kirilenko has been around long enough to understand how to make the transition, Adelman said, and his time playing in a bigger spot for the Russian national team also helps. "He's a better passer, I think, than the other guys," Adelman said. "That helps because he's going to have the ball in his hands for some of the things we're trying to do. But we're still going to run the same things. He's a better passer, sees the plays, reads the plays a little bit better." It's not Gibberish, it's Russian: Kirilenko will likely take a louder role on the court with Love absent, even though it's not his inclination to be a vocal floor general. On Monday, he said that sometimes he'll catch himself accidentally speaking in Russian during practices. He notices only when players aren't responding to his directions, and then he quickly switches back to English. One perk, though, of this team is that some players actually understand him. Of course Alexey Shved does, but Kirilenko said that Nikola Pekovic, a native of Montenegro, also speaks a bit of Russian. They're going where?: As fellow FSN writer Tyler Mason pointed out this afternoon, the Timberwolves' upcoming schedule makes them look more like an arena football team than an NBA one. On Wednesday, they play what's technically a home game against the Pistons in Winnipeg, Manitoba, and on Friday they're in Green Bay to face the Bucks. Friday's game marks the end of the Timberwolves' preseason slate, and they'll then have nearly a week to prepare for their opening game at home on Nov. 2. As of now, everyone but Love and Ricky Rubio is healthy for the two final games. Luke Ridnour, who's had back problems, is practicing and should be able to go against the Pistons. Follow Joan Niesen on Twitter.
Original Story:
http://www.foxsportsnorth.com/10/23/1...
THE BACKYARD
BEST OF MAXIM
RELATED ARTICLES
In support of Breast Cancer Awareness Month, Minnesota Timberwolves forward Kevin Love had his head shaved by Arizona Cardinals star wide receiver Larry Fitzgerald. Fitzgerald, who lost his mother in 2003 after she suffered a brain hemorrhage during treatment for breast cancer, is extremely dedicated to bringing awareness of the disease and raising funds for [...]
MINNEAPOLIS Before Kevin Love's injury, he spoke a bit about being out of shape from the Olympics. He likely meant something closer to "tired" or "not at his peak training," but in the aftermath of his broken hand, it wasn't too farfetched to wonder whether knuckle push-ups were just an example of the power forward pushing himself too hard to get back...
  Here we all are looking at one of the glass half whatever moments.  Depending on what you've read, heard and seen on the Internet and beyond this past week, the Timberwolves are either facing utter disaster or a simple setback as a result of Kevin Love's injury.  But no matter which –ist you claim yourself to be there's no debating the impact of losing an All-Star...
Last season, Minnesota Timberwolves forward Kevin Love's massive beard became a thing. How long was he going to let it grow? How hot does it get? Was it a superstituion? Seriously, when was he shaving?Now, it's Love's lack of hair that has people talking. On Wednesday, as part of his Spreadlove community outreach program, Love tweeted a YouTube video of Arizona Cardinals...
The following comes via our friends at FOX Sports North: Last season, Minnesota Timberwolves forward Kevin Love's massive beard became a thing. How long was he going to let it grow? How hot does it get? Was it a superstituion? Seriously, when was he shaving? Now, it's Love's lack of hair that has people talking. On Wednesday, as part of his Spreadlove community outreach...
It's normal for many professional athletes to shave their heads but Minnesota Timberwolves forward Kevin Love shaved his head for a good cause. Kevin got his head shaved by Arizona Cardinals wide receiver Larry Fitzgerald to help promote breast cancer awareness. The fine folks over at Cosby Sweaters have the down low on each of their charities: The two are spreading...
  Minnesota Timberwolves forward Kevin Love is out right now as he recovers from a broken hand. But that doesn't mean he's not "in the game". Love teamed up with Arizona Cardinals WR Larry Fitzgerald to show support for Breast Cancer awareness month. Love allowed Fitzgerald to play barber all to raise awareness and funds [...]
MINNEAPOLIS It's the franchise with the longest playoff drought of any in the NBA, so for the Timberwolves this season, any hope is good enough.For the first time in years, Minnesota has a legitimate aspiration to grasp a playoff berth albeit a seven or eight seed and with every trade or signing last summer, that chance became a bit more real. A year ago, there was a lockout...
Power forward is arguably the deepest position in the league. This year, 35 power forwards might actually get drafted in many leagues. But don't take my word for it, let's jump right in… Tier 1: Give Them a Hand 1. Kevin Love (4), Minnesota Timberwolves We assumed that Love was an unstoppable force in fantasy leagues, turns out all it took was a few pushups to set him back...
Timberwolves News

Delivered to your inbox

You'll also receive Yardbarker's daily Top 10, featuring the best sports stories from around the web. Customize your newsletter to get articles on your favorite sports and teams. And the best part? It's free!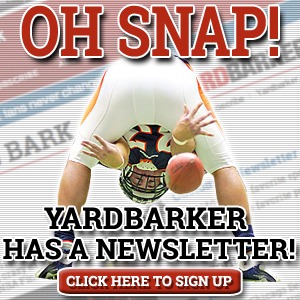 Latest Rumors
The Backyard

Today's Best Stuff

For Bloggers

Join the Yardbarker Network for more promotion, traffic, and money.

Company Info

Help

What is Yardbarker?

Yardbarker is the largest network of sports blogs and pro athlete blogs on the web. This site is the hub of the Yardbarker Network, where our editors and algorithms curate the best sports content from our network and beyond.