'When Basketball Players Retire' would be a wonderful show that I would binge-watch every moment of, but IRL it's not often the most exciting thing to follow. And you know what? Fair. These dudes have been have been on display, some with a greater degree of prominence than others, for an average of ten years. By the time they are calling it quits they likely want to kick back with...
Freida Bosh said one of her tenants was the one who was bringing drugs in and out of her son's home, not her.
The mother of Chris Bosh is denying any ties to a drug trafficking operation and has a pretty good explanation for what's going on.The DeSoto, Texas home where Freida Bosh has been living, which is owned by her son, Chris, was raided on Friday morning by police in a drug sting. Police believed crack cocaine and heroin were being trafficked from the home.Freida spoke with TMZ Sports...
The two played together during Winslow's rookie year. Chris Bosh did more than video-bomb Justise Winslow's postgame interview with the Miami Heat's Jason Jackson Saturday night. Bosh and Winslow actually played together for half of Winslow's rookie year before the two-time NBA champion suffered a second blood clot issue. Before the game in Mexico City against the Brooklyn Nets,...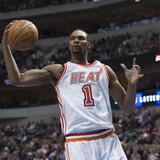 Chris Bosh is still not ready to call it quits on his playing career.In a recent appearance on "The Full 48" podcast with Bleacher Report's Howard Beck, the former Miami Heat big man said that he is still holding out hope for a return to the NBA."That's still there in front of me," said Bosh, per Anthony Chiang of the Palm Beach Post. "The window is still open. Once I close the doors...
Chris Bosh, of all places, was courtside for the Miami Heat and Brooklyn Nets game in Mexico City. Chris Bosh has emerged again from shadows. And of all places, it is in Mexico City. The Miami Heat played the Brooklyn Nets on Sunday evening in the NBA Global games and won the game, improving to 12-13 on the season. But part of the story, especially from the Miami Heat on social...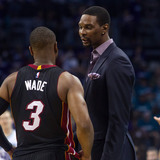 Some rather stunning news emerged Friday that a home owned by former NBA star Chris Bosh had been the target of a drug trafficking sting.The home, located in DeSoto, Texas, is allegedly the residence of Bosh's mother, Freida Bosh, who has been named as a suspect in the drug trafficking sting. As of Friday's report, we knew that officials had discovered, "a large amount of drug paraphernalia...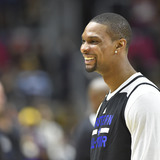 Freida Bosh, mother of former NBA star Chris Bosh, has reportedly been named as a suspect in a police drug trafficking sting in DeSoto, Texas.According to TMZ Sports, a home owned by Bosh in which his mother allegedly lives was the target of the DeSoto Police Department, which ran a sting operation on Friday morning.Per the report, evidence was seized from the home: "a large amount...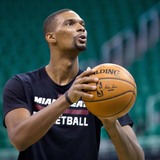 Chris Bosh's mother Freida is a suspect in a drug trafficking raid that took place on Friday morning, according to a report.TMZ Sports reports that DeSoto Police in Texas raided a home Friday morning that they suspect was being used to traffic drugs. TMZ says Bosh's mother was named on the search warrant as a suspect in the trafficking operation. They say the home is owned by Chris...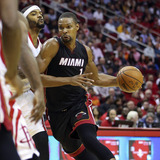 The Miami Heat placed future Hall of Fame big man Chris Bosh on waivers earlier this week. It was a move that many expected after Bosh sat out the entire 2016-17 season due to complications from blood clots. It also saved Miami $25.3 million against the cap.For his part, Bosh has now cleared waivers and is officially an unrestricted free agent."The Miami Heat is now officially free...
MORE STORIES >>
Heat News

Delivered to your inbox

You'll also receive Yardbarker's daily Top 10, featuring the best sports stories from around the web. Customize your newsletter to get articles on your favorite sports and teams. And the best part? It's free!