Valentine has played 112 NBA games, and he finally dunked for the first time Monday.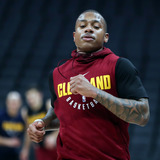 Isaiah Thomas' return should happen any day now and it could not come a moment sooner for the Cavaliers, Chris Fedor of Cleveland.com writes. Cleveland has dropped four of its past five games, including back-to-back losses to the sub-.500 Kings and Jazz. Thomas' ability to score will help a Cavaliers team in need of an offensive punch."You always look forward to having a great player...
In this season of whatever this will be for the Bulls, the only certainty is the uncertainty in which they will march toward the bottom
As the draft lottery makes news around the NBA world, the Bulls' most recent first-round pick is recovering from ankle surgery. Denzel Valentine - selected 14th
Denzel Valentine discusses his strong play in the Bulls' win over the Phoenix Suns on Friday.
A record-breaking 2016 Las Vegas Summer League is in the books, which means two things:1.) The Chicago Bulls are your summer league champions, thanks to some late-game heroics from rookie Denzel Valentine (who did not make this list, despite being rather disappointing prior to his heroics in the finals).2.) It's time to pass judgment on the players who took part in the Las Vegas...
Check out Denzel Valentine's two buzzer beaters that helped the Bulls earn the Las Vegas Summer League championship.
Bulls first-round draft pick Denzel Valentine talks about how he spoke to Denzel Washington, who he was named after, on the phone.
The Chicago Bulls welcome their new guard, and first-round draft pick, Denzel Valentine. 06-27-16
Bulls draft pick Denzel Valentine said his ability to play different positions and shoot from the perimeter are his biggest strengths.
MORE STORIES >>
Bulls News

Delivered to your inbox

You'll also receive Yardbarker's daily Top 10, featuring the best sports stories from around the web. Customize your newsletter to get articles on your favorite sports and teams. And the best part? It's free!