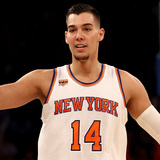 After a promising rookie year that saw him earn First-Team All-Rookie honors, Willy Hernangomez was traded from the New York Knicks to the Charlotte Hornets amid frustrations about playing time from the 23-year-old big man. At the end of the 2016-17 NBA season, Hernangomez was seen as a potential cornerstone to grow with Kristaps Porzingis and shape a new future for the Knicks; instead...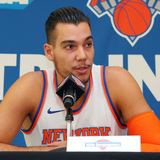 The Knicks are in the process of finalizing a trade with the Hornets that will send center Willy Hernangomez to Charlotte, reports Shams Charania of Yahoo Sports. According to Charania, the Knicks will receive Johnny O'Bryant and a pair of second-round picks in the deal. Those second-rounders will be Charlotte's own picks in 2020 and 2021, tweets Charania.A second-round pick in 2015...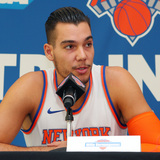 Knicks center Willy Hernangomez is seeking a trade out of New York, according to Shams Charania of Yahoo Sports, who reports that Hernangomez's representatives have informed Knicks officials of the trade request in recent days.After a solid rookie season, Hernangomez has seen his role reduced in 2017/18, and has repeatedly expressed a desire to play more. While there was a belief...
The Jazz are among the teams that have shown interest in Knicks big man Willy Hernangomez, according to Stefan Bondy of The New York Daily News. Bondy had reported earlier this week that Hernangomez is the Knick receiving the most trade interest from rival clubs.With four centers on their roster, the Knicks will likely try to move one of Hernangomez, Enes Kanter, and Kyle O'Quinn...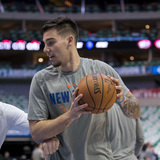 A report earlier in January suggested that several teams had contacted the Knicks about Willy Hernangomez, and it appears the trade interest in the second-year center hasn't waned. According to Stefan Bondy of The New York Daily News, Hernangomez is the Knick who has received the most trade interest from rival teams.While clubs are interested in Hernangomez, Bondy notes that any...
The Cleveland Cavaliers are currently dominating the New York Knicks at Madison Square Garden as they are looking to win their 34th victory on the season. The play of the night thus far came on a Kevin Love drive to the basket. Watch as the All-Star power forward puts defender Guillermo Hernangomez on a poster followed by an absolute eruption from the Cavs bench. The post Video:...
The Cleveland Cavaliers are the favorites in the Eastern Conference, nobody is disputing that. They still need a few pieces to gear up for a championship repeat, though, and New York Knicks big man Guillermo Hernangomez could be a sneaky addition for general manager David Griffin....
And officially signed Hernangomez and Plumlee. Phil Jackson, Steve Mills, and Jeff Hornacek introduced Joakim Noah, Courtney Lee, and Brandon Jennings today. I'll post video when it's up, but here are some notes for now: - Jackson and Mills made it clear that Lance Thomas expressed from the outset that he wanted to return to the Knicks, and Phil mentioned that he'd been eyeing Joakim...
MORE STORIES >>
Hornets News

Delivered to your inbox

You'll also receive Yardbarker's daily Top 10, featuring the best sports stories from around the web. Customize your newsletter to get articles on your favorite sports and teams. And the best part? It's free!