Orlando Magic international prospect Janis Timma has signed a new deal with a team in Spain, likely keeping him from the NBA for the time being. The Orlando Magic, and some of the more hardcore fans, have kept at least a cursory eye on one prospect developing in Europe. They will have...
Orlando Magic prospect Janis Timma poured in a 33-point game to be Eurocup MVP of the Week, helping Zenit St. Petersburg advance to the Round of 16. Even with the Orlando Magic focused squarely on the Playoffs and their success this year. There is still a future to prepare for. The...
Scouting report on the newest Grizzly, Troy Williams The Memphis Grizzlies signed former Indiana Hoosier Troy Williams to a partially guaranteed deal that does not guarantee him a roster spot. Williams will go to training camp with the Grizzlies and attempt to beat out DJ Stephens and Wayne Seldon for a roster spot. Though the team's roster is full, both Vince Carter and JaMychal...
The Grizzlies finish up their night with their final pick of the draft. The Memphis Grizzlies have had quite the 2016 NBA Draft, and they finished it out at #57 overall with the selection of Wang Zhelin of Fuijan. He was 7'0", 250 pounds in 2012 according to DraftExpress and was not even on Chip Williams' big board for us at GBB. Memphis will draft Wang Zhelin of Fujian with the...
FIBA/Ciamillo-Castoria/Ceretti I want to see Janis Timma in an Orlando Magic jersey in a year or two. Whenever you can get him out of his new 2-year contract with Zenit St. Petersburg. From what I saw from the now 23-year-old at the Orlando Summer League with the Grizzlies last year, to what I witnessed this summer, Janis has definitely improved himself. Much of it physically. Janis...
Latvia Basketball Federation You have to wonder how focused the Orlando Magic front office are on Janis Timma and Latvia, because that nation is making massive basketball strides right before our eyes. The dream run continues for them as they knocked off Slovenia 73-66 on Saturday to reach the quarterfinals. Janis Timma played the role of offensive decoy, so don't let the 4 points...
Janis Timma, property of your Orlando Magic, earned his first ever EuroBasket start on Monday for Latvia. After tasting defeat against Lithuania on Sunday, Latvia knocked off a solid Czech Republic team, defeating them 72-65 in Riga. In 22 minutes, Timma notched 7 points on 3-for-6 shooting (1-of-4 on 3-pointers), 8 rebounds, and 1 assist. Plenty of valuable contributions from Janis...
The start of every EuroBasket always brings such great anticipation. Again, Janis Timma won't be playing for the Orlando Magic this upcoming season, but that doesn't mean that won't change in the future. It's definitely worth keeping an eye on the 23-year-old as the Magic hold his NBA rights. Timma's first major tournament game for the Latvian senior national team was an overall...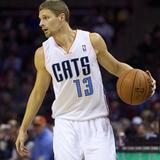 ORLANDO, Fla. (AP) A person familiar with the deal says The Orlando Magic have agreed to send reserve point guard Luke Ridnour to the Memphis Grizzlies in exchange for the rights to forward Janis Timma. The person spoke to The Associated Press on the condition of anonymity because the deal has not officially been announced. The trade was first reported by Yahoo Sports. The 34-year...
MORE STORIES >>
NBA News

Delivered to your inbox

You'll also receive Yardbarker's daily Top 10, featuring the best sports stories from around the web. Customize your newsletter to get articles on your favorite sports and teams. And the best part? It's free!