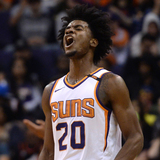 A difficult string of game in which the Suns were noticeably better without Josh Jackson than with him precipitated a change in his relationship with head coach Jay Triano. Now, Scott Bordow of the Arizona Republic writes, the first-year forward has started to regain the coaching staff's trust.When Triano told Jackson that he was losing his confidence in him, he asked the player...
Josh Jackson may be the latest NBA player to get in trouble for an exchange with a fan during this first week of the new season.The Phoenix Suns rookie swingman was headed to the bench in the fourth quarter of Saturday's blowout loss to the Los Angeles Clippers when he did a questionable gesture that some interpreted as a shooting motion directed at a fan. The incident was also punctuated...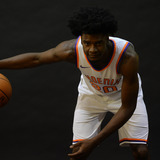 Phoenix Suns rookie Josh Jackson wants everyone to know that his comments about Stephen Curry being "unathletic" were not meant as shade.Jackson used Twitter on Friday to clarify exactly what he meant when he made the remarks — noting that he simply has a standard for athleticism, and not meeting it does not make you a bad player. By Jackson's standard, Curry meets the definition...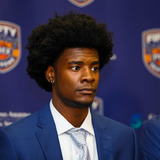 He may only be a rookie, but Josh Jackson's already coming with the punches.In a recent video feature for VICE Sports, the Phoenix Suns swingman was asked what player comparison he would give himself and replied with San Antonio Spurs star Kawhi Leonard."I'm a really big fan of him to be honest, just because he plays both ends of the floor," said Jackson. "Watching the NBA today...
Atlantic 1. Clemson Tigers: Clemson QB, Kelly Bryant, had his best game of the season against the woeful Louisville secondary. He was 22/32, 316 yards, and had one TD. Clemson also laid it down on the ground with 297 yards rushing. Travis Etienne is a name that we will need to be aware of before the Tigers come to Blacksburg. Etienne only ran the ball six times, but had...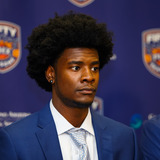 The Phoenix Suns are one of the many teams that have shown interest in disgruntled Cleveland Cavaliers guard Kyrie Irving. The team was reportedly willing to help facilitate an Irving deal to another squad. Then, in an interesting turn of events, Phoenix got into the bidding war for the All-Star's services.Though, Phoenix has remained steadfast that nether Devin Booker nor rookie...
The summer of Kyrie Irving trade rumors continues. The Cleveland Cavaliers have reportedly gotten calls from 20 teams about trading for Irving. The Phoenix Suns appear to be a crucial player in either a trade for Irving or a facilitator in a three team deal. Reports indicate that the...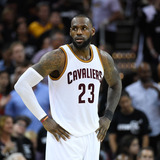 Fire up any and all of your LeGM jokes, compatriots.On an episode of ESPN's "First Take" on Thursday, analyst Pablo Torre revealed that LeBron James has been taking an active part in Kyrie Irving trade negotiations on at least one front."LeBron James is doing some LeBron James offseason work," said Torre. "And my understanding is it's not just Derrick Rose, it's not just Eric Bledsoe...
Lottery picks De'Aaron Fox and Josh Jackson each score 18 points for their respective teams, but it's the Suns that win 89-85. Leo Beas and Manny Vieites give their 3 takeaways. Did you agree with them? What are your biggest takeaway? Join the conversation! If you enjoyed this video, share it with your fellow NBA fans. ► Subscribe to our YouTube Channel: http://www.youtube.com...
MORE STORIES >>
Suns News

Delivered to your inbox

You'll also receive Yardbarker's daily Top 10, featuring the best sports stories from around the web. Customize your newsletter to get articles on your favorite sports and teams. And the best part? It's free!