Jason Quick of NBCSNW gets Terry Stotts' thoughts on adjusting the rotation with Harkless stepping up. Maurice Harkless has shown flashes of his potential with the Portland Trail Blazers the past month. He's had recent scoring outings of 22, 19 (x2), and 15. He's stepping up as injuries to Evan Turner and Shabazz Napier have opened up some playing time. With Turner and Napier both...
Harkless has faced dwindling minutes and touches in Portland. Could Dallas become his salvation? The Portland Trail Blazers carry three players whose contracts draw sighs and ire when compared to their production: Evan Turner, Meyers Leonard, and Maurice Harkless. Though Blazers fans dream of off-loading the salaries of Turner and Leonard, the only name among the three getting traction...
Nothing is imminent, but this could be worth keeping an eye on. The Portland Trail Blazers are a likely candidate to make a small move before the trade deadline on Thursday. Zach Lowe, in his deadline primer column, explains why. Portland is $3 million over the tax, and when a non-contender gets that close, it usually tries to duck it. Maurice Harkless is the name to watch. He...
The Blazers fall to the Celtics after Al Horford's sinks a contested buzzer beater. The Portland Trail Blazers dropped their second consecutive road game on Sunday after Al Horford's heroic last-second shot gave the Boston Celtics a 97-96 lead as time expired. Portland squandered a double-digit halftime lead against a Boston team missing Kyrie Irving. Maurice Harkless made a surprise...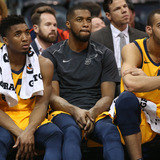 The NBA trade deadline is just over two weeks away, and there's no shortage of players around the league who could change teams. With that in mind, we're taking a closer look at some of those top trade candidates, breaking them down by division.While our focus will be primarily on teams expected to be sellers at the deadline, our lists may also include some players on contenders...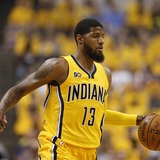 CJ McCollum is trying to pre-order his tickets to the PG-13 movie.The Portland Trail Blazers guard held a Twitter Q&A on Thursday due to his flight being delayed and was asked who he would like to see the team pursue in the offseason. McCollum replied simply by tagging the handle of Pacers star Paul George. The Pacers and the Blazers were both swept in the first round, and the...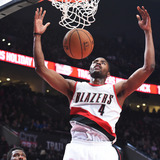 Maurice Harkless earned himself an extra $500,000 on Wednesday and didn't even have to shoot to get it.Playoff seeding and awards predictions generally dominate the talk as the NBA season enters its home stretch. Another topic often brought up are performance-based bonuses in player contracts.Harkless had a bonus for this season worth $500,000 which the Blazers forward would trigger...
PORTLAND, Ore. (AP) The Portland Trail Blazers have agreed to a four-year deal with restricted free agent Maurice Harkless. The $40 million deal was first reported by Yahoo Sports. Harkless confirmed it on Twitter, posting: ''4moe' ..... God is so good. Thank you (hashtag) ripcity.'' The Blazers acquired Harkless in a trade with the Orlando Magic and he averaged 6.3 points and...
PORTLAND, Ore. (AP) The Portland Trail Blazers have extended qualifying offers to guard Allen Crabbe and forwards Myers Leonard and Maurice Harkless. The qualifying offers, announced Wednesday before the June 30 deadline, make all three restricted free agents. Portland can match any offer that teams extend to the players. Crabbe averaged a career-high 10.3 points, 2.7 rebounds...
We're just a few games into the 2015-16 season, but Maurice Harkless is already on pace to have a career year. Over the weekend, he showed why the Portland Trail Blazers traded for him with this aggressive dunk against the Phoenix Suns. Check it out:Harkless is only 22 years old, with three years of NBA experience under his belt. He's been around the block and has yet to reach his...
MORE STORIES >>
Trail Blazers News

Delivered to your inbox

You'll also receive Yardbarker's daily Top 10, featuring the best sports stories from around the web. Customize your newsletter to get articles on your favorite sports and teams. And the best part? It's free!