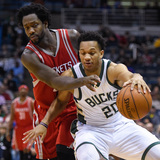 Former first-round pick Rashad Vaughn is set to join his fourth NBA team of the last month. According to Shams Charania of Yahoo Sports (via Twitter), Vaughn has agreed to sign a 10-day contract with the Magic.It has been an eventful few weeks for Vaughn, who was originally traded from Milwaukee to Brooklyn in the deal that sent Tyler Zeller to the Bucks. From there, Vaughn was dealt...
The trade deadline has come and gone and everyone on the Brooklyn Nets, except Rashad Vaughn, who was here for four days, survived. DeMarre Carroll and Joe Harris were the names connected to the most rumors and discussion of anyone on the roster, but on Friday afternoon, they were still here, highlighting an organizational desire for continuity. For Harris, it was meh, although...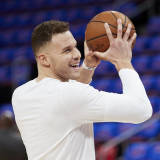 All seemed quiet on the NBA trade deadline front heading into Thursday. Sure some lower-profile players were set to be moved. But we couldn't have expected what actually went down when all was said and done.The Cleveland Cavaliers completely overhauled their roster in three separate deals. The Los Angeles Lakers cleared themselves of future salaries in an attempt to make a major...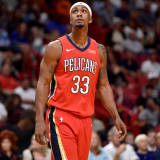 The Pelicans are trading forward Dante Cunningham to the Nets in exchange for Rashad Vaughn, Shams Charania of Yahoo Sports tweets.More to come. The Pelicans are trading forward Dante Cunningham to the Nets in exchange for Rashad Vaughn, Shams Charania of Yahoo Sports tweets.The 30-year-old veteran on an expiring deal, who had previously requested a trade from New Orleans, will arrive...
Welcome back to the Brew Hoop Round Table, where we ask that everybody use coasters and please don't feed the pugs from the table, thanks. Today, we respond to the news that the Milwaukee Bucks have acquired Tyler from the Brooklyn Nets, and will part with a protected second round pick...along with our beloved Rashad Vaughn. What was your initial reaction to the trade? Riley...
Adrian Wojnarowski of ESPN reports that the Brooklyn Nets have traded Tyler Zeller to the Milwaukee Bucks for Rashad Vaughn and a future 2nd-round draft pick in 2018. However, the way the pick is protected, it's unlikely it will be conveyed this June. Instead, it is likely to be conveyed in 2020, when the Nets currently have no second rounders.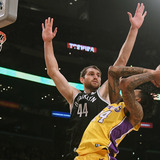 The Bucks will acquire center Tyler Zeller from the Nets in exchange for shooting guard Rashad Vaughn and a second-round pick, according to ESPN's Adrian Wojnarowski (Twitter links).Milwaukee will be Zeller's fourth team. He played the last three seasons with the Celtics before signing a low-cost, two-year deal with Brooklyn. His $1.93M contract for next season isn't guaranteed...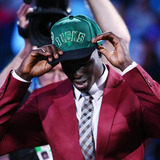 The Milwaukee Bucks famously drafted Lew Alcindor first overall in 1969 which, along with the tireless work of Oscar Robertson, led to a NBA championship in 1971. The team also drafted the rights to Julius Erving - but Dr. J opted for the ABA and never played for the team. However, in 1979, the Bucks made a great pick at 5th overall and drafted a player that would make them perennial...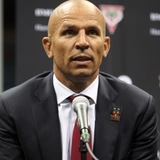 Somehow, the Milwaukee Bucks have gotten even younger this offseason. That will happen when you draft an 18-year-old rookie, but it sounds like there will be no pressure on Rashad Vaughn to grow up too quickly.Here's what Bucks head coach Jason Kidd told Truman Reed of Bucks.com:  "You talk about a competitor," Kidd said. "You look at the boxes, he fits our age group. He's young...
MORE STORIES >>
Pelicans News

Delivered to your inbox

You'll also receive Yardbarker's daily Top 10, featuring the best sports stories from around the web. Customize your newsletter to get articles on your favorite sports and teams. And the best part? It's free!