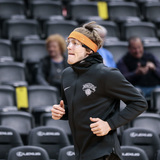 Knicks guard Ron Baker is scheduled to undergo an arthroscopic shoulder stabilization procedure on his right shoulder this Wednesday, the team announced today (Twitter link). The surgery will sideline Baker for the remainder of the 2017/18 season, according to the Knicks.The Knicks had announced last week that a dislocated right shoulder and torn labrum would keep Baker out of action...
MILWAUKEE, Wis. — As Knicks guard Ron Baker contemplates the next course of action for his damaged right shoulder, one New York shoulder/knee specialist recommended season-ending surgery that would take three-to-six months of rehab before he's back playing. The shoulder surgery would repair the torn labrum — not the dislocation. Coach Jeff Hornacek wouldn't acknowledge...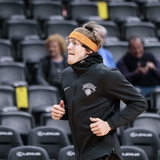 Knicks guard Ron Baker has been diagnosed with a dislocated right shoulder and a torn labrum, the team announced today (via Twitter). Baker will be sidelined indefinitely.The 2017/18 league year got off to a good start for Baker, who inked a two-year, $8.9MM deal with the Knicks in free agency. However, he has struggled mightily on the court, dealing with injuries throughout the...
The Knicks went through their customary postgame victory celebration, slapping fives. Ron Baker joined in and coach Jeff Hornacek thought the guard was nuts. Baker had left the 111-95 victory over the Nets in the first quarter with a right shoulder injury, a possible dislocation. "He said he felt something, he didn't hear anything, he...
From small town hopes to big city dreams, Ron Baker's commitment to his team and the game of basketball have paved the way for his success. Watch Ron "Make It Pro"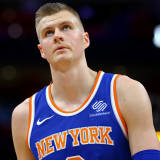 The Sixers have yet to narrow down a return timeline for rookie Markelle Fultz, but they still have big plans for him in the future, Keith Pompey of the Philadelphia Inquirer writes."The design of our team was […] with him in mind and Ben Simmons in mind," Sixers head coach Brett Brown said. "And then you have a bunch of Danny Greens. You do, you have a bunch of receivers."Limited...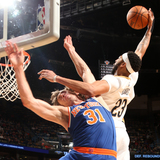 The NBA has a new hotline where players can call it to chat about the officials. They can lobby for calls, apologize for flagrant fouls, and determine whether officials are using "alligators" or "Mississippis" when counting out a five-seconds violation. It's like an HR department for people who hate referees. All responses are about as real as the Louis Vuitton store that LaVar Ball...
The sophomore jinx is starting to turn for Ron Baker. Given a new lease on his second season because of Tim Hardaway Jr.'s leg injury, Baker is back to being "Ron Burgundy" — the affectionate nickname Carmelo Anthony bestowed on him as a rookie. As part of their balanced attack that saw six Knicks hit...
Find out all about Ron Baker in this animated infographic.
MORE STORIES >>
Knicks News

Delivered to your inbox

You'll also receive Yardbarker's daily Top 10, featuring the best sports stories from around the web. Customize your newsletter to get articles on your favorite sports and teams. And the best part? It's free!