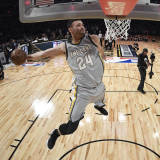 Less than two weeks after he was shipped to the Cavaliers, Larry Nance Jr. was back in Los Angeles for the Dunk Contest. Nance spent his first two-and-a-half seasons with the Lakers and admitted to Bill Oram of the Orange County Register that the trade still has not set in."It's something that's still kind of shocking," Nance said. "But at the same time I can't wait for all this...
Zach LaVine puts Bulls on top of late game tie
Zach LaVine, one of the pieces acquired by the Bulls in last summer's Jimmy Butler blockbuster, will make his long-awaited debut for his new team this Saturday against the Pistons, executive VP John Paxson confirmed today (Twitter link via K.C. Johnson of The Chicago Tribune).According to Paxson, the Bulls plan to take a "conservative" approach with LaVine for the next few weeks...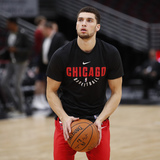 Dwight Buycks hopes he can prove that he's worthy of a standard contract now that Pistons point guard Reggie Jackson is out at least six to eight weeks with a severe ankle sprain, as he told Keith Langlois of Pistons.com. Detroit signed Buycks to a two-way contract, but he spurned a two-year deal because he hoped to eventually earn a spot on a 15-man roster, Langlois continues. Buycks...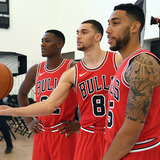 Zach LaVine has agreed to a four-year endorsement deal with Adidas worth up to $35 million, according to a report.ESPN's Nick DePaula reports that LaVine, who had worn Nike shoes during his first three seasons in the NBA, agreed to the deal with Adidas after Nike waived its contractual right to match.LaVine was the No. 13 overall pick by the Timberwolves in 2014 and has steadily...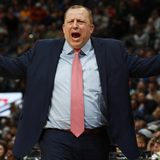 The Minnesota Timberwolves have one of the most tantalizing young rosters in the entire NBA. Between former Rookies of the Year Karl-Anthony Towns and Andrew Wiggins, along with the rising star of Zach LaVine and movable pieces like Ricky Rubio, it's only a matter of time before the roster clicks.Many thought that time would be this season with the hiring of Tom Thibodeau, a coach...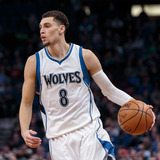 Minnesota Timberwolves guard Zach LaVine will miss the remainder of the NBA season after an MRI revealed he tore his ACL, the team announced Saturday. As the release states, LaVine will undergo surgery to repair the ACL at a to-be-determined date after tearing the ligament Friday night against the Detroit Pistons.This is a huge blow to the third-year player out of UCLA. LaVine, who...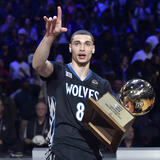 Zach LaVine broke the disappointing news Thursday that he's passing on the opportunity to defend his back-to-back Slam Dunk Contest titles at the 2017 NBA All-Star Game next month in New Orleans. To hear it from the gravity-defying Minnesota Timberwolves guard, there's really no reason for him to even bother."I feel like I've accomplished everything I could in the dunk test," LaVine...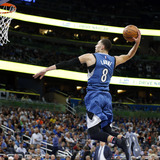 Zach LaVine is the two-time reigning slam-dunk champion for a reason. The 6-foot-5-inch Minnesota Timberwolves guard can jump out of the gym and pull off the most amazing dunks you've ever seen. Take the 2016 NBA Slam Dunk Contest for example. LaVine sealed a close victory over the Orlando Magic's Aaron Gordon by pulling off a between-the-legs dunk from just inside the free-throw...
Reigning NBA Slam Dunk Contest champion and current Minnesota Timberwolves rookie Zach LaVine is about that high-flying action, boss. Here's the first-round pick taking out some aggression on the rim in Minnesota's close loss to the Memphis Grizzlies on Saturday night. Here's another angle of the slightly maimed rim following LaVine's throw down. LaVine may be years away from being...
MORE STORIES >>
Bulls News

Delivered to your inbox

You'll also receive Yardbarker's daily Top 10, featuring the best sports stories from around the web. Customize your newsletter to get articles on your favorite sports and teams. And the best part? It's free!