Found August 30, 2012 on 60 Max Power O:
PLAYERS:
David DeCastro
,
Brett Keisel
,
James Harrison
,
Casey Hampton
,
Ike Taylor
,
Troy Polamalu
,
Ryan Clark
,
Cameron Heyward
,
Maurkice Pouncey
,
Marcus Gilbert
,
Mike Adams
TEAMS:
Pittsburgh Steelers
With just a couple short weeks until the opening kickoff of the 2012 NFL season, it's finally time to make my official predictions, knowing full well they will be shot to pieces faster than Carson Palmer can throw 10 INT's. Still, gotta fill the time somehow, right?
In case you missed them, here are the divisions we've already previewed:
AFC West
NFC West
AFC South
NFC South
We head north today to catch up with a strong group of football teams…also, I'll briefly mention the Browns.
AFC North
The division once again came down to Steelers vs. Ravens, as it pretty much always does. The Bengals, though, tried to get themselves in on that action, and are popular picks to accomplish that this year. The Browns? Well, they're the Browns…and their "rookie" QB is the second oldest starter in the division.
Here are my predictions for 2012:
1. Baltimore Ravens: 13-3
Biggest Addition:  Courtney Upshaw – Granted, Baltimore had a quiet offseason, for the most part, but the selection of Upshaw certainly stands out now that Terrell Suggs is sidelined. Upshaw won't "replace" Suggs in any way shape or form, but the Ravens will certainly need him to be a big part of a "replacement platoon" that holds the fort until Suggs can return. He showed big time ability at Alabama, and his skill set appears to be an ideal fit for the Ravens' defensive scheme.
Biggest Loss:  Terrell Suggs – Let me reiterate that Suggs is completely irreplaceable. No combination of talented youngsters can replicate the dominance Suggs displayed last year, and the defense will simply not be the same until he returns. They'll still be good, top ten even, but you just don't lose a player like Terrell Suggs and not skip a few beats.
X-Factor:  Jimmy Smith – The Ravens bring back both starting CB's, so why is Smith getting so much hype? Because he's silly talented, that's why. The franchise went out of their way to make sure they landed him in last year's draft, and though his adjustment to the NFL was a bit slow, he showed very clearly, at times, exactly why they loved him so much. Smith has the size, athleticism, and ball skills to the next Chris McAlister if he works hard and keeps his head screwed on straight. If his breakout comes this year and he overtakes Cary Williams for the starting job opposite Lardarius Webb, the 2012 Ravens defense could be just as terrifying as the one that won the Super Bowl in 2000. 
Biggest Question:  Can the passing game produce more downfield plays? This has consistently been an area of concern for this team despite repeated efforts to address it. Of course, the efforts to this point have always involved bringing in a flashy new weapon for Joe Flacco. Anquan Boldin, Lee Evans, and Torrey Smith are the most recent examples of this. Yet, Flacco ended last season with a measly 6.7 Y/A. Wake up, everyone! The problem isn't the weapons, it's 'Checkdown Joe!' Everything else is in place with this team, and the only thing holding them back is offensive explosiveness. We'll see if Flacco is capable of more.  
Forecast:  This isn't going out on a limb or anything, but Baltimore is going to be really good. Even without Suggs, the defense has a ton of impact playmakers and should overwhelm most opponents this season. Offensively, they're not the Patriots, but they have a strong running game and the ability to score points. For the Ravens, however, regular season success means little. Their goal is the Super Bowl, and to accomplish that they'll need Flacco to play much better than he did last year. You know what, I'm gonna say he will, and by a lot. If he can get back to his 2010 form, the Ravens offense should be just fine, making them the most complete contender in the league.
2. Pittsburgh Steelers: 10-6
Biggest Addition:  David DeCastro – At least, it was going to be David DeCastro. RIP, Ben Roethlisberger's body…
Biggest Loss:  Another year – Pittsburgh seemingly always has veteran teams, but for the first time in a while, they looked old last year. The defense, specifically, was visibly diminished, as guys made fewer big plays and stayed on the field less. Unfortunately for them, age cannot be rehabbed. Brett Keisel will be 34, James Harrison 34, Casey Hampton 35, Ike Taylor 32, Troy Polamalu 31, and Ryan Clark 33. We'll see how much they have left in the tank, or if any "newer generation" guys are ready to step up.
X-Factor:  Cameron Heyward – Last year's first round pick is one of those "newer generation" guys, and he has a huge opportunity this year. There wasn't much playing time for him last year, but with the defensive line aging rapidly, the Steelers will rely on him more to help keep guys fresh and to create big plays. He showed a strong penchant for that at Ohio State, and his ability to play all across the line should help him stay on the field for extensive periods. He could be a breakout start this year.  
Biggest Question:  Can they keep Big Ben upright? With a stable of dynamic WR's, a mediocre/injured group of RB's, and a pass-happy new offensive coordinator, the identity of this Steelers team is bound to be pass-pass-pass-then pass some more. That's only going to work if Roethlisberger is alive and not paralyzed. Adding DeCastro is huge, and the team already had a gem in Maurkice Pouncey, but the rest of the line is a question mark. Marcus Gilbert looked solid at the end of last season, but can he do it over a 16 game schedule? Mike Adams has shown potential, but is he ready to play LT in the NFL? How the Steelers season turns out will largely depend on the answers to these questions.  
Forecast:  Pittsburgh isn't washed up, but the age concerns are very real. The defense, in particular, is older and it's hard to imagine them putting together a Super Bowl run with so many question marks. But hey, if there's one team I hate doubting, it's the Pittsburgh Steelers. They always seem to have young stars in the wings to help them pull things together at the right time. And, of course, they still have Ben Roethlisberger and a trio of stud WR's. Given that, I can't see them collapsing. 
3. Cincinnati Bengals: 7-9
Biggest Addition:  Travelle Wharton/Kevin Zeitler – The guard combination of Nate Livings and Bobbie Williams was absolutely brutal last year, the evidence of which can be seen in their near-bottom of the league rankings in adjusted line yards and power success. Adding a solid veteran like Wharton and a promising rookie like Zeitler could pay big dividends for the offense.
Biggest Loss:  Jerome Simpson – I'll never argue that Simpson was a great player or anything, but the Bengals might very well find themselves missing him. The Bengals' current plan is to go with third-rounder Mohamed Sanu at the #2 WR slot, a plan that really strikes me as odd. This is a team with a young, developing QB and the expectation of competing for the division…and they're going with a third rounder at one of the toughest positions for a rookie to transition? So I guess my point isn't so much about missing Simpson, specifically, but about missing someone who can be a legit #2 WR.
X-Factor:  Jermaine Gresham – It's not that Gresham was bad last year – 56 catches 596 yards 6 TD's – it's that so much more was expected from him. He wasn't drafted to be a possession/red zone/security blanket type of TE, he was drafted to be a versatile, dynamic, Gronkowski-like TE. After all, that's exactly what he was at Oklahoma. With a clear lack of depth beyond A.J. Green, the Bengals need Gresham to figure things out and be that #2 option.
Biggest Question:  Will the secondary hold up? The Bengals much-hyped defense was, in reality, remarkably average last season, finishing 17th in DVOA. Given what's going on in the secondary, they might have a hard time maintaining that. Star CB Leon Hall suffered an Achilles injury last year, and goodness knows if he will be 100% at any point in 2012. Even worse, the Bengals appear poised to start Terrence Newman opposite him. You know, the same Terrence Newman who got cut from one of the league's worst pass defenses. Trust me, Bengals fans; I've seen plenty of Terrence Newman. He's done. Washed up. Add in the fact that they didn't upgrade the safety position, and Cincy might have a hard time stopping people through the air.
Forecast:  I know I'm going to take heat for the prediction and that's OK. Never at any point last year did I feel like the Bengals were one of the league's best teams – in fact, I often felt they were frauds, an opinion backed up by their team DVOA of just 0.1% (17th). Facing a significantly more difficult schedule and facing the exact same issues as they did last year, I don't see how they maintain the winning. 
4. Cleveland Browns: 4-12
Biggest Addition:  Brandon Weedon – I have no idea if he's any good, but I do know that Colt McCoy isn't the answer, so adding a first round QB who *could* be the face of the franchise going forward is a big deal. Yes, even bigger than adding Trent Richardson…because he's a RB and you should never, EVER draft a RB that high in the draft.
Biggest Loss:  The chance to get Robert Griffin – This was the Browns big chance to land a true, bonafide franchise QB. With Griffin, the Browns could have totally re-energized their fan base. With Griffin, the Browns could have begun building something truly special, something with a future that screamed winning. Whatever happened in those negotiations, whether Holmgren cheaped out or what, the franchise totally whiffed on their biggest opportunity since the Tim Couch draft. 
X-Factor:  Greg Little – I love to poke fun at the Browns horribly undermanned WR corps, but it would be unfair to not mention Greg Little's promising rookie campaign. Little showed solid poise and ability as a West Coast style receiver despite not playing football in 2010 due to eligibility issues. Now two years removed from that, he should start to really come into his own with the added polish of real game experience. It remains to be seen whether he can be a true #1, but he's at least a viable target for Weedon to throw to.
Biggest Question:  How can anyone boil down their problems to one single question? No, seriously, that's my question. Instead of trying, let's just rattle off a list of questions…here goes: Is Weedon any good? How much development time does Weedon need? What's the deal with Trent Richardson's knee? Can Josh Gordon and Greg Little develop into a decent 1-2 punch? Do they have depth in the passing game? Will the right side of the line hold up? How will they stop the run without Phil Taylor and Chris Gocong? Other than Sheard, who will pressure the QB? (I'm exhausted…let's move on)
Forecast:  Just look at that list of questions and ask yourself, does that sound like a winning team? The Browns won just 4 games last year despite the easiest schedule in the history of the NFL and I honestly fail to see how they improved a single bit. Weedon is as big a question mark as McCoy, the receivers are still awful, the line is still spotty, and the one impact guy they did bring in appears to have a nagging knee issue. Even the defense, considered a "strong point" was remarkably mediocre last year, ranking 22nd in DVOA. Basically, there are no strengths on this team, so I can't give them more than 4 wins.
Be sure to check out other great articles at It's Boris Diaw Time!.
Original Story:
http://www.60maxpowero.com/patriots/c...
THE BACKYARD
BEST OF MAXIM
RELATED ARTICLES
Among all the hoopla of Mike Wallace returning to the Steelers this week, there's still a big game for a lot of players coming up on Thursday night. Wallace won't be playing in it but there are still battles to be fought, and roster spots to be filled. This game is just as important as the 3rd preseason game was, only for different reasons of course. Positions can be won and...
Mook Williams, who represent Pittsburgh Steelers undrafted free agent linebacker Adrian Robinson, is reporting via Twitter that has client has made the 53 man roster on Friday. https://twitter.com/MookWilliams/status/241606116428095488 Robinson had a solid preseason at left outside linebacker for the Steelers, where he provided constant pressure on opposing quarterbacks. Robinson...
The Pittsburgh Steelers activated linebacker James Harrison from the PUP list on Tuesday and all signs point to him being able to start practicing as soon as Monday. It is unknown how much work that the veteran linebacker will do initially, but his left knee will be monitored closely for any swelling as the week progresses. As Gerry Dulac points out today via Twitter, should Harrison's...
Pittsburgh Steelers head coach Mike Tomlin said in his post game press conference following their 17-16 preseason win over the Carolina Panthers that rookie linebacker Sean Spence is currently in the hospital after suffering what he called a "significant" knee injury. Spence injured the left knee late in the 3rd quarter while chasing Panthers quarterback Jimmy Clausen...
It is hard to find some sort of silver lining following the Pittsburgh Steelers 17-16 preseason win Thursday night against the Carolina Panthers as the game was marred by the potential season ending left knee injury by rookie inside linebacker Sean Spence late in the third quarter. The only real positive news after the game was reported by Mike Prisuta of DVE Radio, who said via...
Finally, the NFL preseason is over and we can get ready for the Denver Broncos. First things first though, the Carolina Panthers came into Heinz Field on Thursday night to finish things off for this part of the 2012 campaign. Ben Roethlisberger did not play at all, neither did Maurkice Pouncey, Ryan Clark, Troy Polamalu, Isaac Redman, Ike Taylor, Antonio Brown, and others. It was...
Thursday night in the Pittsburgh Steelers 17-16 preseason finale against the Carolina Panthers it was the Chris Rainey show. Well, almost. The Steelers rookie sixth round draft pick out of Florida had touchdown punt returns of 78 and 90 yards nullified by penalties, but it didn't take away from the nice cuts that Rainey had in the process. Several Panthers players that looked...
Getty According to Albert Breer of the NFL Network, the Pittsburgh Steelers have placed rookie linebacker Sean Spence on season ending injured reserve after tearing multiple ligaments in his knee during last night's preseason finale. Steelers placed rookie LB Sean Spence on injured reserve and released veteran lineman Trai Essex. — Albert Breer (@AlbertBreer) August 31, 2012
Final cutdowns for all NFL teams were due by 9pm EST on Friday. The Steelers spent the day going over all the possibilities before announcing their cuts this afternoon. Among the interesting moves, they will go with 4 WR's and 3 QB's. There was wide speculation that they may go with 5 receivers but David Gilreath, Derrick Williams and the others were all cut today. ...
On the same day that Mike Wallace finally signed his franchise tender, the Steelers got more good news as they activated linebackers James Harrison and Jason Worilds off the PUP, 12 days before the start of the season. Because of this, there's a very good chance that they'll be able to be out there week 1. Harrison had knee surgery earlier this month, while Worilds has missed...
PITTSBURGH (AP) -- Charlie Batch completed 11 of 14 passes for 102 yards and a touchdown to bolster his hopes of playing a 15th NFL season and the Pittsburgh Steelers beat the Carolina Panthers 17-16 in their preseason finale Thursday night. Batch hit Emmanuel Sanders for a 37-yard play on Pittsburgh's first drive and later found Will Johnson for a 27-yard gain to set up a field...
Steelers News

Delivered to your inbox

You'll also receive Yardbarker's daily Top 10, featuring the best sports stories from around the web. Customize your newsletter to get articles on your favorite sports and teams. And the best part? It's free!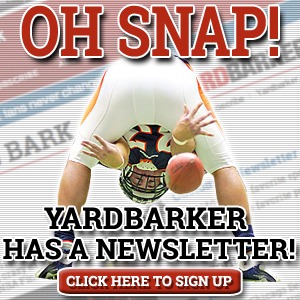 Latest Rumors
Best of Yardbarker

Today's Best Stuff

For Bloggers

Join the Yardbarker Network for more promotion, traffic, and money.

Company Info

Help

What is Yardbarker?

Yardbarker is the largest network of sports blogs and pro athlete blogs on the web. This site is the hub of the Yardbarker Network, where our editors and algorithms curate the best sports content from our network and beyond.