Well things have revved up in the NFL and I have been more than lackadaisical in my coverage. What that means is that I was unable to get most of the teams taken care of, I mean I only got 5 teams taken care of, but I nailed the Bucs and Rams and what they were going to do, so I feel great about what I did write prior to the free agent frenzy beginning. So that means I got to get you, the reader, caught up, and that means skipping the listed players drafted, and just going with a quick draft analysis.  If you have questions about why I graded a team low please feel free to leave a comment or contact me thesportsheadquarters@gmail.com Let's take a look at the 2012 Redskins and Jaguars off season preview. Washington Redskins: 2007 Draft Expert Grades Mel Kiper: C-
Pete Prisco: D
Actual Grade: C Sure they only drafted one starter, but that's what happens when you trade most of your picks away.  They got a 2006 2nd rounder that turned into Rocky McIntosh, so that was not a bad pick, they traded their 3rd rounder for Brandon Lloyd, and that worked out ok for a couple of seasons, well not really, it was basically a waste of that third round pick.  Landry and McIntosh make this a better than average draft though. 2008 Draft Expert Grades Mel Kiper: B+
Pete Prisco: A
Actual Grade: D F This was supposed to give the Redskins an abundance of weapons for the foreseeable future in their receiving corps, and man were they wrong.  Malcolm Kelly and Devin Thomas both flamed out, Fred Davis is the only starter on the roster still, and Rob Jackson is the only other player on the roster.  If Davis wasn't such a weapon, this would have been an F, you know what, screw it, you can't have 10 picks and only add one player that is a starter. 2009 Draft Expert Grades Mel Kiper: C+
Pete Prisco: C
Actual Grade: C This was right; they got a great pass rusher in Brian Orakpo, but not much else. Average grade for the Redskins: D This is why you end up with the sixth pick in the draft, because you make bad decisions in the draft.  Out of 21 players drafted, only three are starters, and that is if LaRon Landry hangs around for more time in the nation's Capital. Off Season: They made a huge move up in the draft to grab their next franchise quarterback, and that will define everything that happens over the next 5 years for the Skins, as they gave up their 2013 and 2014 first round picks, and that will have a nice ripple effect in the future. The Skins were aggressive out of the gate, getting two new weapons for their future QB Robert Griffin III.  Now, will these guys actually work out?  The Redskins spent $42.5 million on Pierre Garcon and $12 million with Josh Morgan, but I am not sure if Garcon is a true #1 receiver. I will say though, the Redskins are trying to load up the offense, even if it ends up blowing up in their face, again. Jacksonville Jaguars 2007 Draft Expert Grades Mel Kiper: C
Pete Prisco: B-
Actual Grade: C- Reggie Nelson turned out not to be the next coming of Ed Reed, but it was the logical pick because of the huge need the Jags had at the time.  He has moved on and is flourishing more now with the Bengals.  Mike Sims-Walker has had one good year and one average year, moved on to the Rams, and now is back with the Jaguars. Justin Durant was probably the best pick in this draft, but he struggled so much in pass coverage, that he graded out far lower than he should have, considering he is one of, if not the best 43 OLBs against the run. The best pick in the draft was easily Uche Nwaneri, who is one of the better right guards in the league, and has helped pave the way for Maurice Jones-Drew since being drafted. This is what makes drafts like this so hard to grade, you have players like Nelson, Durant, Adam Podlesh, that are good players that have moved on, and then you have players like Nwaneri that have flourished in the Jags run oriented system. While the Jags did draft those players, I wouldn't say you can exactly grade them out higher because those players are no longer with the team.  You see that's what the draft is about, finding players, and in this case 4 starters and a good punter, and retaining them to help your team. 2008 Draft Expert Grades Mel Kiper: C-
Pete Prisco: B-
Actual Grade: F You can't have 5 picks and hit on exactly zero of them.  Meanwhile Derrick Harvey and Quentin Groves are playing, even if not playing well. The rest of the picks were all to try and find someone who could hang with the team, and none of the picks could. The reason this was such a disastrous draft, check out this excerpt from Pro Football Talk: "In the 2008 draft, the Jaguars traded up with the Ravens to select Harvey. Jacksonville gave up the 26th overall pick, two third-rounders, and a future fourth-rounder to move into the top ten. In addition to the valuable picks, the Jaguars committed a five-year, $23.8 million rookie contract to Harvey. 72 percent of that deal was guaranteed." 2009 Draft Expert Grades Mel Kiper: C+
Pete Prisco: B
Actual Grade: B This is what you want out of a draft, and the Jaguars have gotten some good, solid NFL caliber players in this draft class. Eugene Monroe, Terrance Knighton and Derek Cox are all average to above average NFL starters.  The reason this didn't grade out higher is because of Eben Britton and that he has yet to make an impact on the offensive line for the Jags. Average Grade for the Jaguars: C- What has set the franchise back the most was the 2008 draft, where they mortgaged their draft for one player who was supposed to be a difference maker, and instead whiffed on both their first and second round picks, while giving up their third and fourth rounders. Off Season: The Jags have started off… ok.  They made a great resigning of their own FA in Rashean Mathis and defensive end Jeremy Mincey. Now the free agency moves of Laurent Robinson and Chad Henne are the questions.  Yes Robinson had a very solid year last year, but is he a true #1?  Can he handle the pressure of not playing across from Dez Bryant?  As for Chad Henne, I actually like it.  Give Gabbert someone young to compete with and see if he responds to the challenge. Now about those draft choices up coming, can we hit on that seventh pick please? Check back tomorrow as we look at the Dolphins and Panthers, and get even closer to our first mock draft of the year.
Original Story:
http://feedproxy.google.com/~r/TheSpo...
PLAYERS:
Rocky McIntosh
,
Brandon Lloyd
,
Malcolm Kelly
,
Fred Davis
,
Rob Jackson
,
Brian Orakpo
,
LaRon Landry
,
Pierre Garcon
,
Josh Morgan
,
Reggie Nelson
,
Ed Reed
,
Uche Nwaneri
,
Maurice Jones-Drew
,
Eugene Monroe
,
Terrance Knighton
,
Derek Cox
,
Eben Britton
,
Rashean Mathis
,
Jeremy Mincey
,
Laurent Robinson
,
Chad Henne
TEAMS:
Washington Redskins
,
St. Louis Rams
,
Jacksonville Jaguars
,
Cincinnati Bengals
,
Baltimore Ravens
,
Miami Dolphins
MORE FROM YARDBARKER
NFL News

Delivered to your inbox

You'll also receive Yardbarker's daily Top 10, featuring the best sports stories from around the web. Customize your newsletter to get articles on your favorite sports and teams. And the best part? It's free!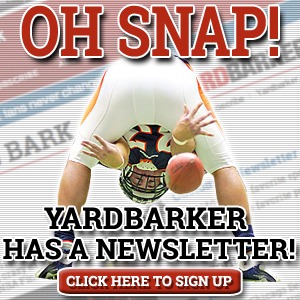 Latest Rumors
Best of Yardbarker

Today's Best Stuff

For Bloggers

Join the Yardbarker Network for more promotion, traffic, and money.

Company Info

Help

What is Yardbarker?

Yardbarker is the largest network of sports blogs and pro athlete blogs on the web. This site is the hub of the Yardbarker Network, where our editors and algorithms curate the best sports content from our network and beyond.