Found March 15, 2013 on NorthWest Sports Beat:
Seattle Making All the Right Moves Pete Carroll and John Schneider are quickly becoming household names in the NFL world. They have built a unique core of young Seahawks players that have grown together to form a family-esque identity. A family that likes to hurt people. The dynamic front office duo broke the mold this off season with the trade for Percy Harvin. With the likes of Mike Wallace, Wes Welker, and Danny Amendola all available, Seattle felt Harvin was the best possible fit for their team. And I find it hard to disagree. Harvin is arguably the most talented individual in the NFL. His unique skill set allows the offensive coordinator - Darrell Bevell – to line him up in multiple positions in on the field. He is also one of the most dangerous returners in the game. For this reason the Hawks took the risk on Percy – baggage and all – because he will likely put this impressive offense to the next level. Pete Carroll and John Schneider earning their paychecks… Lining up beside Russell Wilson and Marshawn Lynch in the read option? Good luck defensive coordinators. D-Line Additions Before the media splash from the Harvin acquisition had time to settle, Seattle then picked up former Lions' defensive end Cliff Avril. After Chris Clemons tore his ACL in the Wild Card round, the pass rush was a focus for improvement in the off season. They addressed that immediately with Avril. Avril's play is nearly identical to that of Clemons', who has great speed off of the line and consistently harasses quarterbacks off the edge. Avril was thought to receive a major pay day after declining the 3-year, $30 million contract extension offer from Detroit. He bet on himself, and claimed he thought he would receive Mario Williams-like offers. That didn't happen, so he settled for a 2-year $15 million deal from a championship caliber team. Score two for Seattle. After the Avril addition, many assumed the Seahawks were done in the free agent market and would focus on the draft. But Carroll and Schneider had different ideas, as they picked up former Seahawk Michael Bennett late Thursday. Bennett was signed by the Seahawks in '09 as an undrafted free agent out of Texas A&M. Bennett had a very brief tenure with Seattle, as he didn't play in a single game. Instead he went to Tampa Bay, where he had three mediocre years and finally a breakout season in 2012. Michael Bennett is back in Seattle. Signed for 1-year, $5 million. After posting 9 sacks and 3 FF, many believed Bennett would receive a large payout in free agency. Like Avril, he didn't receive the consideration that was expected, so he signed to Seattle for 1-year, $5 million. A building block contract for a big pay day in the next off season. One Goal + One Goal ONLY All of these moves can only mean one thing: It is super bowl or bust for this Seattle team. They have the assets, they were already elite, and have already found ways to improve their dynamic roster. Pass rush was their biggest need, and they added the top two rushers in the market – neither over the age of 27. And if that doesn't get your jolly's up, peep this: Last season Clemons, Bruce Irvin, Avril and Bennett combined for 38 sacks. Good for 11th in the league if we are comparing to ENTIRE TEAMS. If these moves are any sign of the team's future decisions, they aren't done yet. Seattle fans were already excited, now they are ecstatic. This city may be burned to the ground out of anticipation before the season begins. But if not, it's going to be a hell of a ride. GO SEAHAWKS!!!! CLICK HERE CHECK OUT THE SEAHAWKS BLOG IN OUR CLUBHOUSE AT NWSB!
Original Story:
http://www.nwsportsbeat.com/seahawks/...
THE BACKYARD
BEST OF MAXIM
RELATED ARTICLES
The Seattle Seahawks feel like a franchise that has already won the Super Bowl by trading for Percy Harvin and signing Cliff Avril. However Seahawk fans need to slow down, because Percy Harvin may turn out to be one of the best trades in Seahawks history, or another epic failure in the history of Seahawks' wide receiver pickups. A common phrase you've heard in Seattle is that...
FIRING BACK
Christian Ponder defended himself in response to some anonymous criticism that likely came from ex-teammate Percy Harvin.
Seattle Seahawks' wide receiver Percy Harvin has struggled with migraines in the past that have affected his ability to prepare and play in games.  He now claims that it's been a while since his last migraine. "I haven't had a migraine in two years now," Harvin said, per ProFootballTalk.com.  "Been fully healthy from that aspect so everything's been good. I'm going...
In the wake of the Percy Harvin trade, a Q&A with someone who knows the guy seemed to be in order.  So, here's what the good folks over at fellow Bloguin site Purple Jesus Diaries had to say about the Seahawks' most recent high-priced acquisition: 1) On a scale from paper cut to live vivisection, how bad does losing Harvin hurt right now?  How vital was he to the...
Percy Harvin got his cash yesterday from the Seattle Seahawks, and in what probably will be a shocker to his former team the  Minnesota Vikings, got rid of his migraines also. Harvin who was plagued by migraines often during his first two years in Minnesota, was sometimes unable to play or practice due to debilitating headaches. According to 1500ESPN, Harvin said those "headaches...
Days after acquiring one of the NFL's most explosive wide receivers in Percy Harvin, the Seattle Seahawks have struck again with another major roster move. Free-agent defensive end Cliff Avril has agreed to contract terms with the Seahawks. Financial terms weren't immediately available. The news was first reported by NFL Network. Considered the most attractive 4-3 pass...
11 gets 6 for 67 One of my first questions when it became almost certain that the Seahawks would complete the trade for Percy Harvin was, "What number will he choose to wear in Seattle?"  Since the Seahawks retired the number 12 in 1984 for the 12th Man he would not be able to wear the number he wore with the Minnesota Vikings. I had hoped he would wear a big boy receiver number...
Mike Florio has built Pro Football Talk into one of the biggest success stories of the internet age in sports.  Not only is PFT one of the most visited sites on the web, but Florio himself has expanded his personal brand into a contributor on America's most watched show - Sunday Night Football.  He's as much of a national NFL insider and reporter as Peter King, Adam Schefter...
Seattle, Washington - dubbed the 'Queen City' in 1869, with all of its regal splendor, bore that nickname because of its frontier hospitality to gold prospectors during the Alaska-Yukon gold rush. In the modern era, the name of the former multi-purpose facility that housed two-thirds of the city's professional sports was also in keeping with the royal theme.The King Dome,...
The Seattle Seahawks have undergone a transformation. They have distanced themselves from the passive aggressive organization; that was happy to have a serviceable quarterback, a running back that accumulated empty stats, and a false profit1 (Mike Holmgren) making all the decisions. Now there a team straight of the Pete Carroll handbook, which states in section 1-13 do whatever...
After shipping troubled receiver Percy Harvin to the Seattle Seahawks, the Minnesota Vikings suddenly had a need for a number one receiver. The Vikings landed that receiver on Friday, reportedly signing former Green Bay Packers receiver Greg Jennings to a five year deal. Multiple outlets are suggesting the deal is worth $48 million dollars for the life of the contract. 18 million...
The NFC West will be where all of the magic happens next season. The two most significant deals that got done over the past couple of days began with the Seattle Seahawks giving up a handful of draft picks to acquire star wide receiver Percy Harvin from Minnesota. The Seahawks, who finished 11-5 last season before having a decent playoff run, added a perennial piece in Harvin in...
NFL News

Delivered to your inbox

You'll also receive Yardbarker's daily Top 10, featuring the best sports stories from around the web. Customize your newsletter to get articles on your favorite sports and teams. And the best part? It's free!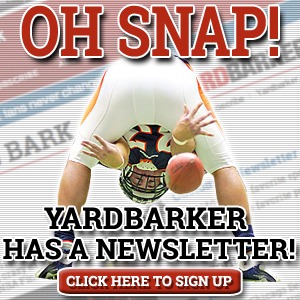 Latest Rumors
Best of Yardbarker

Today's Best Stuff

For Bloggers

Join the Yardbarker Network for more promotion, traffic, and money.

Company Info

Help

What is Yardbarker?

Yardbarker is the largest network of sports blogs and pro athlete blogs on the web. This site is the hub of the Yardbarker Network, where our editors and algorithms curate the best sports content from our network and beyond.